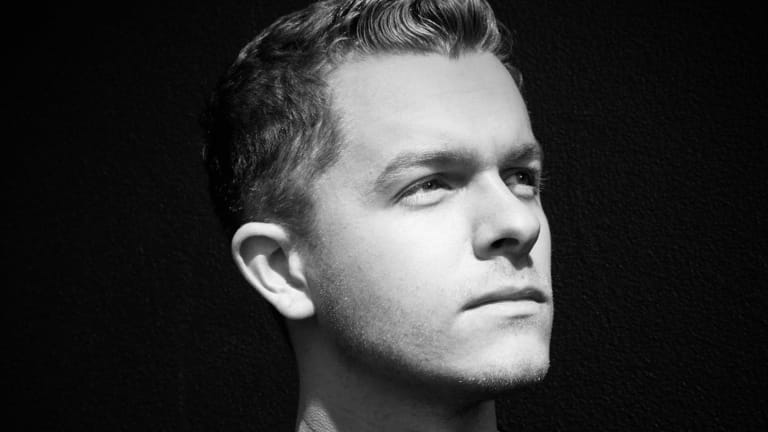 Sam Laxton's Tribulations And Conquests Prove He Is The Judge And Jury.
Breaking Through is an interview series highlighting the stories of dance music's rising stars.
"If I can be a good person and do what I love, then I'm going to try my damn hardest to do it because I've seen people become miserable trying to give themselves a sense of purpose which they don't even believe in."
What 23 year old trance producer, Sam Laxton wanted was simply to talk. Talk openly to his fans, naysayers and even curious onlookers while sipping tea and enjoying a tuna sandwich. There were no rules here. No script. No fluffer
"I just like really getting deep into things," Sam looked upward. "I like to sit in cafes and people watch, wonder, or even complain in my head.  I'm always thinking of the next track I'm working on or the goals I would like to achieve."
An only child, Sam began the piano at age 4, learning at school and eventually on weekends. Unorthodoxly, Sam did not pursue the grade system when learning the piano but simply chose his favorite pieces and gained his musical knowledge from that.
A "switch was flicked" at age 11 or 12 as his continual love for dance music turned him from a listener to a producer during his teenage years. A few years later, the dubstep boom of 2012 made it possible for Sam to gather information on producing this modern sound with acquisitions of presets and VST's, leading to material picked up straight away by Philosophy Recordings who managed him for three years until graduating from Newcastle Royal Grammar School in 2013.
Admitting his time with dubstep was a learning curve, "I wasn't really being true to myself but every time I was writing a song it felt like I was pushing against my love for music, so I took a break," Sam explains. This break came just as he was beginning to have a stronghold on the scene, being featured on dubstep.net. "I had fun doing the dubstep stuff," Sam reflected. "In the UK though, you have no real shot because dubstep has become a more US based genre."
The break also allowed Sam to enroll at Sunderland University, earning an undergraduate degree in Psychology, transferring his music genre to Trance without missing a beat. Immediately finding success on Pure Trance in 2015, that first release on Black Hole Recordings came from meeting Solarstone on a boat party with friend, James Cottle.  
The perfectionist side of Sam continued for a year into 2016, continually one-upping himself with relentless writing while never reaching "that wall where I stopped producing and I worry about the next track or people forgetting about me." This carried over into 2017 and "Boom," Sam exclaimed. "A release every month, A State of Trance plays, my first European shows with friends, and I met people who had heard my music from the other side of the planet. It was going crazy!" 
A highlight last year came as Laxton and Cottle reached to mighty Spinnin' Records for distribution of their remix of 2 Play Level recording artist Guy Mearns' track "String Theory." Spinnin' did them one better by giving the duo the rights to release it where ever they liked, choosing Cottle's manager, Woody van Eyden and his Heavensgate label.  So excited was Sam that he printed off the contract on Northumbria University's letterhead where he has earned his Master's degree in Business with Marketing Management.
The continuous playing and producing of dance music has taken a toll on Sam's hearing. Despite having had partial deafness from birth in his left ear, Sam suffers from Tinnitus after an ear infection years ago.  "It's very much like talking through fabric in my left ear." explained Sam. 
After conclusion of a set in Amsterdam, Dennis Shepherd immediately noticed Sam's lack of earplugs. Dennis adamantly told Sam, "You need to get some because you won't be able to do this much longer." Hearing this, Sam has now happily invested in ACS Pro 17 Hearing Protection, taking the right steps to stay safe when performing around the world.
Along with his fragile hearing, Sam warns that the music scene is just as much so as long as free downloading and Spotify exist. "It's like a wild west now," said Sam. "The future for dance music was that there would be no genre-specific artists. If we're going to talk about the future of EDM as a whole, I think the bubble has burst and every artist is clutching at straws to try and make a hit. The formula has gone out the window."
"All you need now is to connect with people," he continued. "The trance scene is entering a stage where there are alot of people who are finding a style but I think they are learning about it in the wrong way. They're not joining dots, looking deeper in the style, looking into the sub genres."  
He also blames the lack of social media orientation that the genres had saying, "Trance has been a genre for a more mature audience. Sure, they use social media but not as much as a 15 year old."
"I think that if we're going to have a successful future as a genre we need to start worrying about appealing to kids because they're the people that will come to your shows when they are older. It's in a very fragile state but the ones that know social media will keep it going."
Typically not a fan of vocal trance because of its "fantasy land" connotations, working with Noire Lee on "Thunderstorm" was a pleasant detour as a go-to remixer and producer of vocal trance.  Said Sam, "She had vocals that were romantic in a way. It's relevant. Somebody might feel that way about somebody. I understand that when you're at a club having words in your music that connect with people is a very important part of that. However, you can't fault some of the great trance tracks with fantastic vocalists who talk about bizarre things - it works for them." 
Making no quarrels on the special relationships with artists educating him, "I met Dave Parkinson on a snowy day in a small cottage," Sam smilingly reflected, "He did tuition with me for a day and had Budweiser, tuna sandwiches and tea. It was quite a British thing and in doing that I learned a lot. You don't have to release a track with them just to learn about how people do things."
He also named Porter Robinson and John Askew as two colleagues he'd love to share studio time. "With Porter, he isn't doing the common beat, he's very inventive. We're very similar and I think we'd have a laugh working together - John and I, on the other hand, would start to question our DNA if we were put in the same room together," Sam jokingly said, comparing the two's similar looks. 
Sam firmly believes working with artists from other genres is key for the overall development of dance music. "That's why EDM became popular and had a boom because nobody saw it coming, said Sam.
"Everybody goes back to these glory days of the 90's where everything was different. You could call it trance, but every track sounded different. This has been the downfall of the genre - nobody was willing to look elsewhere. I think bringing people together is good for starting something but you always have to be willing to look outside the box."
Finally, I asked what was first on his bucket list outside of his career. Without even a blink of an eye, Sam enthusiastically blurted, "Move to Thailand!  I'll always have happiness if part of me remains in a real world. However, I would love to tour. You get put in this position where you think do I go with a full life of music or do I give it up and have a family? I want to break the divide." 
"I always wanted to have a family of children, not one child because I was alone," Sam emotionally stated. "I want to be able to pass my experience on to somebody. It's such a horrible world now to have children to live in but I've never at one point thought to myself, am I only doing it for social norm? No, I think it's just what i feel." 
"Like I say, it's been the most honest, open interview. I wanted it to be."  I think it was, Sam Laxton.