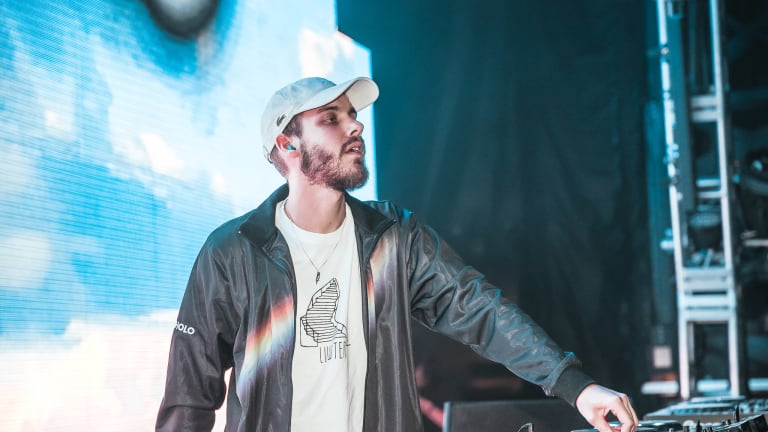 San Holo on Being Featured in the Red Bull Remix Lab LA Series [Interview]
San Holo is a staple in the dance music world. At 28 years old, the Holland DJ/producer has created his own lane combining the genres of alternative and electronic. For the last few years, San Holo (real name Sander van Dijck) has been releasing fire records and playing shows under the moniker — but his background stems from the indie world.
Now, he blends those two sounds in the most organic way possible. Most recently, van Dijck was featured in a new episode for the second season of Red Bull's Remix Lab series, which gives viewers an inside look at the creation of music utilizing different producers to either whip up a new song or remix a song live with Anna Lunoe.
This episode follows San Holo's recent debut of his What So Not collaboration at Amsterdam Dance Event. EDM.com caught up with van Dijck to discuss the taping that happened in Santa Monica, Los Angeles.
EDM.com: What does being featured in the Remix Lab LA series mean to you?
San Holo: It's awesome! I'm really glad that Red Bull reached out to me for this. I'm also glad they were really willing to let me kind of just do me and pull off the remix concept that I had in mind. Sufjan Stevens is such a big inspiration to me musically and that felt like the perfect way to demonstrate what I mean by "electronic meets indie."
How was the taping with Anna Lunoe in Los Angeles?
The taping was great, I've known Anna for a few years now actually so that was nice. We didn't really have to break the ice at all and we were able to just get right into it which made it easier for me.
What can fans expect from your episode?
Fans can expect a good look into my process in the studio both from a production standpoint but also how I use the guitar. Plus, it's nice to be able to share the indie inspirations that drive me as a musician so I hope you guys enjoy it!
FOLLOW SAN HOLO:
Facebook: facebook.com/sanholobeats
Instagram: @sanholobeats
Twitter: twitter.com/sanholobeats
Soundcloud: soundcloud.com/sanholobeats