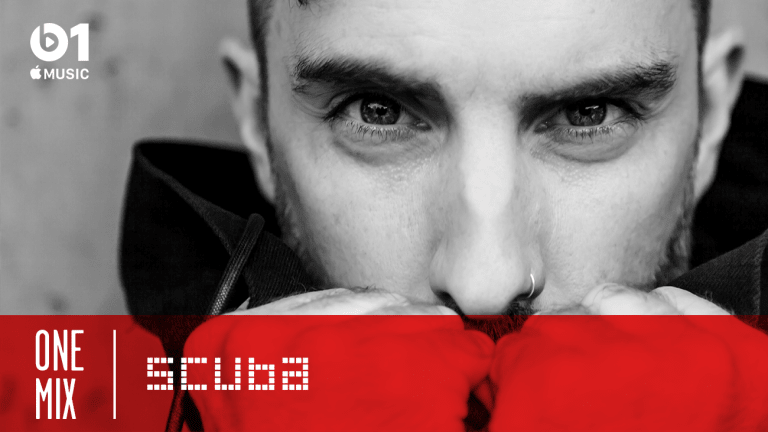 Scuba Fuses Berlin Techno and U.K. Dubstep in this Week's One Mix [INTERVIEW]
Having delved into both techno and dubstep, Scuba aims to merge the two worlds in this throwback mix.
In this edition of One Mix, Beats 1's weekly radio show, former Berghain resident and Hotflush Recordings label head Scuba takes the decks. Expect tunes from Joy Orbison and Norman Nodge, plus rare tracks from the DJ/producer himself, in a throwback mix capturing the momentous fusion between Berlin techno and UK dubstep.
Tune in here exclusively on Apple Music.
Air Date: Friday 26th October 2018 - 21:00 LA / 00:00 NY / 05:00 UK
Throughout the course of his lengthy musical career, Scuba (real name Paul Rose) has released four albums, numerous EPs and a steady collection of mixes. Slow, gritty, atmospheric sounds mark his style. 
With his music label, Hotlfush Recordings, he has provided a platform for burgeoning artists like George Fitzgerald and Mount Kimbie.
Interestingly, Rose is distinguished by his sharp shift in sound over the years. According to former Vice electronic music subdomain THUMP, "Depending on whom you ask, Paul Rose is either one of the biggest sellouts in the underground universe, or the smallest fish in the mainstream sea."
Born in Britain, Rose got his start making bass-heavy music. Back in a time when dubstep meant broken beats and spacey soundscapes, opposed to the screeches and wails of today. Rose's debut album, A Mutual Antipathy, remastered a week ago but originally released in 2008, characterizes his former sound.
Moving to Berlin, he helmed a residency at the infamous nightclub Berghain, bringing his dubstep sound to the techno hub. As bass music entered the mainstream and diverged from the sounds Rose embraced, however, he began to look for inspiration elsewhere.
Techno was the answer. No doubt living in Berlin, a city notorious for its techno reverence, fit well with the change.
Though his shifting sound wasn't part of the conversation, we spoke with Rose ahead of his One Mix. Between hoping Instagram loses its popular appeal and confessing his mom still hasn't seen him perform to doling out advice for aspiring producers, Rose had plenty to share.
EDM.com: First show experience? 
Scuba: UK garage night in Bristol, 1999. I was terrible, nearly quit on the spot.
First time you brought your mom to one of your shows? 
She has never been to one of my shows.
The artist who inspired you to become a musician? 
Prince.
Go-to places for new music? 
Bandcamp.
Guilty pleasure record?
"World In Motion" by New Order.
Desert-island dance record?
"Sacred Cycles' by Pete Lazonby.
Dream B2B partner?
Gilles Peterson.
Favorite BPM?
130.
Piece of gear you always need on the road?
A stress ball.
All-time favorite festival?
Japan's Labyrinth festival.
Biggest misconception about dance music?
That it's about the medium not the message.
How often do you get out and have fun, and where do you go?
Anywhere quiet.
City with the most underrated dance scene?
London.
Industry prediction for the next year?
Instagram to become unfashionable. That's a wish rather than a prediction.
Best piece of advice for new producers?
Think about the sounds, not the gear.
Dead or alive, who would be your dream collaborator?
Prince. He could just tell me what to do though, rather than actually collaborate.
What is one of the unique experiences you've had backstage? 
I was backstage once and someone was having an intelligent conversation.
A unique travel experience you've had? 
It's not unique but I love driving around rural Oregan.
What's your favourite throwback track? 
"Earth A Run Red" by Digital Mystikz.
What's one track that fans always lose their mind to? 
I prefer to let people keep relatively calm.
What was the first album you ever bought? 
"Actually" by Pet Shop Boys.
Name one remix that you think is better than the original? 
Exemen's remix of "Little Man" by SIA.
What song would you want (god forbid) played at your funeral?
"Hummer" by Smashing Pumpkins.
What's the perfect sunset track? 
"Lush" by Orbital.
What song do you listen to cheer yourself up? 
"Policy Of Truth" by Depeche Mode.
FOLLOW SCUBA:
Facebook: https://www.facebook.com/OfficialScuba/
Twitter: https://twitter.com/pauledwardrose
Instagram: https://www.instagram.com/paulroseexplorer/
SoundCloud: https://soundcloud.com/scubaofficial