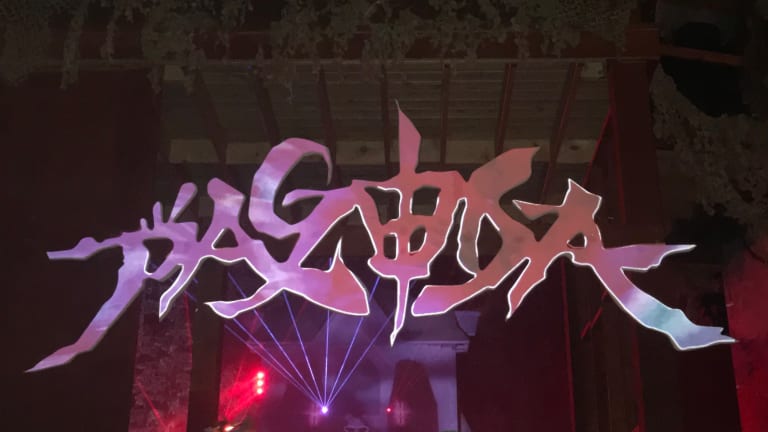 Projecting the Future: Rob Campbell, Director of Shambhala's Pagoda Stage [Interview]
Half the reason I chose Shambhala Music Festival as my big festival trip this year was because of the legendary Pagoda, and its face melting folklore.
As much as I've heard how fun this festival is, I've heard just as much about how epic this stage is. So when the opportunity came up to interview one of Shambhala's stage directors, it was an easy and exciting decision. 
Meet Rob Campbell, production manager, partier, DJ, husband, dad, and nicest guy ever.
Rob's been with Shambhala since it's "ghetto" beginnings (in his words). Since the days of building an A frame stage in his friend's dad's gravel pit (now known as the AMP stage), Rob's been dreaming and scheming every twist and twinkle of the Pagoda stage, along with a tight-knit crew of friends and fellow creators. Rob took time out of his busy pre-festival schedule to sit down with me (in the DJ booth of the very stage he's built), and talk shop for an hour. Here's what he had to say about running one of the most cutting edge stages in the festival world.
How long have you been creating and curating the Pagoda? 
I did the original drawings for the first year of the Pagoda. I worked on the graphic design, while these other guys built it. They didn't really build it right so I kept renovating it and dumping money into it like an old car, until we tore it down and rebuilt it last year.
How did you get your start in music?
I was always interested in drumming and music, but DJing didn't become a thing for me until after the first year of Shambhala. I was gifted a bunch of vinyls from my friend Richie Rich, director of the Fractal Forest stage, and Hula, director of the Living Room stage. I collected a bunch of those, and played out for the first time in the Fractal Forest the second year of Shambhala when a DJ didn't show up for his set. I've been doing it whenever I can since.
How Many People are Involved in Managing the Stage? 
It's just me as far as managing all the moving parts. We call the people who are in charge of the booking and building and organization, everything from the finances to the paperwork, the stage directors and there's one for each stage, so yeah that's me.
I hire guys to do a lot of the things like lights, I have the top lighting guy in western Canada if not the whole of Canada. Our video crew are some of the best in the world. Last year, after Rezz played here, she hired one of my main VJs to join her on tour and he's been working with her full time since then. Some of the other guys I work with helped design the Paradox tour and and are some of the animators for that.
We pioneered a lot of that technology at the Pagoda before many people were doing it.
What is it that sets the Shambhala crew apart as the ones pioneering these newer techniques and technologies? 
Someone once told me "If you put money before intelligence, intelligence always wins." "We don't have a lot of funding but we do have a lot of love here and there's no amount of money that could catch up to it really, it's so unique and cool, it's an anomaly.
The reason this works so well is because it's been through a decade of refinement. So if someone joins this crew and isn't 100% functional, they really stand out because my crew is so solid, everyone's truly so epic it gives me goosebumps to think about how awesome everybody is. This team and this festival is like nothing else in the world, and I know that for a fact.
[Author's note: I wish I could deliver this interview to you in audio because you can hear the excitement in Rob's voice even after 20 years and it's so inspiring!]
I'm more inspired and excited all the time because it's like we're always trying to achieve something we'll never get. I don't even know what it is, but every time people are out here dancing and smiling I feel like we're 'there' for a second. Everybody here has the same passion I do and is an integral piece of the Shambhala machine.
I'm looking at them all and we're about to lift up these giant 8 by 8s and they're stoked on it. They're like "What are you doing? Get over here and lift this stuff, haha."
What are you doing during the show?
I have to be available to deal with any traumatic things that happen with tech or talent. I'm in charge of all decision making so yeah, I am always here. It's like a family reunion with a lot of the DJs that come, like Justin Martin - such a cool guy to have around. The guys who come here year after year are also my friends, so we're also just having a good time. Once the ball is rolling, after the button gets pressed it's kind-of like a machine that operates itself and the whole team is making it run.
Does each stage book their own talent?
Yes, that's solely me, I deal with all the agents and do all the booking.
Where did the name Pagoda come from? 
At the very first Shambhala there were 2 stages, the main stage and the jungle pit, which is where the Amp is now. It was Jimmy's dad's gravel pit. We got some old lumber tarps and little birch trees and stood them up in an A frame over the pit, stapled on the tarps, and put up some artwork. I was about 18, and quit my job at Subway at the time to come build it. The main stage was basically an open field with a bunch of scaffolding that we covered in garden plastic and made to look like a castle - castle Trancelot we called it, so we had jungle and trance.
Over time, we wanted to give the main stage a personality and Richie Rich and I were throwing out a bunch of ideas to give it some more direction.
A pagoda is usually in Asia and it's a multi-roofed structure. Pagoda means "many roofs." We liked that idea, but didn't really want to bank on any one culture so we designed our own look for it. It's different from other pagodas and you can't really place it anywhere specific or put your finger on it's origin. 
Some of the timbers used to build it were literally on route to Japan from Canada to be made into pagodas and we commandeered them to build the stage! 
It's one of the tallest timber-frame structures you'll ever see. I had to go to three different engineers to get it built. Between architects, engineers and 3D drawers it touched about six other people after I did the drawings. Whereas the old Pagoda was like a janky old deck, the new one is like a cathedral.
At what point did the visual experience become a top priority at Pagoda? 
It was always a top priority. The rear projection happened a couple years after it started, when I kind-of took it full on. The original structure had the shadow dancing screens, and once we got the large projector in 2010 or 2011 we did our first masking process and started the full building video mapping. We started out with more simple video installation stuff, but once we started video mapping the whole building became the art piece.
How do you balance the sound and visual priorities of the stage, especially financially?
We get really awesome budgets and the money mostly goes to stage production here at Shambhala. But it still requires a lot of people to come and donate their time and volunteering to putt it together. There's a budget for building crazy structures, lighting, lasers, and sound. My sound is done by PK and they take care of everything on that side of things. They're amazing and professional and attentive, they're always checking in and are really the best in the world, so I don't even have to think about that part.
The lasers are done by a company called Slick lasers, who I highly recommend. He builds his own lasers, puts the dials in and everything. He's a genius. I love surrounding myself with such brilliant people because I feel smarter just talking to them.
How did you assemble your visual team?
With a lot of them we just grew into it together. We'll train people, but our guys have really become some of the best in the world by starting here. It's not like we went out and found them or they came with the skills. We grew together and they acquired a lot of those skills by working on things here at Pagoda. Like the guy who's working with Rezz is at Tomorrowland right now, so obviously killing it in the visual world, along with one of the hottest acts out there. He's from here!
What are the names of some of your video guys that we should look out for?
Leigh Powless, Cam Macneill, who's touring with Rezz currently, and Ben Leonard, of Beama Visual Environments, he does the Excision animations, absolutely brilliant. Many other guest VJs are a part of the experience but those three and myself are the core
Shambhala's fun, but building Shambhala is the most fun. The party itself is not even as fun as making it happen, that's my favorite part.
How is funding allocated for the festival?
We're given a set budget, separate from ticket sales. Because there are no corporate sponsors, maybe there are some artists we'll never book, which is fine. A lot of artists will say "I'm worth this much" and I just tell them to beat it because it's not about that with Shambhala. We don't need to book anyone who thinks they'll be the reason Shambhala will be successful, I think it's the other way around. Every year I book people who are relatively unknown, and by the end of the year they're the next big deal. But yes, there's only a certain amount of funding and we need to work within it, it's still pretty mom and pop out here. It definitely changes every year, like last year we got a big bump to build this new structure.
How many years were you planning for the new structure?
I wanted to do it for about three years, and have had the drawings for two. We kept the old one limping along for another year and then it was just time to go for it. The nature of this beast is to always be improving and keep trying new, exciting things. The one we have now is a really cool starting point for more. It's all about refining. We do so much in a short period of time and it's like every year we get cut off and are like "Oh! We're out of time, next year!"
What's the most important legacy of the Pagoda stage?
The positivity and culture that exists here, that's really true for all of Shambhala.
Everything I do, I feel like I've accomplished something if I see people smiling and dancing and having a good time. Then I can take a deep breath and feel good about it and think "I did it, we did it, again." It's more about the vibe than the place itself.
Everything else is just stuff and big buildings and blinky things, it's the people and the energy when we all come together that give you the goosebumps - that's the good stuff.
What do you think is the most challenging aspect of your job?
Working extreme amounts of time and not seeing my family. Not really having a summer because I'm working. No camping or beaching or hiking or golfing. Summer doesn't really exist outside of the festival for me.
What qualities does a stage manager or someone in this position need to do the job well?
I think you have to be able to make people feel good about what they're doing, make them feel like they're part of something. A lot of this is volunteer work and they're not getting paid, but if the people working for you feel like they're part of something that's bigger than all of us, and that they're contributing to that thing, you'll get the most amazing results from that.
Empowering people to be the artist they are allows magic to happen.
You can't just give someone money and expect to get the best out of them, because it's just a simple equation. If there's something bigger involved, that's how pyramids were built. That's what happens out here, something bigger, the rave gods are being appeased.
What have been some of your greatest teaching moments? 
Every year the biggest lesson I learn is learning the same lessons over and over again, haha. There's so many, but just getting the ones down I learned before is the hardest part for me.
A million problems happen all the time, a thousand things can go wrong, but that's what being a boss is. You don't get worked up, throw your hands in the air and be like "Oh, what are we gonna do?" You put your head down, deal with the problem whatever it is, and that inspires people because in the face of adversity you have to be the strong one and just deal with it.
Stage manager, nightclub owner, DJ and family man, that's a lot... 
I'm the busiest guy I know, haha. But I love it. I have 2 older kids and a new baby and the hardest part is the guilt, because I work so much right now it's hard to do the simple stuff like camping and really be the dad I want to be. My family's the best part, they're like an oasis in the hectic portions of life.
What was one of your favorite 'Hell yeah!' moments at this stage?
A few years ago, before we had our new baby, having the Shambhala experience with my beautiful girl, Siena. She's such an awesome partner in everything I do, she's so helpful to be around and we're such a good team. Now that we have the baby and business, she's holding down the fort over there. Having her around for the festival was awesome. I have the best Shambhala with her, I have the best life with her.
What's your favorite kind of music? 
New music!
Thanks to Rob for taking the time to share the vision and journey of this ground-breaking stage with us!
Having just returned from Salmo River Ranch, where I experienced the Pagoda and it's magic for the first time, I'm 100% hooked. The music takes on a whole other dimension when combined with a visual display like this. It's transformative, transporting and addicting. When I listen to music now, my mind takes me right back to that stage and my mind is blown all over again.  
Long live Pagoda!