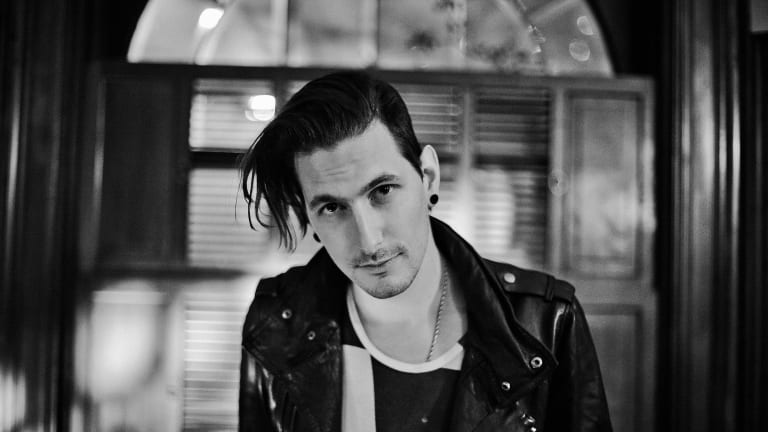 Shaun Frank Talks Writing with The Chainsmokers, New Music, & Favorite Food While on Tour [Interview]
The songwriter, producer, and multi-talented musician discusses writing music with The Chainsmokers and the secret formula for writing a hit song.
Shaun Frank is a name that is quickly becoming a household name around the globe. The singer, songwriter, producer, DJ, and multi-talent musician has an extraordinarily impressive discography. Frank has written music for and with some music's biggest names, including The Chainsmokers, Borgeous, Steve Aoki, and Oliver Heldens among others. His myriad of talents will continue to place him on the forefront of the electronic/pop scene, as well as in the credits for some of the world's most successful chart-topping hits. Frank sits down with us before his massive new single release and performance for Breakaway Music Festival Nashville. 
EDM.com: Thanks, Shaun, for taking the time out of your busy schedule to answer a few questions. To get things started, what's a food that you couldn't live without?
Shaun: Is coffee a food? I def can't live without coffee.
If you could only listen to one song for the rest of your life, what song would it be?
That sounds terrifying. It would probably have to be something without vocals or otherwise, I would just lose my mind. I would have to say probably the Hans Zimmer song from Inception called "Time." It makes for a good loop. I have definitely listened to it on repeat.
You've some impressive songwriting credits, including with The Chainsmokers, Delaney Jane, Grandtheft, and many more down the pipe. How did you get into songwriting? Where are you most creative when writing a song?
I started writing songs when I started my first band in high school and we needed songs to play. I always found it really rewarding to craft a feeling or idea into a song and then be able to play that for the world. The most creative place for me is definitely in the studio with other creative people. That's where the magic happens. I recently built a new studio in Toronto that's full of cool analog keyboards and guitars, etc. It's a very, very creative space.
Is there a secret formula for creating chart-topping singles like The Chainsmokers' "Closer," which you were credited on? What are a few things you try to include in every song you write?
The secret formula is honesty in most cases. There's definitely some artists out there right now just taking whatever pop song they can get and put a beat to it, but those aren't the songs that stand the test of time. 
As well as writing some immensely successful tracks you've also remixed quite a number. Do you prefer to write an original track or remix someone else's work? Why?
I'm down with both. Remixing is really fun cause there's a lot less pressure and you can just make a version of a song you love that's gonna be great for the live sets. 
What can we expect from your forthcoming single "Bon Appetit"?
This is a really fun sexy house record, and I'm really pumped about it. I've started playing it in the club and in the immortal words of Enrique Iglesias... she bangs.
What is your favorite food to eat while you're on tour? Do you have a favorite city/restaurant?
Eating is about the best part of touring outside of the shows. My fav food city is Chicago by far. I also had a great meal at Cipriani in New York a couple weeks back. I'm big on the Yelp. What can I say?
What are some things that fans can look forward to in the upcoming weeks or months?
This 'Bon Appetit' release marks the beginning of a few house records that I'm gonna be putting out. I've also got some super exciting collaborations coming up, which, unfortunately, I can't say a single thing about. Big tour coming, too. I can't wait to see y'all soon!
Follow Shaun Frank: SoundCloud | Spotify | Facebook | Twitter | Instagram