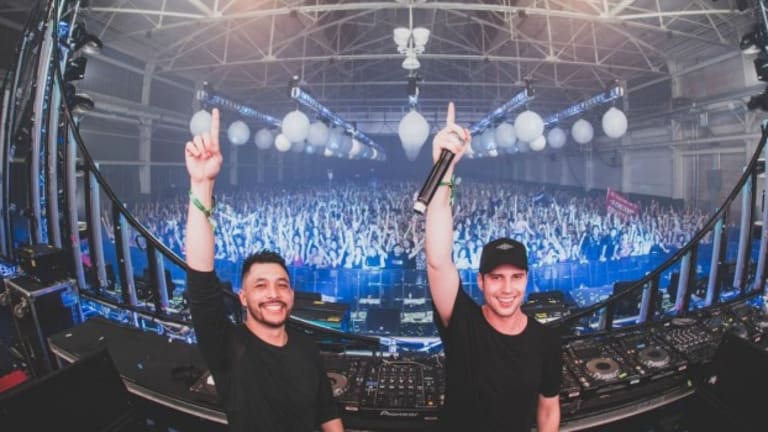 We Talk Bass Music and Dream Collabs at Lost Lands with Slander [INTERVIEW]
Get to know California's finest!
Lost Lands brought the biggest and best in bass music together for 3 days of prehistoric mayhem. After a heart-stopping set in the Cave of Souls stage, I had the honor of sitting down and talking with one of dance music's hottest acts, Slander. The minds behind Slander, Derek Anderson and Scott Land, give us some background on their relationship with NGHTMRE and Kayzo along with some of their inspirations and upcoming music in this short Q&A.
How did you guys prepare for Lost Lands as opposed to a traditional festival?
Derek: We took out all the house music that we play so it was pretty easy. We play a lot of heavy bass stuff normally, but we do play on main stages at electronic festivals a lot, so sometimes a lot of people there don't know who you are and they're seeing you for the first time, so we try and make a set that's kind of open to everyone. We do heavy bass stuff, a little bit of house, little bit of psy-trance kind of stuff, drum and bass, all kinds of stuff, so it's just a little bit for everyone. But for this festival, a bass festival, we just took out anything that wasn't heavy, heavy dubstep.
How did you guys come up with the idea for the Atom Stage for the GUD Vibrations show?
Derek: Our first EP was a collab EP with NGHTMRE called Nuclear Bonds and the whole theme for that EP was energy. We called it Nuclear Bonds because of the strong bond that Tyler (NGHTMRE) and ourselves have. So when we were thinking about what stage we should do for our GUD Vibrations set at the Palladium, we wanted it to be an energy themed. I was just looking at emojis on my phone, because I wanted it to be like an emoji because that makes it easy and clear for people to understand, and I saw the atom one and I was like, "that's it." We were also super inspired by was Sub Focus' stage,which was basically an eye. It was three concurrent circles, then a dot and he was raised up in the middle of it so it looked like a vortex. I remember seeing that at Coachella and it was one of the most mind-blowing shows I've ever seen.
Who are some of your influences outside of electronic music?
Derek: I listen to hip-hop when I'm not making music or figuring out stuff to DJ. Right now, I really like Post Malone and Travis Scott, Travis is actually my favorite artist in general.
If you could collab with any artist, living or dead, who would it be?
Scott: TNGHT. There's a lot of cool artists out there right now but they're the first act that Derek and I used to go to and almost study in a way. Their shows were so unique and it was at such an interesting time for music because that was right when trap music started getting a lot bigger. Their sets were more like a journey than a show, and they would loop one part of "Gooo" for two minutes and you didn't know when it was going to drop but you're sitting there like, "Oh shit, this is insane."
You guys just released "Without You" with Kayzo. What was it like working with him, and should we expect more from you three?
Derek: He's been our friend for a really long time. I met him online in a Facebook group for music production in 2012, and we actually made three songs with him back then. He was the first person who showed me Icon, which is the music school that I went to, and that's where I met NGHTMRE and Scott. Going to Icon definitely changed our whole lives and set us on the path of where we are now.I wouldn't have gone to Icon without him, so he was a really, really influential part in our career in the beginning. We have been watching him work so hard and it's been awesome to watch him succeed because he's so talented. It makes me happy to see that hard work does pay off in this industry.
We did our first real show with him back in April and it was at Boot's House in Germany. It's basically the craziest club on the entire planet, and the performance was just amazing. It was one of the most fun nights we've had this year. Afterwards, I was like, "Yo, we need to make a big record because both of us now have a lot behind us and things are way different now than they were before." And it's like, "Let's do more than one and do a collab swap, where one is our name first, one is your name first." So we went to his house, finished stuff up and it was just super easy and fluid because he went to the same school as us so he had the same kind of mentality.
"Without You" is more of our style,super emotional and vibey. As opposed to the other song which is more of Kayzo's style mixed in with ours. That one's going to come out around Halloween on our two-song EP called Dilapidation Celebration. The reason for the name is that we party for the happy moments in our lives, but you should celebrate the sad moments too. It's all part of the journey and, yeah, society is a little dilapidated right now so you might as well still party.
A special thanks to Scott and Derek for speaking with me! Check out their Kayzo collab "Without You" Ft. Dylan Matthew below!
Follow Slander: