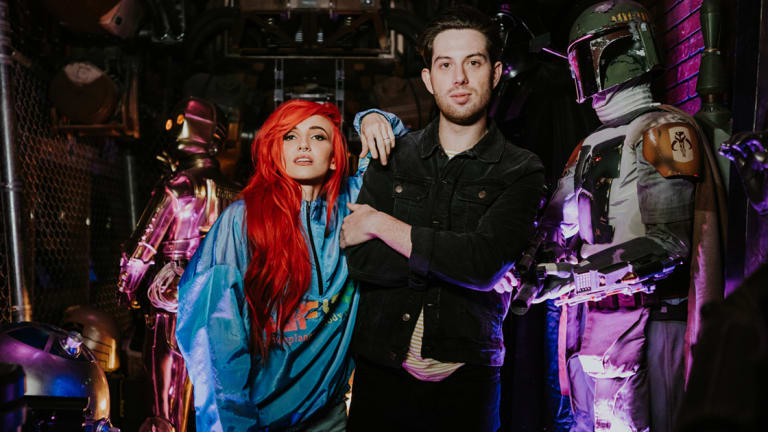 Sleepy Tom Takes Us Back to the '80s with Amateurs EP and Video Game [Interview]
Inspired by the synthwave era, Sleepy Tom's latest EP and accompanying video game go retro.
Moving away from his electronic-heavy dance music, Canadian DJ and producer Sleepy Tom experimented with a new style in his latest EP, Amateurs. 
Mixing dance, pop and synthwave sounds, the six-track record is definitely a change of pace for Cam Tatham, known professionally as Sleepy Tom. Having produced official remixes for Zeds Dead, Porter Robinson and Martin Solveig and hit songs like "Be There" with Diplo, Tatham embraces experimentation in Amateurs.
And for him, that experimentation included a nostalgic trip to the '80s. With its funky bass lines, glistening chords, clean guitars and saxophones somewhat reminiscent of George Michael's "Careless Whisper," the whole EP screams retro. 
EDM.com had the chance to talk with Tatham about his new pop style, his collaboration with Lights on the record's title track and his retro online video game that accompanies it. Amateurs can be streamed or downloaded here.
EDM.com: For people who haven't listened to it yet, how would you describe the sound you were going for in your latest EP, Amateurs? 
Sleepy Tom: It'd be a cross between sort of electronic sound, like the dance music that I've been making, pretty upbeat and fun music and...when I was collaborating with my friends here, whatever sort of came up. We more or less made summer pop songs. That's the gist of it. 
I didn't think about it too hard. I just wanted to make something that was more like stuff I've been listening to like Tame Impala, Neon Indian and Twin Shadow. That's what inspired me to do something just a little bit different. 
In regards to "Amateurs," what was the process like creating the sounds you used for that song?
That demo…I think I was just really into synthwave inspired stuff or stuff that would be in movies like The Breakfast Club or something sort of '80s. The drum sounds were inspired by that. I think a lot of that was from working in this newer studio and having a different workflow. I had new toys to play with, too. Then, Lights took the demo and made a cool song out of it. 
How did you come to work with Lights on the track?
We didn't meet until a few months ago, but she was working with the new label that I signed with, Entertainment One Music. Her manager worked out of that same office, so we were connected through that. The way we linked up was sort of a lucky thing. She just liked that song and then she spent a month with it and sent back the version that become "Amateurs."
On the EP, what's your favorite song or the one that you found was the most fun to make?
"Move" and "The Times," which I wrote with my friend Parker Bossley. More or less this whole EP challenged me in new ways that I haven't really worked before. I was pretty used to working by myself. So for this EP, I worked with Parker twice and it made the music process a lot more fun - and I think it made me a better songwriter, too. I'm still not where I'd like to be with writing lyrics, but it was fun having those new challenges of writing more pop-structured music. 
Is the gear you used to make this EP different from your previous EP, The Currency? I imagine you have better and cooler equipment to work with now.
Essentially I was making The Currency with nothing, just what's in the box inside a computer. For this one, the second to last track, "Focused (On Your Phone)" was the first song for which I recorded myself playing guitar. None of the dance music that I made ever warranted me playing the guitar or anything, but that's what I grew up playing. So it was kind of like, "Oh I can finally use this thing that I spent my whole life playing." I play guitar a lot on this record, I think on pretty much every song.
I bought a few analog synths that made it onto the record too. Obviously with recording vocals, I needed some more recording gear to make the live elements work a little bit more, but it's essentially the same thing. I could make this whole record with just a microphone, a guitar and probably what's inside of the computer, but it's nice having the more fun and expensive toys.
Since you used some synths on this EP, which one did you favor or use a lot?
A VST called Diva. Only in the last year did I get more of that gear and it made it onto a couple of songs. Diva was one that I used pretty much on every song.
Then I bought a Roland Juno-106 and recorded that on a bunch of them too, just sort of little bits towards the end. I'm still learning how to fit these synths into the initial writing idea process like when you're first coming up with an idea, so I still kind of prefer what's on the computer. When there are tech problems it can really stop the creative juices from flowing, but it is more fun having a real thing in front of you, like a tactile thing that you can manipulate. Obviously, as long as it's a good piece of gear, it'll probably sound better. So you're starting from a better place.
Nowadays artists are incorporating other art forms with their music. For example, Lights actually has her own comic book that goes with her music. Why did you choose an online video game to accompany Amateurs?
We were trying to get a music video to happen for that song, but our budget was a little tight and I was like, "What if we just did something totally different." I think it was shortly after that Netflix show, Bandersnatch, and the video game came out, so it was in the back of my mind. And I knew Lights was a huge gamer, so I figured her fans would like it. It seemed to fit the song too because of the synthwave sort of inspiration for it and it had a bit of an '80s feel.
So how'd you come up with the whole concept of the game?
Sebastian, who's the lead developer, we spit-balled a bit. They deserve all the credit for that, but I was like, "We should have our characters in it. It'd be funny." I figured Illuminati had to be in there somehow (laughs). Those are the enemies that you're fighting and trying to beat. The developers really smashed it and they had such a small window. 
What exactly goes into making an online video game, what'd you have to do on your end? And how long did it take?
It must've been like seven weeks from us calling them and saying, "Alright we're gonna do this." There were a couple of weeks before that where we were trying to figure out who to get involved and if we can make our budget work, but they were working pretty tirelessly.
First they got us some sketches of what the characters and bosses would look like. From there they fleshed those out and maybe three weeks in we got a bit of a gameplay demo, like a video where we can see how it would work. It just kept getting better and better and they kept detailing it more and more.
Then, I thought it'd be cool to do a little promo shoot for it. Instead of doing a music video, we were just going to shoot this little teaser bit of us getting sucked into this video game. Luckily, Lights was friends with the owner of this really cool toy store that was massive and they had an arcade game. It all came together pretty quickly and it was the first time where I really pushed for an idea that was definitely different from just getting a video done. Thank God we were able to pull it off.
You know I played the game and got pretty far, is there an actual end to it? Can you win at all?
I don't think so. I think the whole point is to get the highest score. I think I saw someone got a million points and I don't know how that's possible. Everyone just has to keep bettering their own score.
What's the highest you've gotten so far?
I think I got 30,000 or something. It's probably something around there.
So what's next for Sleepy Tom? Do you have an album coming out soon or are you going on tour? 
I'd like to go on tour. I have to figure that out, but I've got a couple more singles that are going to come out this summer. It's a little closer to what I was doing before, more dance music. I spent so much time not writing dance music, so now I'm a little more hungry to write it and DJ.
I'm going to probably get back to that a bit more and start Pillowcast, the old mix series that I used to do. I'm going to bring those back. So more DJ mixes and maybe some more remixes. 
Play Sleepy Tom's Amateurs game via the widget below or at this link.
Follow Sleepy Tom:
Website: sleepytomofficial.com
Facebook: facebook.com/reallysleepytom
Twitter: twitter.com/sleepytom
Instagram: @sleepytom
Soundcloud: soundcloud.com/sleepytom
Follow Lights:
Website: music.iamlights.com
Facebook: facebook.com/lights
Twitter: twitter.com/lights
Instagram: @lights
Soundcloud: soundcloud.com/lights