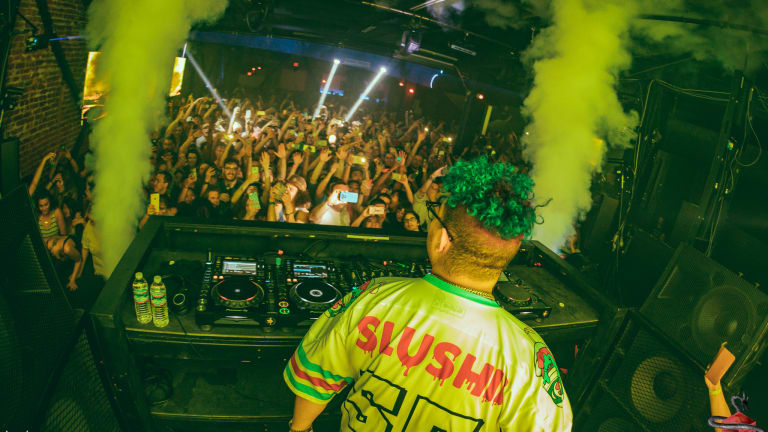 Slushii Opens up About Avicii's Passing and Mental Health [Interview]
Slushii explains how he came up with his DJ name, what it felt like playing the main stage at EDC Las Vegas, and more!
The year is not even halfway over yet and Julian Scanlan, or more commonly known by his stage name Slushii, has already headlined a majority of the large festivals this season with more still to come. He is currently on his THERE X2 Tour that is selling out like hot cakes and he just played the main stage at one of the biggest dance music festivals in America. It is safe to say that Slushii is the future of electronic dance music and many artists and people in the world could learn a thing or two from him and his personality. 
Slushii is a young man who really appreciates life and everything around him. He took up music at a young age by joining a psychedelic power-pop band for three years until 2012. However, 2013 is where he finally dipped his feet in the electronic dance music scene using "DJ Swoon" as an alias. Due to an issue with Soundcloud's automatic copyright system his track was taking down which then lead to his most recent project.
"How did the concept of Slushii actually come about? What really inspired the whimsical character/ cartoon that has now become an international icon and role model to so many people?"
"I had an alias before. I was making music under another alias "DJ Swoon" and Soundcloud went ahead and terminated my account. They were doing the whole purge thing with the remix and copyright stuff. I was broken up about that. So I was like you know what, I am going to start fresh. Maybe this is life's way of telling me I should start new. I have all the experience from my past projects. If I start fresh with this it will be a more steady project. I love anime and visual characters and I always wanted to do a project that had a companion character with it. Slushii is a liquid, and he can morph into anything, so my idea well if Slushii can morph into anything then it can translate into music. House music, dubstep, future bass, and anything and it will just fit."
"Speaking of music, your "Out Of Light" album was your first debut studio albums and that came right after your first EP "Brain Freeze," did you do anything differently when creating that album that you did not do while working on "Brain Freeze?"
"Brain Freeze" was a combination of songs that were previously released. At the beginning of the Slushii project, I only had a finite amount of songs.  "Out Of Light" was a combination of years of storytelling and me curating a specific set of songs that tell a story. "Brain Freeze" was an EP full of songs to turn up to. It is an EP for different moods whereas "Out Of Light" one linear mood where you feel the same from start to finish."
"The new Find Your Wings EP is a little different than your traditional all melodic soft tempo future bass tracks and it dives deeper into the heavy dub bass genre a little more. Why the sudden change up and shift into that genre and was it challenging to do so?"
"I come from listening to albums like "Bangarang" where every song is a banger. My goal with this EP was to just make an album full of bangers. Coming from just making an album that was on a deeper level and in its context, you had to digest it in multiple listens whereas with "Find Your Wings" you can just throw it on in the car and just start headbanging to it. It's something where you can just turn your brain off and just get smacked by it.
"EDC Las Vegas just took place a couple of weeks ago and according to an article one of your recent tracks from the Find Your Wings EP was the sixth most played track (Level Up) during that weekend. That is huge since that festival is not only one of the largest music festivals in America, but also in the world. Did you anticipate this track to gain so much attention and appreciation?"
"The funny part about that song is I actually wrote it as a DJ tool. In 2013, that would have been the biggest room single at Ultra. That whole EP is my retro kinda of throwback EP. The fact that David Guetta and Tiesto were playing it was huge. I wrote it for those guys to play as an anthem and they did. It is awesome it worked out like that because I wrote almost as a joke and it ended up being a thing."
"You also played on the main stage of EDC Las Vegas did you do anything different before during or after that set that you haven't done before?"
"Something that I have been doing more is actually have been playing a lot more of my own music. I am infamously known for leaving out a lot my own songs just by mistake because I forget. Now I just try and play everything. Fun fact, I do not remember any of the EDC set. I was so nervous that I mentally blacked out. I got on and got off."
"I want to talk about the recent passing of Avicii, many people in our community are still grieving this tragic loss. Would you say any of his music helped inspired any piece of are you have produced?
"I think my reaction was less extreme than a lot of people. I do not come from the scene. Before djing, I was never really going to shows or festivals. I loved Avicii's music. I was a fan and the "Levels" remix by Skrillex was one of the first EDM tracks I downloaded from iTunes. If it was a CD it would be burnt out. I have seen so many posts how impactful he was to the scene and to dance music in general. He truly flipped dance music on its head. It is a huge loss and I think now more than ever mental health needs the attention it deserves. 
"I have three scenarios for you but you get to only choose one? The first one is that Pokémon are real, you just got invited to the real Hogwarts School of Witchcraft and Wizardry or the last one you are allowed to use the force? You can only pick one. Choose wisely."
"That is such a hard question. Hogwarts is cool, but Voldemort would probably be after me. As far as lightsabers go, my friends and I get drunk sometimes and we have a Samari sword around the house and we cut cardboard so probably not the best idea if we did that with a lightsaber. Pokémon in real life seems like the most plausible. To catch a Gyarados in real life and train it would be dope. So I would have to choose Pokémon in real life."
"If you could be a Pokemon which one would you be and why?"
"I would totally be Mewtwo. He is cool and purple and kind of looks like an ancient cat. He is really powerful and cosmetic."
"You just recently turned 21, so happy belated birthday. Did you do anything fun for the big 21?"
"I went to dinner with my manager and my best friends and we just went to the club. It was one of those hip-hop bottle service clubs and then I actually dj'd too. My manager asked me if I wanted to dj and I was like it's my birthday, so yes, I would and it was a blast and a very fun night."
"You have been traveling to so many different cities for this THERE X2 tour so far, any specific cities stick out to you that really took your breath away?"
"I think the two cities that were the craziest during the tour were Echostage in Washington D.C. and Stereo Live in Dallas. Those two shows had an out of control crowd response. I felt like a mini Justin Bieber. I was like wow I am loved that much!?"
"Your music video for "I Still Recall" is truly touching, how much involvement did you have with the video?"
"My friend Daniel, who works a lot with Marshmello and his videos, actually directed that video. Many of my family members have gotten cancer, diabetes, and diseases like that. He brought the vision to me and knowing how that feels and having that personal connection with that subject matter just felt like it worked."
"Festival Season is in full swing and you have already played Ultra's 20 anniversary and EDC Las Vegas which are two big-name festivals. You are scheduled to play several other festivals this year anyone in particular that you are more stoked for?
"There are two. Spring Awakening, which I have never played before. Then, of course, Tomorrowland because it's Tomorrowland."
Slushii stands for so much that he really is a light that shines brightly into the dance music scene. He is humble beyond words and really strives to help individuals find their happy place with his music with what he produces. He has created a fan base that is known for finding their light during their dark times. It goes without question that Slushii is truly a one of a kind soul that is helping improve the community step by step and day by day. The future is bright for him and the accomplishments will be endless and we cannot wait to see what he does next.  
Connect with Slushii:
https://www.facebook.com/SlushiiMusic/
https://twitter.com/SlushiiMusic
https://www.instagram.com/slushiimusic/