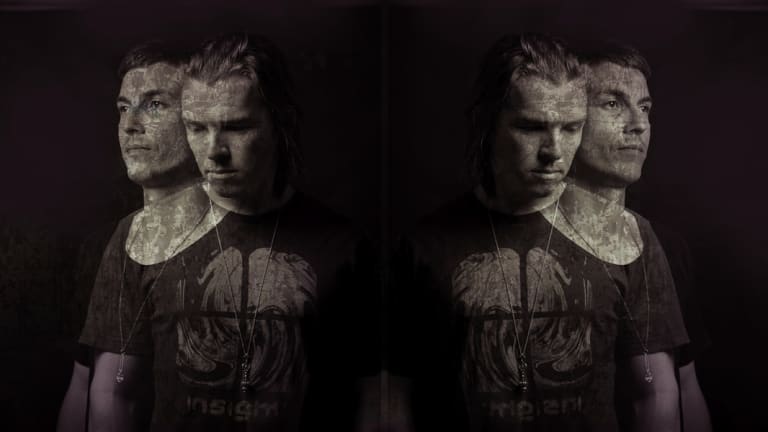 State of Mind are Taking You to the Land of the Blind [INTERVIEW]
The New Zealand drum and bass duo talk about their newest release and the music scene in their country.
State of Mind are not just another drum and bass producer duo. Hailing from New Zealand, they slowly but surely took the world over and even won the Drum&BassArena Best Album Award for their 2014 effort Eat The Rich. Now that they are back with a new release, they were ready to chat with us a bit. 
EDM.com: Land of the Blind Vol. 2 is finally out. How does it feel to finally be able to share it with the world?
State of Mind: It feels great. We always get excited before we release music.
Where does it stand in comparison to Vol. 1? Would you say they work as separate concepts or do they fit as one whole?
They are different. Part 1 was five straight-up DnB bangers, and Part 2 is a bit more eclectic. It features "Sixth Beneath the Floor," which is half time. It also has a super chill track in "Preset 42." To be truthful, we won't worry too much about how it all "fits" until we package it all up into one album. Then, we will listen through to see if it works in a coherent way. We will order it so it flows nicely - maybe change the balance of the tunes by dropping one or two. That's something that will happen next year.
Once again, you teamed up with Black Sun Empire. Not only did you do a track together, but the EP is out on Blackout Music. How much of an influence were they for you as artists, and how is it to be a part of the Blackout family?
Well, we've been signed to their label since 2013 so it's nothing new, really.  They are friends first, label bosses second. They put out our last album, Eat the Rich, and we were lucky enough to win album of the year for that, so, they give us the freedom to basically do what we want going forward.  I think we have both influenced each other, to be honest. We have worked so much together over the last ten years. We must have released 20 to 30 tracks!
On the course of your career, you accomplished many great things - you had releases on Blackout and Eatbrain, you started your own label, and worked with people from all over the world. What do you see as your biggest accomplishment so far, and what was the biggest challenge?
As previously mentioned the award was nice. It was internationally voted, so we must have done something right.
Being from New Zealand, how hard was it to build your name and showcase your music in a genre where the most artists, labels, and fans are based in Europe? Can you tell me more about the scene in New Zealand? We've seen quite a few amazing acts come out of there in recent years.
It wasn't hard so much, but it took a bit of luck for us to first get signed. The local promoter where we live gave one of our demo CDs to Total Science who were here on tour and said: "Check this out." We got a phone call the next day, and from there, we were off. It did take a few years to really carve out a touring name, I guess. We played quite a few small shows in the beginning as people got familiar with our name and sound. The NZ scene is like anywhere. It has its good times and bad times. Right now, it's pretty strong again. It does well for a small country in producing talent, too.  
It seems like you put a lot of effort into your album artwork, and this release is no different. How did you come up with it?
This art is done by a friend of ours who now lives in Australia. He's a super talented comic book illustrator with a quirky, dark style. He also did the art for Eat the Rich. The hard part is brainstorming an idea or concept, to begin with. From there sketch's go back and forth until the composition gets nailed down. Sometimes it happens really quickly and other times it can take some effort, but it's important to get it right. We don't want the art to look like a generic release. It's gotta be unique. It's gotta be us.
I don't know if you noticed it, but your music, and especially "Sun King" is really popular among skateboarders. Was it something you ever expected to happen? Are you involved in extreme sports in any way?
Is it? That's cool. I suppose we do get a lot of videos sent to us by people using our tracks on their homemade extreme sports videos to be fair. Motorcycle riders. Drift drivers. Snowboarders. Free-runners. A few skaters, too. I guess they like the energy.  As for us being involved in extreme sports ourselves, not really. I ride motorcycles, but that's hardly extreme!
FOLLOW STATE OF MIND:
Website: http://www.stateofmindnz.com/
Facebook: https://www.facebook.com/stateofmindnz/
Twitter: https://twitter.com/stateofmindnz
Soundcloud: https://soundcloud.com/stateofmindnz