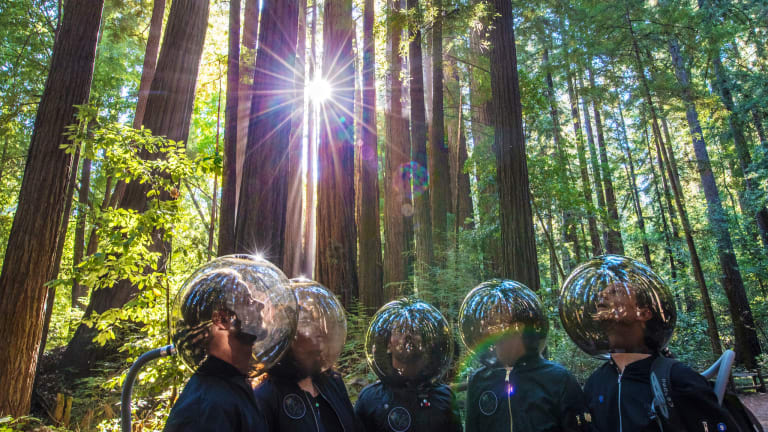 STS9 Puts a Spotlight on Politics [INTERVIEW]
Sound Tribe Sector 9 talks activism, politics and more ahead of their San Francisco show at the Warfield.
Between the Mount Olympus of jam music to the mortal world of contemporary live electronic, few have emerged as demigods of sonic greatness quite like 20-year anomaly Sound Tribe Sector 9 (STS9). With a full-bodied sound incorporating elements of rock and jazz with a grandiose light show to match, the band has bridged genres and generations alike. 
Frequently appearing at events both as activists and icons of future music nostalgia, the band has a history of challenging the status quo. From forming partnerships with charitable organizations like the Conscious Alliance Food Drive to the band's documentary on apathy among youth today, ReGeneration, STS9 also speaks out on the socio-political climate with as much fervor and tenacity that they pour into recording sets from their studio-home in Santa Cruz. 
Over the years they've evolved considerably. Today, with sell-out shows across the whole tour at iconic venues like the House of Blues and Red Rocks Amphitheater, and the announcement of their new Wave Spells festival concept in August, they represent a pillar of cultural leadership as much for their ideas as for their music. 
To learn more, EDM.com connected with the band ahead of their San Francisco show at the Warfield slated for January 25th. They share their inspirations in activism, the difference in the approach to politics between the jam and electronica scenes, and so much more. Want to understand more about what makes STS9 such a force across genres as well as on the political stage? Read on.
EDM.com: STS9 has witnessed numerous artists with a message about socio-political change. What are some of the activist groups that impacted your music? Are there any that inspired a sense of social responsibility early on?
STS9: The first that come to mind are Bob Marley, Woody Guthrie, Marvin Gaye, Bob Dylan, Rage Against the Machine and Boards of Canada. Some other groups outside of music that have inspired us are SNCC, the Situationists and the Yes Men. 
I would also say that our sense of social responsibility comes from our experience and highest aspirations as creative people. We want our music to have a positive impact on people's lives and we want to support the efforts of our community for the common good. We think one of the most important things we can do as a band is to create an experience where people can have a timeless or transcendent moment through music, a place where you can let your heart take over your mind for a while. The music is the message. 
You guys have raised money for the conscious food alliance and other charitable initiatives. There certainly is no shortage of causes for a group like STS9 to get behind. How do you guys select which to support? Which are most important to you and why?
We're blessed to have friends and fans who inspire us to do everything we can. Some of the work we've done with kids arts programs and high school environmental science projects have been amazing because you see how fulfilled they are to be working on things they're inspired by. It also inspires us to keep making music and pushing the potential of what we can do with the support of our community. 
What do you think is different about the way the jam legends like The Grateful Dead, Phish and The String Cheese Incident approached politics compared to the way of contemporary electronic music groups? Are we trending out of apathy or are we sinking deeper into it?
I'm not sure. We don't really know enough about how those bands approach politics to speak on it. There's always some apathy and cynicism but I don't think a lack of focus on politics in art necessarily equates to apathy. I think we need both activist art and art thats more in touch with transcendence and the sublime. 
When humans cut down joshua trees, dumped trash and vandalized California's national parks amid the government shut down, what were your reactions?
I just pushed it down on top of all the other rage inducing news we've had to endure recently. I hope to let it all out at the studio soon. 
If aliens landed and said "take me to your leader" and we actually brought them to the White House, how do you think they would respond?
STS9: "No, we said take us to your leader." 
If you had the opportunity to share three songs with Donald Trump - and he had to really listen to them - which ones would you send him?
STS9: "Be Nice," "Love Don't Terrorize," and "F. Word." Extra credit: "Oh Little Brain." 
Image Credit: aLIVE Coverage
Follow Sound Tribe Sector 9:
Facebook: facebook.com/sts9
Twitter: twitter.com/STS9
Instagram: instagram.com/sts9
SoundCloud: soundcloud.com/sts9