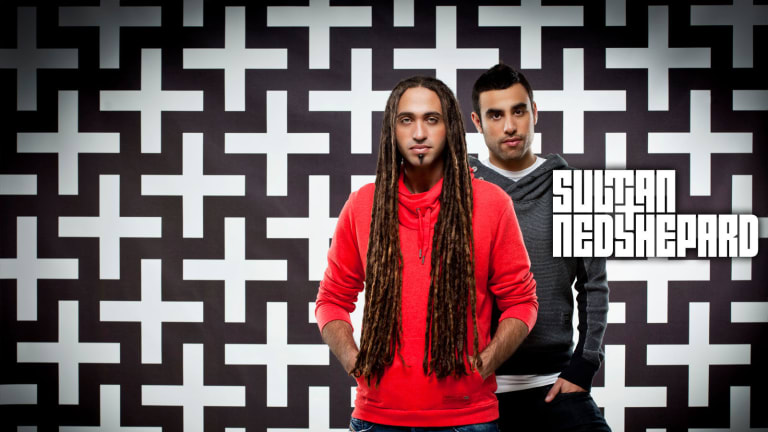 SULTAN + SHEPARD TALK ABOUT PLAYING LIVE IN THE STUDIO & THEIR FAVORITE COLLABORATIONS [Q&A]
INTERVIEW: Sultan + Shepard Discuss Their Favorite Music, The State of EDM, and More!
Montreal's own Sultan + Shepard have released have dropped a video for "Damn" the follow up single to "Cashmere Sweater."
Featuring the belting vocals of Red Rosamond, the video for "Damn" captures us with its catchy lyrics, driving melodies, and thumping beats. Taking Sultan + Shepard out of the DJ booth, the video shows a different dimension of the producer duo as skilled musicians. Playing both guitar and piano, Sultan + Shepard give the track space to breathe allowing LA-based vocalists Red Rosamond's diva stardom to be front and center.
Sultan + Shepard are no strangers to the game, having scored a Grammy-nomination for a remix of Bruno Mar's hit "Locked out of Heaven," the duo definitely fall within respected circles of the music industry. With previous collaborations with Ed Sheeran, Dillon Francis, Coldplay, and more, Sultan + Shepard are skilled craftsman of slick pop singles.
We had the chance to catch up with Sultan + Shepard to discuss the single "Damn"
The new video for "Damn" features you performing in a studio with live instruments, why was it important for you to film the video in this way?
Sultan + Shepard: We're musicians and we grew up playing instruments, so it's something that we've done long before we learned how to DJ. There's a lot of misconceptions about how electronic music is created and whether or not people are actually playing instruments, and while there are certain songs that have a lot of electronic and computer generated instruments, "Damn" has a lot of piano and electric guitar so we thought it would be fun to showcase that side of ourselves as artists. Plus it was just really fun to just jam out in a live room with Red!
How many other instruments do each of you play?

Ned plays the piano and Sultan plays guitar and drums.
Would you consider integrating live instruments into your performances?
Definitely. It's something that we've done in the past- about six years ago when we released our song "Call My Name" with Nadia Ali, we did a slew of shows together where Nadia sang and Sultan played guitar live and I (Ned) played a keytar. It was crazy actually and the crowd reactions were amazing. It's something that we definitely want to do again, but we're just waiting for the right moment where we think it would have a big impact. We don't want it to feel gimmicky.
Who has been your favorite person to collaborate with so far? Who would you like to collaborate with in the near future?
We've loved collaborating with so many different people- it's always hard to pick a favorite. Nadia Ali is really so great to collab with because she's like a sister to us- we've traveled all over the world together playing shows and hanging out so when we work on music together it feels so natural- plus she has a truly special voice.
What's the creative process for each track when working as a duo? How do each of you leave your own individual mark on a track?
Our main process is really for me to write various chord progressions on the keyboard and Sultan to come up with riffs on guitar, which sometimes we then translate into electronic elements. That combo really forms the musical foundation for all of our tracks and we build from there. I do most of the editing and programming and Sultan always does the mix down. We usually spend the rest of the time arguing about the arrangement and what should go where. But that's the really fun part when the song comes alive and sounds like a piece of music, not just a cool loop.
"And as a genre [EDM] finally found it's place with all the other genres, both in the streaming world and in festivals. So that's a really amazing thing because for so long it was like the forgotten child of the music industry that no one knew how to market or promote."
Are there any other genres you'd like to dive into and explore more?
We've done some co-writing on indie projects with Tegan and Sara and other artists. We love indie rock and just rock in general, so that's something that we're always down to more of. We have a couple things in the pipeline that we think will be really interesting!
Some artists have a very harsh view of the EDM world as of right now, while others have taken a more positive look at it. What are your thoughts?
So much has been written about EDM in the last few years. The thing about the genre is that it's always changed and gone through cycles since it's inception. There was definitely a bubble here in North America that burst but it didn't mean that EDM died- if anything it just did what bubbles do when they burst: it splattered everywhere. You can hear EDM influences in every type of music now. And as a genre it's finally found it's place with all the other genres both in the streaming world and in festivals so that's a really amazing thing because for so long it was like the forgotten child of the music industry that no one knew how to market or promote.
Are there any up and coming dance music artists you guys are excited about?
There are so many young producers right now, it's very exciting. Illenium is doing cool musical stuff as is Gryffin. Brohug and D.O.D. are making dope house music, as is Offaiah and Vintage Culture.
Out of all the places you've performed in the world, which venue has been your favorite and why?
That's a question we get asked so much- we think that the Wynn in Vegas is really a special place. People just show up in Vegas ready to go hard and we've had some seriously memorable nights there. New City Gas in Montreal is another wild place, mostly because the building feels like a warehouse party but with really high end details that make it feel like a club as well. It's our hometown as well so we love performing there. Outside of the U.S. Korea has been a huge highlight as well as large parts of Asia. We just played the World DJ festival in Seoul and it was insane. The energy of the crowd and the enthusiasm blew us away!
Outside of the EDM scene, what do you tend to listen to for enjoyment or inspiration?
Right now we're listening to Haim, Sylvan Esso, Portugal The Man, Odesza, Kendrick Lamar, Maggie Rogers, James Vincent McMorrow, Kaleo, London Grammar and stuff like that. We also go back to our influences like Pearl Jam, Prince, the Chemical Brothers and older artists a lot just to remember music that has stood the test of time.
Is there any new music or projects coming up for you guys this year?
We have a new song with Nadia Ali coming out this summer which is super great because we haven't released anything with her in quite some time. It also features Iro who is an amazing singer/songwriter from NYC who has featured on a lot of Alok's music. He's such a great dude and the combination of the two of them is beautiful. We also have a song with Vassy that we're finishing up that is really fresh and cool. She's a real talent, and it was time to reunite with her after co-writing David Guetta's "Bad" a few years ago.
Follow Sultan + Shepard
Soundcloud: soundcloud.com/sultanshepard
Facebook: facebook.com/sultanshepard/
Instagram: instagram.com/sultanshepard/
Snapchat: snapchat.com/add/sultanshepard