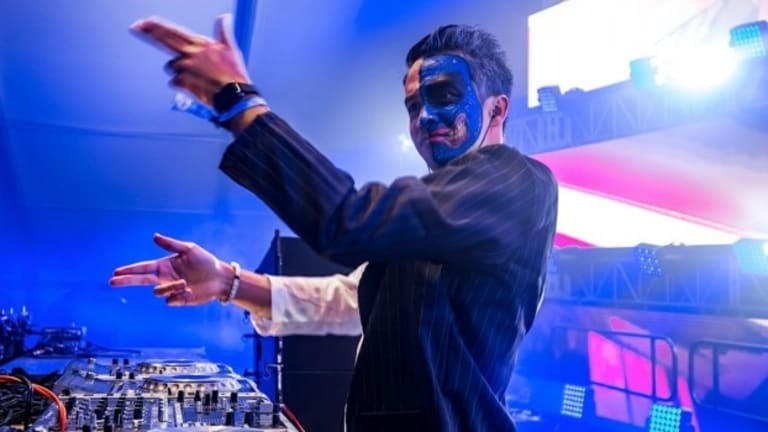 Laidback Luke Talks Life as a Hero Ahead of Super You & Me Halloween Show [Interview]
We went in depth with one of the "good guys" of EDM.
*Sponsored Content

Laidback Luke has been a prominent figure in the dance music scene since his early days in the mid-90s as a house and techno producer. As the mid-00s saw Laidback Luke cement himself as one of the leading figures of the newly coined EDM, the Dutch native was one of the first producers to fuse together pop melodies with dance floor beats. As the co-founder and head A&R for his label Mixmash Records, Laidback Luke has been a mentor for some of the scenes hottest producers. Passionate about giving deserving talent a leg up in the music industry, Laidback Luke can be credited with jumpstarting careers of dance music superstars Avicii, Afrojack, Knife Party, Steve Angello, and many more.
As one of the "good guys" of EDM, Laidback Luke has also developed a personal connection with his fans through his vlog series where he tackles topics like DJ Mag's controversial Top 100 DJs poll, the widespread use of pre-recorded sets, as well as delivering production tutorials for fans aspiring to be music producers.
We caught up with Laidback Luke to discuss his recent tour in Asia, how to be a positive leader in the EDM industry, and how to stay healthy on and off the road.
Read on to get inside of the mind of Laidback Luke before he takes the decks at his upcoming Super You & Me Halloween party happening Friday, October 27th in San Fransisco. 
EDM.com: Last time we saw you was in Miami and so obviously a lot has happened since then. How was touring Asia? What's it like playing there?

Laidback Luke: Oh, I've played in Asia for many years, but the new and hot thing is China. So, the way China has broken open right now is quite incredible. There's a very big scene, and the promoters and the clubs are very happily investing in bringing over EDM DJs. It's really good to see how it's developing at the moment.
Have you had to adapt to their taste or do you have to read the crowd a little differently? Or has it been kind of like, they enjoy most of what you play?

Well, it's a very tricky thing because I'm an old school DJ, I'm always trying to adapt to the crowd. And the one thing that always surprises me is that they have no clue what the Western throwback hits and classics are. So, what I'm used to playing whenever a crowd doesn't respond, like, classics or whatever, doesn't work in China. They have been very disconnected from the Western world. They don't have that reference. Last time I played, I was like - oh you don't know the throwbacks anyway, so I'm just going to play house now. You don't have that reference. But what I did notice that they do know really big hits now. For instance, the biggest one was the 'Shape of You' by Ed Sheeran, they knew that. And so if I keep it in that drum...well, for instance, major things like Star Wars Darth Vader Anthem or even like Tetris, that's when they didn't say no. So, I made use of the use of that.
That's awesome. How open are they to new music? And does it matter how it's communicated or do you feel that there isn't a language barrier to EDM?

Yes, I do feel they are very open, and interestingly enough we just signed one of the bigger Chinese newcomers. His name is Unity. And so, we brought him over to play on my Mixmash label night. And the thing he was doing was MC-ing through the mic in English. I kept on asking his tour manager why isn't he communicating in Chinese with them because they don't speak English. I was like - why doesn't he say, you know, - put your freaking hands up in in Chinese. But apparently, they've been getting used to DJs saying - put your freaking hands up. So, by now they actually know what that means when they do that.
Crazy! Well, I'm glad that you're back stateside. So, as you know, we're obviously very excited to partner with the Goldenvoice to bring the Super You&Me brand Halloween edition to San Francisco. So we gotta ask: what does it mean to be a superhero in the world of EDM?

Keeping it genuine and that could be in any form or style, or however, you want to tackle it. I'm just fed up seeing bandwagoners. Just people jumping on it to make a quick buck, or to up their social media, or to become famous, or you know, that kind of thing. I really want genuine people that have heart for the music and heart for the scene. People that actually add up to a scene instead of just feeding their own freaking ego.
Great answer. I love it. My next question is which DJ would you love to have as your sidekick or partner in crime and why?

Throughout the years I've been guiding new talent and I still do. And I think my favorite sidekick at the moment would be one of our other young Mixmash family members whose name is Mark Villa, one of our youngest signees. I think he'd make the perfect little sidekick for me.
Do you feel like over the years you've seen your friends, more so the veterans in the scene, are out there fighting their own battles in terms of keeping it real and things like that?

What we all have our own battles and we all have our own approach. What I miss with a bunch of dudes out there is that no one steps up and takes the leadership. Been speaking to Don Diablo at a Chinese festival and he actually watches my vlogs.
And I said like, "Oh Don, I'm so sorry, I probably sound like an old whiney dude right now. You know, with all of this criticism and stuff." And he's like, "Well, someone needs to step up."
So, that's what I've been doing and I wish a lot more of the older generation would do that. And you know guide more of the new talent and explain to them you know how it should be done.
That's funny because my next question would be - do you feel that this famous quote made from the Batman movie "Either die a superhero or live long enough that you become the villain", is kind of a general theme in the world of EDM?

Well, it's very interesting and I am steering that way. And I didn't realize, but I get a lot of props for it right now. Mostly from younger DJs that want to be guided, but I get a lot of slack as well. Some people don't know how long I've been in this in industry or what I've done for this industry, so they're easy to judge and easy to come at me aggressively. Whenever I open my mouth I speak of the old generation I looked up to as well. So I have them as my backup. But yes, it is a tricky thing and I do need to realize that I can make this more of a positive thing and really just steer into, you know… Say for instance if I was a fitness instructor and everyone was trying to get as big as Arnold Schwarzenegger trying to do yoga… This doesn't happen and this doesn't work. So in that case, I would say – Now you've got to stop doing yoga if you want to grow as big as Arnold, you need to lift heavy weights. And this is what I'm doing right now. You know, it's not my ego it's not because I want to be better than the rest or anything. I'm just telling people like - if you want to be a DJ if you want to be a good all-around DJ, this is what you need to be doing.
This one I'm actually really excited to ask you about. We're going to tell you some of the producers, their names, and you can tell us that first Super Hero that comes to your head when I say them.
I love it.
Cool. So, first one Steve Aoki.
You know what, I'm going to give him the Riddler.
Yeah, that's funny. I think he could pull it off really well. Next one. Diplo.
The first thing that comes to mind is The Thing for me. I don't know why I think he'd be an awesome one though.
Interesting. Lil John?
What's the name again, the guy that would eat planets? Galacticas! I would give him that, because whenever he opens his mouth, it's so epic, and he could totally devour planets.
So interesting, I like that one a lot. Next one, Deadmau5…
The Joker.
Self-explanatory. Marshmello?
Silver Surfer.
You got some obviously some huge vlogs that touch on some of the most important things about the music scene that, I feel personally hit the nail on the head on what's going on, what's wrong, what things need to be improved. But most of them are more or less targeted to DJs and producers. What do you feel some of the things that festival attendees do that you think they should improve on or work on.
Yeah, that would be a great subject. But it's tough for me because I was never that much of a festival goer. So you know the first things that come to mind are, you know, plan a good timetable to maximize everything you want to see. Like, perhaps bring a change of clothes if possible. Figure out how to stay in touch with your friends just in case you lose signal. Check out the map of the festival to see where catering is, and the toilet, entrance and stuff like that.
What about sets and stages? Would you say like it's better to sit at one stage or explore as many stages as possible? Or stay away from main stage?

So obviously an easy answer would stay away from the main stage. But it depends if you are young festival goers or an older one. Usually, the older ones don't really care about the main stage. Technically, you wanna see all your favorite one. But in that case I would say, make it 50. So try and see people you know and love and then go and pick out some names, maybe ask friends who are some other good names you should check out and put that in your schedule for sure.
Like a lot of the other big DJs, you switched over to Denon for your sets. How was that transition for you, no pun intended? And would you recommend going to Denon if you're only an experienced DJ, or do you feel like this is something that beginners can try to learn how to use?

I think every DJ should play on Denon. I feel it. It's not even one step up from what the current standard. I think it's even four steps up from the current standard and transitioning from for me, and I love the pun, was very - and here we go, was very seamless. Because everything sits where it needs to sit. Overall it's such an improvement, it's such a better workflow… It just all makes more sense and it's literally like as if you're skipping from an iPhone 3 to iPhone 7, that much of an improvement.
In one of your most recent blogs, in your mind segment, you ask DJs to start taking more risks with the track selection in their sets. But what about producing music, do you think it's worth risking their brand to just diversify their production style or do you feel like it's good to take a risk every once in a while?


I feel you should never limit yourself when it comes to producing, You should actually try and produce everything you want because that keeps you active and creative as an artist. Yet though, and this is how I work as well, it's always good to work with an A&R manager and someone that has an oversight of how your career should be going. So, I do feel that as a producer you shouldn't really worry about that. But there are people that are going to guide you even if it's like your friends or family. Do listen to them, like how do you see me, what should I be making. And you can always take the liberty if you feel like you're being pigeonholed, go and make something totally out of the box. And then return to your own style. I've always been very, very unbounded to one sound and it's always been such a relief to just be able to release whatever I felt like.
We were watching your set from Tomorrowland and obviously you've been staying in great shape in all these years. Tell us the secret to your superhero diet. Do you maintain it on the road or does it require more effort when you're away from home?


I do feel that's important and a lot of people have such misconceptions of what healthy eating is for instance. So if I say all you got to eat and eat healthy, instantly salads and veggies come into mine. But the actual truth about eating healthy is eating sufficient protein, and sufficient protein you can get from anywhere. Like literally like yogurt, cheese. I eat meat, so I eat a ton of hamburgers, and basically, my diet is Starbucks and hamburgers. And I should dive more into the stats of how I maintain my 8 percent body fat using those. But yet there it is. And the most important thing is - never ever overeat. Whenever you overeat, doesn't matter if it's burgers or if it's lean salmon if you overeat will accumulate into fat.
Is this coming from like a specific diet that you follow or does it kind of from your own personal experience?
Well, both actually. I've gathered a lot of information over these years and one of the biggest triggers for me was the keto body diet. And it basically stated it's all about count calories. Calories in, and calories out. And then one rule is to eat sufficient protein. And if you do that, it doesn't matter what you eat you'll get that amazing physique.
So, San Francisco is gonna be awesome, and we here are super excited for the show. Can you give us a little sneak peek into exactly what your costume might be in what realm it might be?

My costume? No. Were still a month away, so I didn't start making moves, but luckily we're going into the Halloween season so we have all these pop-up stores. No nothing in mind really. Usually, when I play like Tomorrowland, I'll have like a custom costume made, so the idea needs to be there three months or four months prior to the show. But for San Francisco, I'm just going to wing it, I'll need to see and it's always the secret. I don't even know if I'm going to be a villain or a superhero. If you're reading this, you can totally come as a villain as well. But I need to see, I mean with all the new movies we have so many new costumes as well, so there are tons available. Anyways, I can't wait to be back in the Bay Area again. That is actually one of my favorite places for playing in the world. And I always get a ton of support there so I'm excited.