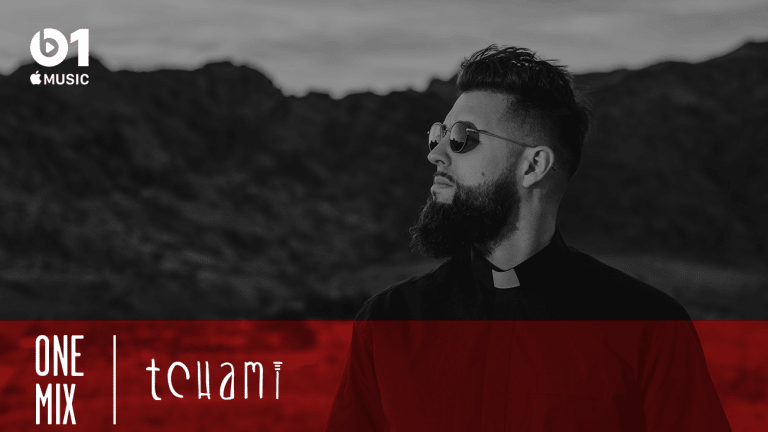 Confession Label Head Tchami Stars on Beats 1 One Mix
Tchami's mixes are a blend of all kinds of house music, so expect an hour of everything from funky melodies to deep bass lines.
Parisian producer Tchami makes his debut on Beats 1's weekly radio show One Mix this weekend. If you're familiar with Tchami, you can bet it'll be an hour of house music of all kinds - funky, soulful, deep and melodic. Expect tunes from A-Trak, Mark Knight, Bellecour, Malaa and Kyle Watson.
Tune in here.
Air Date: Friday 7th December 2018 - 21:00 LA / 00:00 NY / 05:00 UK
Tchami (real name Martin Joseph Léonard Bresso) popped up five years ago with his hit remix of Janet Jackson's "Go Deep." With the remix, Bresso was quick to establish his deep spiritual take on house music, which has progressed considerably over the years.
Songs like "Adieu" and "After Life" embody his spiritual take on house, though he often expresses a grittier sound, as heard on releases like "SIAW" and "My Place."
The Frenchman also stands out for his distinct look, always dressed in a priest outfit for performances, an ode to his sound. Sometimes he even invites choirs to sing on stage, bringing the church to the dance floor - another nod to the spirituality of his style.
Many attribute Bresso as the pioneer of the "future house" genre: a mix of the slow-poised feel of deep house with the bouncy energy and fast-paced drops of modern electronic music. Though Dutch DJ/producer Oliver Heldens and his fan base thought otherwise when the term was coined, leading to a little Twitter squabble between Heldens and Bresso back in 2014. While it was a harmless exchange and the pair are on good terms, oddly enough, just this week Heldens revealed there was a little more to the controversy than we originally thought, with a certain French superstar DJ involved.
Twitter drama aside, Bresso has had a great career. Within five years, he has established a distinct sound for himself, toured the world, and started his own label, Confession, which has ballooned into one of the most popular modern house music labels.
While we interviewed him just last month in New York, ahead of his Beats 1 One Mix, we got to know a little bit more about Bresso. Diving into what drives his musical tastes, he shared his musical inspirations, go-to places for new music, and perfect sunset tracks with us, among other things. Read on to see what he had to say.
EDM.com: First show experience? 
Tchami: La Loco. A club in Paris that is named now La Machine I believe.
First time you brought your mom to one of your shows? 
Olympia in Paris.
The artist who inspired you to become a musician? 
My first piano teacher, Mr. Luga. He was 80 years old or so. I was told he went to one of the best music school in Paris in the '40s and he had a real talent at teaching. My parents, too, inspired me to make music as there was always my father playing piano or my mother singing at home. Seeing things like that at a young age had a huge impact on me. 
Go-to places for new music? 
The internet in general and certain places like the Lighthouse and Disk Union when I have the chance to be in Tokyo.
Guilty pleasure record? 
"Manha De Carnaval" by Astrud Gilberto.
Desert-island dance record? 
"Think Twice" by The Detroit Experiment.
Dream B2B partner? 
Malaa.
Favorite BPM? 
124.
Piece of gear you always need on the road? 
Teenage Engineering OP-1.
All-time favorite festival? 
Dour in Belgium as a music lover and Coachella as an artist.
Biggest misconception about dance music? 
That it's only for clubs and festivals. 
How often do you get out and have fun, and where do you go? 
My fun is in the studio with creative people or friends in the room jamming. I don't go out very much but I enjoy a basketball game or a jam session once in a while.
City with the most underrated dance scene? 
Minneapolis. But there any so many places where house and dance music are beginning to bloom.
Industry prediction for the next year? 
I don't do forecasts but I like what is happening in house music nowadays. I feel there is a sense of freedom, artists are not afraid to experiment and put out different things.
Best piece of advice for new producers? 
Find your sound but don't make it a strict formula.
Dead or alive, who would be your dream collaborator? 
Prince.
What is one of the unique experiences you've had backstage? 
When I first played Red Rocks [Amphitheatre] on the Skrillex Mothership Tour and realized how massive the place looks... Gave me the chills.
Unique travel experience you've had? 
Went to the Great Wall of China. 
What's your favourite throwback track? 
"Rock Your Body" by Marshall Jefferson.
What's one track that fans always lose their mind to? 
Definitely my track "Adieu." 
What was the first album you ever bought? 
Tical 2000 by Method Man.
Name one remix that you think is better than the original? 
MK's Dub III of "Look Right Through" by Storm Queen 
What song would you want (god forbid) played at your funeral? 
"The Sound Of Silence" by Simon and Garfunkel, "A Song For You" by Donny Hattaway, and "Le Sud" by Nino Ferrer.
What's the perfect sunset track? 
"So Good To Me" by Chris Malinchak or Snakehips' remix of "Warm Water' by BANKS.
What song do you listen to cheer yourself up? 
Jimmy Edgar's remix of "Whip" by Aden or "Monte Carlo" by Mercer.
FOLLOW TCHAMI:
Facebook: https://www.facebook.com/iamTchami
Twitter: https://twitter.com/iamTchami
Instagram: https://www.instagram.com/tchami
SoundCloud: https://soundcloud.com/iamtchami