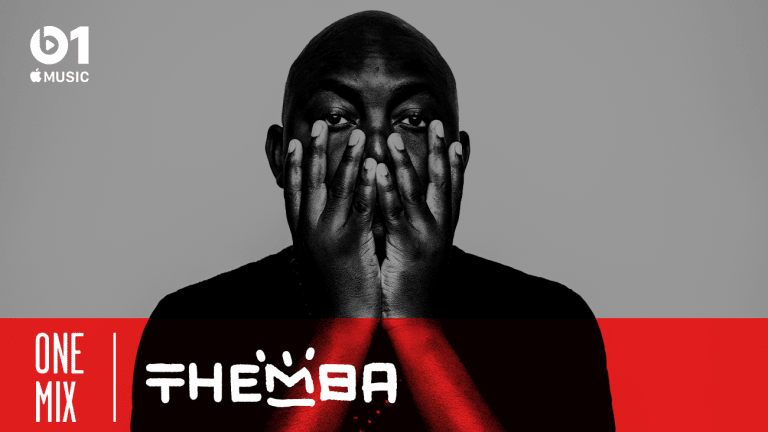 Themba Makes Beats 1 One Mix debut with "Heart of Africa" Mix
Themba brings a flavor of Africa's distinct rhythm and soul sounds to classic electronic music genres house and techno.
South African rising star Themba stars on Beats 1's weekly radio show, One Mix, this weekend. A bearer of African sounds in house and techno, Themba's increasing popularity is in large part to his cultural, expressive style of music. Expect tunes from Black Coffee, Da Capo, Enoo Napa, Lemon & Herb, and Culoe De Song, plus brand new Themba, on his "Heart of Africa" One Mix.
Tune in here, exclusively on Apple Music.
Air Date: Friday 15th February, 2019 - 21:00 LA / 00:00 NY / 05:00 UK
Kwaito, an African genre marked by midtempo house beats with rap vocals and lyrical leads layered on top, was Themba's first exposure to house music of any kind. He collected music from an early age and realized his passion was a true calling at 14 years old when his friend asked him to DJ at a birthday party. Sharing music with people and seeing their reactions to songs struck a chord within him.
Still, he took the conventional route, ending up at college studying accounting. One can only fight their heart so long, though. Themba ended up dropping out of college to pursue music full time, pouring his energy into his passion.
Working with local singers, songwriters, and percussionists, Themba brought a taste of Africa's distinct rhythm and soul sounds to classic electronic music genres house and techno. International acclaim began to arrive only a year ago when his fellow South African and massively popular house music artist Black Coffee promoted Themba to audiences across the globe. Not to mention, Themba released two great EPs on Hot Since 82's Knee Deep In Sound label.
Themba also accompanied Black Coffee in dance music's capital, Ibiza, at Black Coffee's Hi Ibiza residency last summer. For one of the shows, Themba almost burst his appendix a few days before the show, but played the day he got out of the hospital post surgery! In a past interview, Themba explained:
"I was in no physical form to perform but this was something I was waiting and working all my life for and there was no way I was not going to be in that DJ box on opening night. I played my set and the next day I was back in hospital for a few more days. I come from a country where we've been through a lot because of our political history so the resilient South African in me definitely came through."
Before his One Mix, EDM.com caught up with the high-energy DJ to discuss all things music. Themba discussed his first show experience, perfect sunset track, and more.
EDM.com: First show experience?
Themba: I was 14 years old playing on CD, vinyl, and cassette with no mixer for a friend's sister's birthday party. That's where I discovered DJing and what it was all about. I used to collect loads of music so my friend invited me to "DJ" at his sisters birthday party and I didn't understand the concept of being a DJ.
The first time you brought your mom to one of your shows?
Strangely enough, It was only when I was at my 30th that she came to one of my shows. My mom loves peace and quiet, and in South Africa, DJing is misunderstood by her generation.
The artist who inspired you to become a musician?
Man, it was a lot of different artists. In South Africa where I went to school, I was one of the very few black people in my school so I loved techno, electro, and pop that my friends in school listened to. Then, in the township where I grew up, with my friends there we listened to Kwaito which is a local version of hip-hop. My folks listened to jazz, soul and funk so I had all sorts of musical influences when I was growing up.
Go-to places for new music?
I go out to listen to DJs, bands and musical spaces on a regular basis and I often ask complete strangers what music they like and listen to. The whole world is full of amazing music and sounds.
Guilty pleasure record?
The "Yoruba Soul Mix" of "Pride" by Osunlade.
Dream B2B partner?
I like DJing with people who I vibe with off and on the dance floor and it just so happens that one of my friends is arguably one of the biggest DJs in the world, Black Coffee. One day I'll do a back-to-back with Solomun!
Favorite BPM?
122 BPM. It's perfect.
Piece of gear you always need on the road?
My laptop. I don't use anything but USBs when I DJ so my laptop is key to sort and arrange my music.
All-time favorite festival?
Spring Fiesta in South Africa and I have Tomorrowland high up on my bucket list.
Biggest misconception about dance music?
No one really understands who is Jack and what it is that Jack has done for us. Sad, really!
How often do you get out and have fun, and where do you go?
Very often. I like first time experiences so If I'm in a city I'll always try out something new no matter how obscure.
City with the most underrated dance scene?
Definitely Johannesburg. There are very few places I've seen around the world with so many DJs and producers, and a thriving scene that grows yearly.
Industry prediction for the next year?
Ha! Who knows! It's a circus out here but I'm looking forward to music that has soul and emotion coming back. The functional stuff is cool but doesn't help grow the scene and create real memories.
Best piece of advice for new producers?
Make loads of music, don't try sound like anyone else but yourself and back yourself and your dreams.
Dead or alive, who would be your dream collaborator?
Nana Coyote from South Africa. He was part of a band called Stimela.
A unique travel experience you've had?
I've never really traveled out of South Africa as much as I did in 2018 so I really got to see some amazing places and locations. Marbella, Tulum, Croatia, St. Tropez - the list goes on.
What's one track that fans always lose their mind to?
My track "Who Is Themba."
What was the first album you ever bought?
Doggy Style by Snoop Dogg in 1993.
Name one remix that you think is better than the original.
Da Capo's touch of "Abiro" by Kato Change.
What's the perfect sunset track?
"Summer Daze 99" by Nick Holder.
What song do you listen to cheer yourself up?
All my unfinished and unreleased music. I go and imagine how far they can take me and change my life. 
Follow Themba:
Facebook: facebook.com/ItsTHEMBA
Twitter: @itsThemba
Instagram: @iam.themba
SoundCloud: soundcloud.com/themba_dj