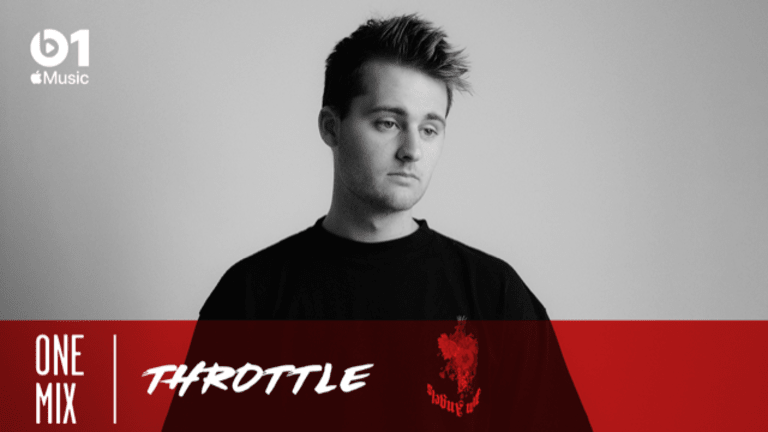 Throttle On Beats 1 One Mix [Interview]
From learning to DJ at 13 to opening for Avicii at 17, Bergin's music journey began early on.
Hot off the heels of his Where U Are EP, Throttle (real name Robbie Bergin) takes the decks on Beats 1's weekly radio show One Mix. Expect tunes from San Holo, Whethan, and Motez, plus tunes from Bergin's latest EP, Where U Are.
Stream Throttle's Beats 1 One Mix here, exclusively on Apple Music.
Picking up the guitar when he was eight years old, Bergin's passion for music began early on. Attending a Justin Timberlake concert in 2007, in particular, inspired him to devote himself to music. Though his music is a far cry from Timberlake's style, Bergin was impressed by his live performance, and aimed to one day have a live show with similar aspects - session players, singers, dancers, and crowd engagement.
Ministry of Sound compilation CDs drew Bergin to dance music, along with a deep dive into the blog scene. Making simple mashups with hip-hop acapellas over dance beats, he began DJing at 13. Upon seeing one of his friends create dance music himself, Bergin was inspired to do the same and began producing the next year. Influenced by French prodigy Madeon, who broke through in his teenage years, Bergin strived for his bedroom productions to lead towards a similar path.
At the age of 16, he released electro-inspired "Next Big Thing" on Monstercat, catapulting him into the spotlight. The following year, he opened for the iconic late Swedish producer Avicii on his True tour.
The next big break came in 2016 when Bergin released bouncy, piano-laden "Waiting" with future house heavyweight Oliver Heldens, which went on to generate over 25 million streams on Spotify. The collaboration was released on leading label Spinnin' Records, who took a liking to Bergin and formed a working relationship with him, putting out hits like the funky James Brown-sampled "Money Maker" and Beatport-topping "Hit The Road Jack."
Learn more about Bergin as EDM.com spoke with him about the biggest misconception about dance music, desert island dance record, and more.
EDM.com: First show experience?
Throttle: Justin Timberlake's Future Sex Love Sounds tour in 2007.
First time you brought your mom to one of your shows?
When I opened for Avicii on his True Tour. I was 17!
The artist who inspired you to become a musician?
Madeon.
Go-to places for new music?
I listen to a lot of Triple J when I'm home. I also follow a bunch of Apple playlists.
Guilty pleasure record?
I actually really like "Lover" by Taylor Swift.
Desert-island dance record?
"So Good To Me" by Chris Malinchak.
Dream B2B partner?
FISHER.
Favorite BPM?
128 is the magic number.
Piece of gear you always need on the road?
Rubik's Cube for de-stressing.
All-time favorite festival?
Biggest misconception about dance music?
That all dance music sounds the same.
How often do you get out and have fun, and where do you go?
All the time. It keeps me sane on tour! I went to Six Flags last week which was unreal.
City with the most underrated dance scene?
Seoul.
Industry prediction for the next year?
Artists will win.
Best piece of advice for new producers?
Learn an instrument!
Dead or alive, who would be your dream collaborator?
Paul McCartney.
What is one of the unique experiences you've had backstage?
Seeing Dua Lipa backstage at Tomorrowland. I was too scared to say hi but still.
A unique travel experience you've had?
Last year I went to Cappadocia for the hot air balloons. It was breathtaking. If you haven't heard of it, do yourself a favor and look it up!
What's your favorite throwback track?
"In My Life" by The Beatles.
What's one track that fans always lose their mind to?
"Turn Off The Lights" by Chris Lake.
What was the first album you ever bought?
Future Sex Love Sounds by Justin Timberlake.
Name one remix that you think is better than the original.
Duskus' remix of "Only Be Me" by DROELOE.
What song would you want (god forbid) played at your funeral?
"Here Comes The Sun" by The Beatles.
What's the perfect sunset track?
"I'll Come Too" by James Blake. What a tune.
What song do you listen to cheer yourself up?
"Dive" by Tycho.
Follow Throttle
Facebook: facebook.com/throttleofficial
Instagram: instagram.com/throttle
Twitter: twitter.com/throttle
SoundCloud: soundcloud.com/throttle