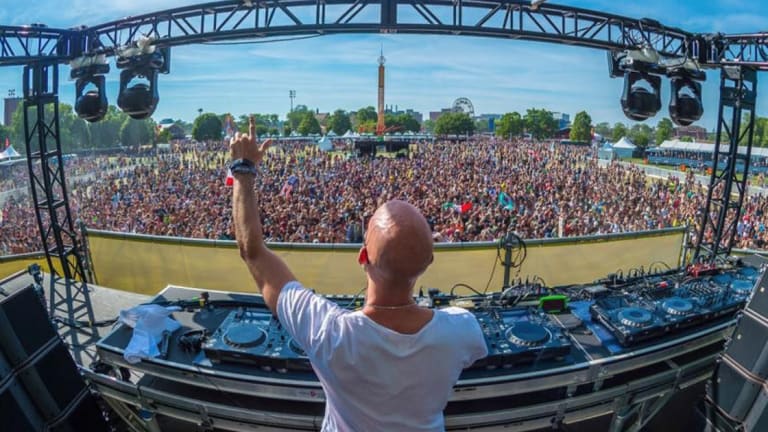 TJR Talks New Music That Isn't Bounce in This Exclusive Interview
Bounce, acid house, techno, big room - TJR does it all!
Known mostly for his house hit, "Funky Vodka," and Melbourne bounce anthems, "What's Up Suckaz," "Bounce Generation" and "Ode to Oi," TJR is changing it up with his most recent releases "Time to Jack" and "Higher State." We were lucky enough to catch up with him about his latest tracks and his exploration with different EDM genres. 
EDM.com: You almost chose a golf career over being a DJ, what was the major reason you chose a music career?
TJR: Because DJs can drink on the job.
Recently you played at Even Furthur in Wisconsin, how'd it feel going back to your roots playing an acid house/techno vinyl set?
Well I tell ya, it would have been meaningless if the crowd at Even Furthur wasn't educated, but they were and they loved acid. Especially old school shit. My whole set was basically 90's acid cuts. Also, I forgot how many things could go wrong when playing just on vinyl, but that also made it really fun and challenging.
What got you into bounce music?
I've always loved bouncy tracks, but I think Javi Mula's "Come On" was really the first upbeat bass song I heard that got me hooked to the groove.
A majority of your tracks are bounce, but your newest track on Spinnin' Records "Time To Jack" is definitely a pleasant surprise. What's the story behind this genre choice and how did "Time To Jack" come about?
Yes I know, shocker, I can actually make other styles lol. I bought a Jupiter-6 recently and wanted to create a track with it so I had this dutchy drum pattern already made and just jammed away until I got that drop. The breakdown and vocal is a throwback to early rave with the chord stabs and the vocal reference to Jack. 
Your newest track "Higher State" has gotten much support having been played on podcasts by Hardwell, VINAI, Swanky Tunes, Dimitri Vegas & Like Mike and R3HAB and in Galantis' Electric Zoo set, how does it feel to get all this support from fellow DJs?
Chris and I put in a lot of the work into the track so it's reassuring to see the support.
Out of all your tracks, which one are you most proud of or have the strongest personal connection to?
Ode to Oi. 
Underground Vibes | 082
summet, DNIE, Moosa Saleem, CRÈME and more are featured in this week's installment of "Underground Vibes."
What was it like working with Pitbull on the platinum hit "Don't Stop the Party?"
The man knows how to party. He was so much fun. During the video shoot he kept talking about the great music videos of the 80's with bands like GnR because they were really partying. That's all he had to say, I got smashed and puked after my scene which was at 3 A.M.! 
If you could collaborate with any artist, who would it be?
Bill Murray.
Every month you do a Facebook live top ten mix of your favorite tracks for the month. Do you put a lot of planning into it or is it more spontaneous? 
I'm always downloading songs so it's not hard to pull stuff each month. I organize the songs by key and tempo with cue points. Mixing EDM is pretty damn easy and predictable so programming mixes is a breeze.
You played a couple of shows in San Diego in September, what will TJR be up to for the rest of fall and winter?
Catch up on Netflix shows and search for used vinyl.
Special thanks to TJR for chatting with me! We're definitely looking forward to what kind of music he has in store for us next!
Talking about new music, check out his most recent big room collaboration with Chris Bushnell, "Higher State." Those drops will definitely not disappoint!
Follow TJR: