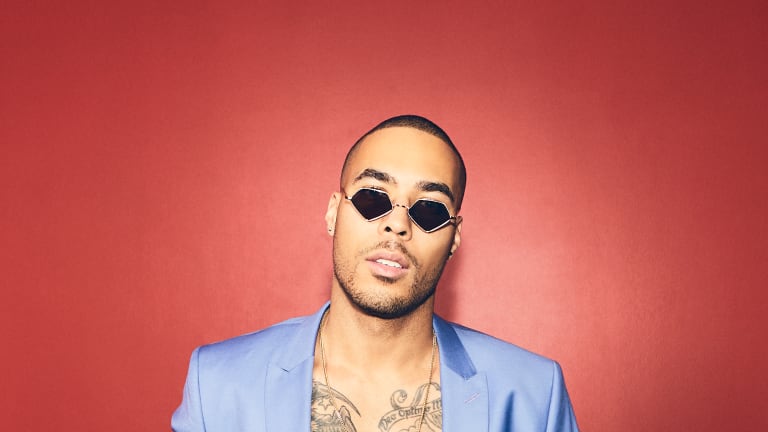 TroyBoi Previews V!BEZ, Vol. 2 and Talks Tattoos, Rap, and More [Interview]
TroyBoi shed light into what makes him so cool when we interviewed him.
TroyBoi might just be the coolest man in electronic music.
While his tall, tatted and designer adorned aesthetic could draw the ire of any model, TroyBoi — real name Troy Henry — also boasts a reputation as one of the more exciting young producers in electronic music today. For years, the 30-year-old was most widely known for festival trap bangers like "O.G" and "Soundclash" in addition to high-profile collaborations with such bass music fixtures as Flosstradamus and Diplo.
In 2018, however, TroyBoi has seen a career and popularity boom derived from a continued evolution in his music. 
His self-branded "My Style" sound layers a wide blend of electronic, trap, hip-hop, and R&B into a process he calls "music manipulation." "I like producing tracks using instruments or sounds that are quite obscure, but to make it sound pleasing to the ear," says TroyBoi, who reached out via email to talk about his latest release, V!BEZ, Vol. 2. "For that reason, my music tends to stand out, the weirder the better."
His use of these varying and unique styles has helped him cast a wide net among electronic music fans around the world, a notoriety that continues to spread via solo touring, festival performances, and high-profile cosigns from his peers. Last March, TroyBoi found himself opening for Bassnectar's Spring Gathering event in Chicago, and later supported longtime friends Harrison Mills and Clayton Knight of ODESZA on the Florida leg of their A Moment Apart tour.
Most recently, the UK-star has been touring in support of his latest project, V!BEZ. The tropical-themed album is split up into two parts (V!BEZ, Vol. 2 dropped this past November) but follows the same theme of seductive, tropical trap and R&B tracks. Fronted by catchy singles "Say Yeah" and "Destiny," this latest release runs seven songs in length and is arguably TroyBoi's most polished work to date.
EDM's most interesting man caught up with us this week to talk about his evolution on V!BEZ, Vol. 2, tattoos and more. Read on to see what he had to say.

EDM.com: First off, we love the look of your tattoos, in particular the ‪Michael Jackson tatt on your forearm. Where/when did you get that? Is there a special meaning story behind it?
TroyBoi: I've been a huge fan of Michael Jackson for as long as I can remember. He was a big musical influence to me and when he died I was so heartbroken. I got the tattoos to show gratitude to him for the effect his music had and still has on me.
What were your musical influences growing up?
I listened to a lot of grime, garage, house, hip-hop and R&B. I especially loved 2000s hip-hop and R&B. Music from that era heavily inspired my music.
What inspired this tropical island theme on the V!BEZ projects?
The first V!BEZ cover was shot in Costa Rica in an infinity pool. The infinity pool represents endless ideas and possibilities in my music and I generally love scenic places, so I stuck with the concept for Vol. 2. I shot the cover for Vol. 2 in an incredible house in Ibiza with one of the most stunning infinity pool and views I have ever seen.
How important is the setting when making your music?
For me, I make the best music when I'm in great surroundings. It could be that I'm working at home, or creating music watching the sunset in an exotic location. The more unique the location, the more I'm inspired to paint an audio picture of my surroundings through my music.
How is the V!BEZ project different than your previous work?
It's different because V!BEZ is my chance to just let my creativity run wild. I love to create a wide variety of music, so this is the perfect project to showcase that and introduce people to new ideas.
What's your personal favorite song on the album(s)?
"Say Yeah" and "Drip." They both feature my vocals which for me was a natural evolution of my work. I always sample my voice in a lot of my tracks but this time I wanted to give my vocals a little more focus to really solidify my signature stamp.
We most recently caught you at Suwannee Hulaween, which was a fun, vibey set that seemed to send everyone in the woods into a sexy dance party. The following day you played a city fest in Voodoo where you seemed to have a blast as well. How are city/camping festivals different for you preparation wise and do you have a preference?
I love both types of festivals. My preparation is the same, however I'm more aware of the crowd that may be present which can dictate which vibes I want to create in each set. Festivals in the forest feel more free and thus my track selections can be a little more experimental because the people are there to experience new things.
Your hip-hop taste is lauded by fans. Who are your favorite rappers?
So many to name, I'm a fan of Biggie [Smalls], Big Pun, Eminem, Kendrick [Lamar] and Drake. I like lyrics and flow, they all have the above.
You've described yourself as a music manipulation specialist. In your own words, what does that mean and how does it help make your music stand out?
I DJ, I perform, I entertain, but music production is my forte. I like producing tracks using instruments or sounds that are quite obscure, but to make it sound pleasing to the ear. For that reason, my music tends to stand out, the weirder the better.
FOLLOW TROYBOI:
Facebook: https://www.facebook.com/troyboimusic
Twitter: https://twitter.com/troyboimusic
Instagram: https://www.instagram.com/troyboi_music/
SoundCloud: https://soundcloud.com/troyboi