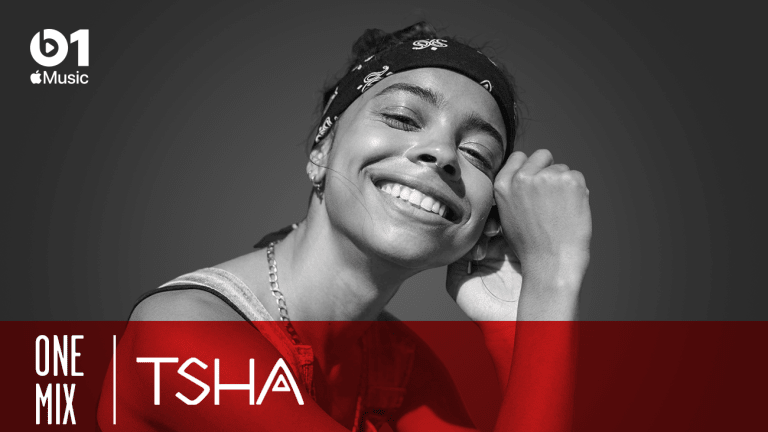 TSHA on Beats 1 One Mix [INTERVIEW]
Citing Bonobo, Jon Hopkins, and Four Tet as influences, TSHA crafts moody, melodic electronic songs.
With a little over 500 followers on SoundCloud, TSHA (real name Teisha Matthews) is an underground producer ready to rise.
Citing Bonobo, Jon Hopkins, and Four Tet as influences, Matthews crafts moody melodic electronic songs. She only has a handful of tracks to her name, but they're enough to warrant attention. From the driving bass line of "Sacred" to the airy instrumentation of "Moon," Matthews shines at blending pensive sounds with animated percussion.
This weekend, Beats 1's weekly radio show One Mix welcomes her for an hour behind the decks. With tunes from Ross From Friends, KDA, Elliot Adamson, and Throwing Snow, it's the perfect leap into TSHA's sonic world.
Stream the mix here, exclusively on Apple Music.
Learn more about TSHA as EDM.com spoke with her ahead of her One Mix. 
EDM.com: First show experience?
TSHA: Played support for Bonobo at Fabric! That was my first performance as TSHA.
First time you brought your mom to one of your shows?
I haven't yet but she's coming for the first time to The Warehouse Project on 2nd November as it's the day after her birthday.
The artist who inspired you to become a musician?
Bonobo.
Go-to places for new music?
Bandcamp, SoundCloud.
Guilty pleasure record?
"Bodak Yellow" by Cardi B.
Desert-island dance record?
"Temples" by Lone.
Dream B2B partner?
Hunee.
Favorite BPM?
124.
Piece of gear you always need on the road?
AirPods.
All-time favorite festival?
Lost Village.
Biggest misconception about dance music?
That it is all about drugs.
How often do you get out and have fun, and where do you go?
Not very often outside of events, I play but I really like a local dive bar called Pimp Shuei.
City with the most underrated dance scene?
Lisbon.
Industry prediction for the next year?
There will be even more '90s throwback music.
Best piece of advice for new producers?
Learn an instrument and set yourself deadlines.
Dead or alive, who would be your dream collaborator?
FKA Twigs.
What is one of the unique experiences you've had backstage?
Met Mark Ronson.
A unique travel experience you've had?
I played a set in an amazing natural amphitheater in the hills of Southern Italy. It was beautiful!
What's your favorite throwback track?
"Renegade Master" by Wildchild.
What's one track that fans always lose their mind to?
"Bashi Mwana" by Musi O Tunya.
What was the first album you ever bought?
Greatest Hits by Destiny's Child.
Name one remix that you think is better than the original.
O'Flynn's remix of "Frigid Air" by FaltyDL.
What song would you want (god forbid) played at your funeral?
"Didn't I" by Darondo.
What's the perfect sunset track?
"Flatiron" by Suzanne Kraft.
What song do you listen to cheer yourself up?
"Hosanna" by Kirk Franklin. I'm not religious but I love him!
Follow TSHA
Facebook: facebook.com/TSHAMUSIC
Instagram: instagram.com/tshamusic
Twitter: twitter.com/tsha909
SoundCloud: soundcloud.com/tshamusic