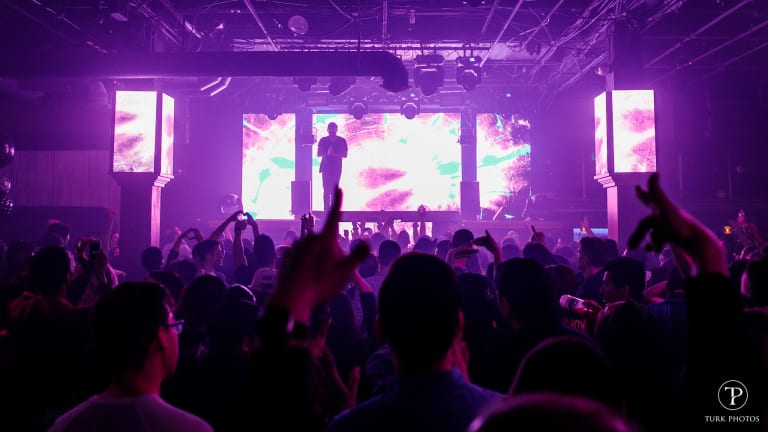 TyDi Talks the Truth About Upcoming Disney Project [Interview]
TyDi has been making headlines with his recent collaboration with Disney on Ice, a new studio album, and a soon to be released track with Darude.
Tyson Illingworth, or more commonly known by his stage name TyDi, is an Australian songwriter and music producer who tells stories through his music. He is an artist who takes in the world around him and is redefining it through his musical talents. He just released a fifth studio album, Collide, where he implements a live orchestra with electronic music to help form an unheard of sound before. TyDi's fans may have recently caught wind of his tweets about secretly working on music for Disney on Ice. This got us at EDM.com VERY curious and led to an interesting interview. TyDi Decided to talk to us about what he's up to lately including brand new music, film scores and his new contributions to the world renowned 'Disney On Ice' show.
Let's talk about your latest project you have going on and that is with 'Disney on Ice.' You had the opportunity of helping re-make the music for this event that is known all over the world. How did this opportunity get presented to you?
"Hi! Well, it's not my 'latest' project, it's just one of many. Since releasing my ambitious orchestral/electronic hybrid album 'COLLIDE' this year I've been busy with multiple new things. I just scored a movie which I can't really talk about yet, and I'm already am working on the score for another one that's coming out next year! The 'Disney on Ice' thing is super fun, I was introduced to the team over there because they were looking to have some songs 're-imagined' for the show. It's an ongoing thing right now, I get to work directly with the choreographer which has been incredibly satisfying, to see the skaters on the ice and plan the orchestral movement to match it! What's even cooler is that I'm getting to inject these classic Disney songs with dance music as well! So when you see the show, get ready to stand up and dance in moments. I can't say which songs I'm doing/have done but I can tell you that you'll for SURE notice them when you see the show on ice."
What was some of your favorite parts during the remaking of this music?
"Completely re-inventing some Disney classics! These songs are so iconic, being able to compose them in a modern way and inject my own dance music 'sound' is quite the experience. Also just the satisfaction of knowing that families and everyone can enjoy these songs and I've been lucky enough to be a small part of it. I can't wait to see my work blasted out loud with the skaters doing their thing!"
Did you come across any challenges while re-making any of the Disney music?
"Absolutely! I've worked on a film score before, but I've never worked with a live choreographed show. I'm in the studio composing and writing these huge orchestral sections, and then suddenly I have to change the whole thing because it may not match a particular 'trick' that the skaters do. Also, as they rehearse the show I'm constantly updating the song to fit their work. It's an ongoing thing. I consider every challenge a learning experience and if I wasn't challenged then I probably would get bored. This is by far the most challenging music I've created since 'Collide'."
What do you hope your fans captivate from the music you re-made for Disney on Ice?
"Well, to be honest, I'm not sure if this one was meant for my fans haha! Just like a movie score, this is for the overall 'vision' of the people in charge of the project. I just hear to help! I obviously got to give some songs my flavor, but it had to fit the overall artistic direction of the show. All I know is that if any of my fans buy tickets they'll probably notice where I had some input."
If you had to pick your favorite Disney character who would it be and why?
"Sebastian the crab is pretty chill!"
"You also just recently released your fifth studio album called, Collide. Now, this is an album where you combine electronic music with an entire orchestra. What made you decide to go in this direction for this album?"
"It has always been a dream of mine to do this, ever since I was a kid studying music! Over the years I've incorporated live instruments in my songs. My last album 'ReDefined' has over 20 live players throughout it excluding vocalists, but this time it was time to go bigger. I teamed up with a two time Grammy award winning composer Christopher Tin to collaborate on making Collide a reality. Together we blended an entire orchestral section (HUGE emphasis on size this time) seamlessly with all sorts of electronic music. For me, it was more of an experimental art album. Something to show a different scope of what I can do."
What are a couple of tracks from the album that really means a lot to you?
"Probably 'You Don't Love Me' and also my last release 'Please Stay'. I wrote those songs from the heart, and they really do give me the chills."
What is your process when you are developing an album because it's no surprise that you are truly musically talented. Every album you have produced is always in the high ranking with the charts for music. For instance, in 2009, his first album, Look Closer, reached No. 2 in the Australian Dance charts. Your second album Shooting Stars was released in 2011. It reached No.1 on the Australian, Canadian, Finnish and UK iTunes Dance charts and No.4 in the USA. Fast forward to present day, and your newest album debuted #2 on iTunes Dance Album Chart (USA), #3 Australia, #3 Canada and appears in Billboard Top Dance Album sales. So, what is your secret?
"My secret? Hard work, determination, a clear vision, and most of all PASSION. Music has to come from passion because from passion comes a vision and determination to see it through to the end. Honestly, Collide took THREE years to make. I spent the first year songwriting (hundreds of songs). The second year was finding the ones that meant the most to me and producing the electronic parts. In the final year, I worked with Christopher Tin on the orchestral composition. Even up until the last month I was re-writing vocals and changing singers. It's all about finding purpose and believing in it."
Now you were only 17-years-old when you were signed to Armin Van Buuren's label, Armada and was Australia's No.1 DJ in 2008 and 2009, the youngest winner of this award? Was it intimidating being so young in the industry?
"Looking back I think it was pretty natural, I had a goal and knew that I wanted to be where I am today. Those were all stepping stones to my overall vision. I felt pretty comfortable playing to tens of thousands of people from the get-go. I was kind of thrown into it! Even today though, it's still a stepping stone to where I want to be musically."
So you are working on a collab with Darude? Can you tell us anything about that?
"Yeah! Well, I can tell you that when I was 13 I illegally downloading his song 'Sandstorm' from Napster! That's where I first heard electronic music and fell in love with it. Fast forward to today and we are making music together. I owe him a beer for that illegal download though :P Hopefully out the first song will be done soon and ready to show the world!"
If there is was one thing you could change about the music industry what would it be and why?
"Arrogance that comes with fame, there are too many people out there who achieve quick success and then don't know how to handle it so they go around flashing their money on Instagram. Maybe others are impressed but I'm not - I don't care how much money a successful artist has because that's not how I value 'success'. I value someone's artistic talents, passion and drive to be different."
What can we look forward to from you for the rest of 2018?
"Well besides scoring 2 movies, you'll be getting a LOT of new singles from me. This Friday (27th) I'm releasing my next single called 'It Will Be Okay'. It's just a super happy summertime song, kind of the opposite to my orchestral/electronic work. The song was inspired by the early French house records that were almost 10 minute long loops of pure happiness. This song (It Will Be Okay) is for the people who just want to smile, dance and love life!"
TyDi is full of life from head to toe. A true down to Earth artist who just wants to make people happy with his music. He is all about loving life and creating happiness for his fans through his music and art. He truly has pushed the boundaries of electronic music with his latest album, Collide. One of his tracks from the album, "Closing In" was featured on Spotify,'s New Music Friday. The time is now for TyDi and he has no plans on stopping anytime soon. Make sure to keep your ears peeled for his Disney on Ice Remakes and download his latest album now. It is available for stream everywhere.
Connect with TyDi:
Facebook | Twitter | Instagram | Website | Spotify | Soundcloud