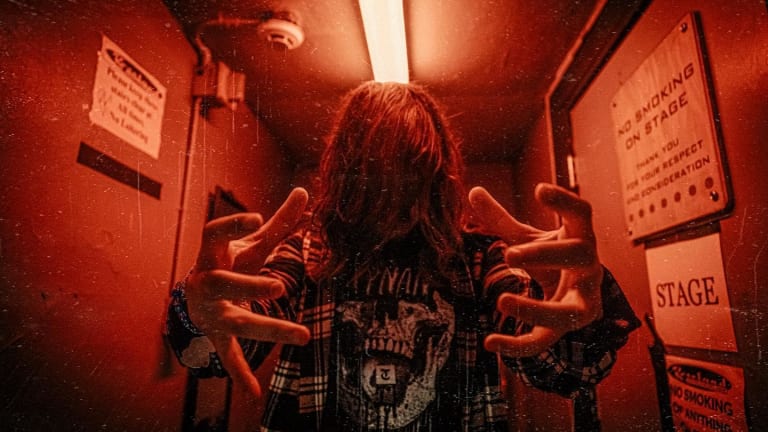 TYNAN Talks Marshmello Collab, New Tunes, and the Future of Dance Music
TYNAN makes the case for bass music's next big thing.
TYNAN (real name Kevin Hickey) has left a lasting impression on the bass music scene in a short amount of time due to his intricate sound design and wildly unique tunes. His immense talent as a producer has been stretched across the dance music spectrum from his breakout remix of "Deep Down Low" with G-Rex to his hit "Extraterrestrial" with Kompany. Hickey's skills have been highlighted even further as of late, as he was enlisted for massive collaborations with Marshmello and Kayzo and has flexed his chops on tracks like "Digid" and "Titan" with Oski. 
Hickey recently announced via Twitter he'll be dropping his collaboration with Rouxx, "Interdimensional," on November 22nd. This will mark the first of many independent releases that shape the TYNAN project as a whole. We recently sat down with Hickey and chatted about his huge collaborations, his biggest inspirations, and the future of his career as well as dance music.
EDM.com: You got booked to go back to back with Excision at Bass Canyon this year which has to be a goal for almost any bass music artist. How did that process go down?
TYNAN: It all stemmed from the artist spotlights he did earlier in the year. It was a way to fit in a few extra artists that he liked and give us all a chance to shine. He hit us all up and we worked out what we were going to do for the set. 
What got you into music? Not just dance music, but what made you want to pursue music as a career?
It was one of those things where I loved music ever since I was a little kid. I started playing drums when I was 10 and the rest came from there. It was never something I thought I'd make a living doing but I always wanted to do something in the realm of music. Once I heard "Scary Monsters and Nice Sprites" it clicked and I was like, "that's the kind of music I want to make, that's what I'm supposed to make."
Who are some of your biggest inspirations?
A lot of my love for weird sounds comes from some weirder bands, mainly Fall of Troy and Tera Melos. They incorporate these bonkers pedalboard effects in all of their songs and that's been something I've wanted to try for the longest time. If any of my friends had a pedalboard rig growing up, I was always taking over, playing some strings, and messing around with everything. It really just naturally carried over into the dance music world. 
That leads to my next question. Your sound is so unique and your songs are easily identifiable. How are you consistently stepping outside of the box and keeping things your own?
I think it goes back to messing with my friend's pedalboard. A lot of my studio time is spent messing around with sound design and creating things I haven't heard before and nobody else has heard before and trying to incorporate that into my music. I think that's why people have been gravitating towards my music. So many songs nowadays use a lot of the same sounds and I'm trying to do something different. Things you wouldn't expect to hear. 
Do you have any tips to help new producers find their niche?
Experiment as much as possible. Don't be afraid to do something completely different than what everyone else is doing. At the end of the day, you'll come across millions of clones but it's the ones that individualize themselves that will find success. 
Recently you collaborated with Marshmello on "Earthquake." What was that process like? Did you get in any studio time together?
It started off with Marshmello DMing me on Twitter, and let me tell you, checking your DM requests on Twitter and seeing Marshmello on there makes your day. He said he loved "Extraterrestrial" and said he wanted to get something working together. I made the first drop, sent it his way, and didn't hear back for a few months. Eventually, he hit me back and we finished it in about a week or two. Most of it was done over the phone, so, unfortunately, no studio time.
Let's talk about your single, "Digid." It definitely caught plenty of fans off guard and seemed totally out of left field, in a good way. What inspired the change up?
You know it's funny, it all came from finding some deep house samples on Splice and I was like, "Wow, I want to try this." It came around super naturally and honestly took me about a day or two to write. Once the idea came together it just all fell into place. I was definitely nervous releasing "Digid" and it was hard finding the right label to work with. We wanted to make a statement by not putting it out on a bass music label and when Musical Freedom was interested we felt like it was perfect.
You also recently released "Monster" with Kayzo, who originally tweeted about the tune over a year before it came out. What took so long and what was that process like?
It's been done for over a year, the only difference was adding Matty Mullins into the track. Holy shit, as a Memphis May Fire fanboy, that was insane. It was always going to be a track on his album, so the release was dependent on that. Unfortunately, I wasn't able to work in the studio with either of them due to living in Oklahoma. The only time I've really gotten to work on tracks in person was "Extraterrestrial" with Kompany, "Harbinger" with Wooli, and the "Deep Down Low" flip with G-Rex.
What collaboration have you learned the most from?
I'd say every collab has me learning something new. The one that I learned the most from, even sound design-wise, was "Extraterrestrial" with Kompany. There were a lot of things we did with that sound that I carried over to almost every track afterward. He is also a wizard at mixing down, so working with him on that really taught me a lot of new techniques. Working with Wooli on "Harbinger" taught me a lot too, he's a wizard when it comes to drums.
Is there anyone you're itching to collaborate with now?
I'd really like to get something going with Eliminate. The tracks he's been releasing recently are insane. Virtual Riot would be another one and Kill The Noise too. His "Duality" remix was insane. At the moment I'm trying to do more solo tracks. I've done a lot of collabs and remixes and I want to really highlight what my sound is. Outside of dance music, Thomas Erak from Fall of Troy and Nick Reinhardt from Tera Melos. Really just weird bands that probably a lot of people haven't heard of but I would die happy knowing I worked with them. 
Some artists believe this a golden age for dance music and we'll be looking at the songs from this era the same as we look back at tunes from 2012 and 2013. What's your take?
Definitely. Going back to people piggybacking off of what's popular, you really have to experiment and do something completely off the wall to stand out. SVDDEN DEATH is the perfect example. He came out and was huge right away and people immediately took to incorporate his style of dubstep into their tunes. Then, he came back with the VOYD stuff and it's just next level. We're at a point where you have to stay ahead of the curb to stay in the game. If you're not, you're going to get lost and people will be like "who?" 
FOLLOW TYNAN:
Facebook: facebook.com/tynanofficial
Twitter: twitter.com/tynanofficial
Instagram: instagram.com/tynanofficial
SoundCloud: https://soundcloud.com/tynanofficial