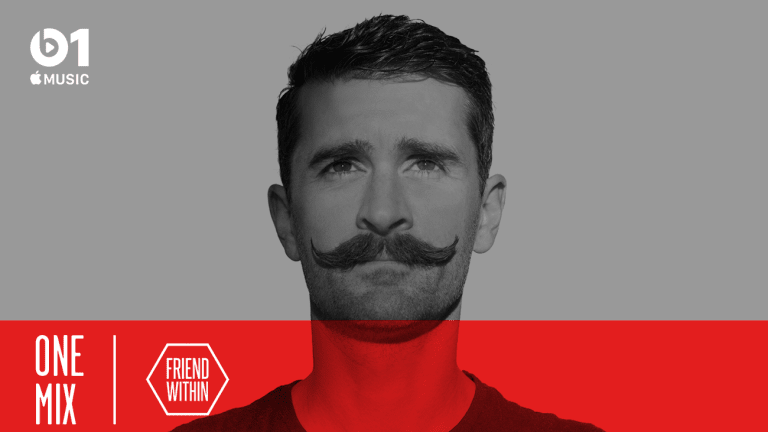 UK House Artist Friend Within Makes His Beats 1 One Mix Debut [INTERVIEW]
When Lee Mortimer got tired of electro, he made the leap to house and became Friend Within.
UK producer Friend Within makes his debut on Beats 1's weekly radio show One Mix this weekend. Expect an hour of unfiltered house music from the likes of Kettama, Disclosure, Paul Woolford, Riva Starr, and Anti Up.
Tune in here. 
Air Date: Friday 23rd November 2018 - 21:00 LA / 00:00 NY / 05:00 LDN
Friend Within (real name Lee Mortimer) popped up out of nowhere back in 2013. Initially, he kept his identity anonymous. Through a new email address, Mortimer sent some Friend Within tracks to labels like Claude VonStroke's Dirtybird Records hoping for the best.
The anonymous emails earned Mortimer signings for his Friend Within moniker, and the mystery drew attention. Given the strength of Friend Within's very first tracks, people knew he wasn't a newbie, and that he clearly had prior experience producing music.
Eventually, Mortimer's identity was made public, stripping the mystery away from the Liverpool producer's background in music. Turns out, Mortimer got his start making electro during the big room boom, even collaborating with prominent artists like Laidback Luke.
So why embody a new alias and lose the electro style? In a past interview, Mortimer claimed it was "getting a bit too noisy for me, and electro was going a bit crazy."
The move to house makes sense. It's a time-tested genre that may not always be at the center-stage of electronic music, but the classic genre's legion of diehard fans never seems to dissipate.
Not to mention, Mortimer's earlier music, pre-dating the electro phase, was jacking Chicago house. Forward-thinking UK artists like Disclosure, Eats Everything, and Shadow Child were rising in popularity when he adopted the Friend Within alias too, a huge influence on Mortimer's budding passion for house music.
Since his jump to house music and the Friend Within moniker, Mortimer's seen his fair share of success. Radio plays by Skream, Benga, and Annie Mac garnered much attention, and acclaimed releases on Dirtybird, Hypercolour and Disclosure's Method Records cemented his impressive take on house music.
Mortimer has also played in almost every major city in the UK, even supporting Disclosure on tour. Once, he even heard Sam Smith singing in the shower backstage!
Mortimer revealed that and more as he answered some questions for us ahead of his debut One Mix this weekend. Read on for musical insights like his guilty pleasure record, favorite throwback track, dream collaborator, and more.
EDM.com: First show experience? 
Friend Within: DJ-ing at the Reading University student union. My brother got me the gig as he was studying there. I played trance for two hours and they asked me back to play their summer ball!
First time you brought your mum to one of your shows? 
My parents have been to one Friend Within gig and it was just a few miles from where they lived.
The artist who inspired you to become a musician? 
I remember hearing a Derrick Carter mix and it blew my mind. It was like the music I'd been looking for my whole life.
Go-to places for new music? 
Promo inbox.
Guilty pleasure record? 
"Can't Stop The Feeling" by Justin Timberlake.
Desert-island dance record? 
"Billie Jean" by Michael Jackson. I call that dance music.
Dream B2B partner? 
Derrick Carter.
Favorite BPM? 
124.
Piece of gear you always need on the road? 
USB stick.
All-time favorite festival? 
Secret Garden Party – sadly no longer with us.
Biggest misconception about dance music? 
You don't have to be drunk or off your face to have a good time. 
How often do you get out and have fun, and where do you go? 
If I'm not DJing then I'm very, very rarely in a club. A nice quiet boozer with my wife and friends is a great place to be.
City with the most underrated dance scene? 
There are some tiny towns in Ireland that always amaze me. I played outside of Cork to 5,000 people last month. Mental.
Industry prediction for the next year? 
Dance act to headline Glastonbury.
Best piece of advice for new producers? 
Stay well away from the bandwagon. Try to be ahead of the game. Your ideas are way more important than any equipment you think you need. 
Dead or alive, who would be your dream collaborator? 
Prince.
What is one of the unique experiences you've had backstage? 
When I toured with Disclosure I heard Sam Smith singing in the shower in the backroom. It was one of the best things I've ever heard.
A unique travel experience you've had? 
My first ever gig abroad ended up with me on the roof of the promoter's house trying to wake him up at 6:00 AM to let me in. This was after failing to wake him by throwing a frisbee at his bedroom window.
What's your favorite throwback track? 
"Renegade Master" by Wildchild.
What's one track that fans always lose their mind to? 
"The Renegade" still does the business.
What was the first album you ever bought? 
It was a cassette tape called Maximum Rave.
Name one remix that you think is better than the original. 
Gerd Janson's re-works of "Don't Go" by Awesome 3
What song would you want (god forbid) played at your funeral? 
"You'll Never Walk Alone," the Liverpool football club anthem.
What's the perfect sunset track? 
"At The River" by Groove Armada.
What song do you listen to cheer yourself up? 
Anything by Friend Within!
Follow Friend Within:
Facebook: https://www.facebook.com/FriendWithin
Instagram: https://www.instagram.com/friendwithin
Twitter: https://twitter.com/friendwithin
Soundcloud: https://soundcloud.com/friendwithin