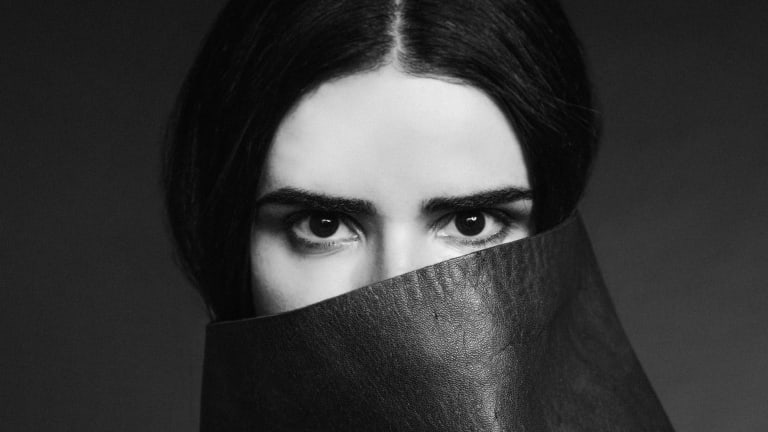 Understanding the Enigmatic Techno of ANNA [INTERVIEW]
Get to know the Brazilian techno producer befuddling producers and fans all over the world.
Coming off masterful performances at AIM Festival, Tomorrowland Festival and AudioRiver Festival just this last weekend in Poland, ANNA (real name Ana Miranda) is a potent taste of Brazilian-inspired techno infused with a healthy helping of high-caliber flair. 
In her most recent track 'Spectral' released on Tale of Us' Afterlife imprint, Miranda weaves wobbles, highs and thuds into a simple albeit spacey dream of the future. As far back as 14 years of age the budding legend studied the composition and cadence of music in her father's nightclub and over the years she's tuned her skills in creating it. With track and album releases on powerhouse production silos like Kompakt, Drumcode, Domino, Novamute, Hotflush, Diynamic, Turbo Recordings and RUKUS, the jet-setting techno artist is more than a contender both on major mainstages and in the underground.
To learn more about her background in the industry, EDM.com caught up with Miranda on the road to the AIM Festival. She discussed her biggest inspirations, she shared the track "Forever Ravers," and she even gave us a little advice specifically for dedicated music producers.
Interested to hear what this techno maven had to say? Read on!
EDM: How did growing up in Brazil influence your music?
ANNA: I was raised by my mother; my parents got divorced when I was very young. And while growing up with my mother I listened exclusively to Brazilian music. We have so many different kinds of music genres in Brazil. Our culture is very rich so I think even unconsciously I have the groove, diversity and warmth of the Brazilian spirit in my music. 
But It was not until I was about 10 or 11 years old that I was exposed to different kinds of music. I started accompany my father to São Paulo to do record shopping, so a whole new world opened up for me. I was presented to New Order, Inner City, Josh Wink, Toddy Terry and Depeche Mode. Growing up in Brazil and particularly with my family helped me to shape my taste for music and for club culture in general. I lived this on a daily basis. My grandma's house was full of equipment and I had a whole sound system and turntables to practice on the whole day. I also was constantly at the club which enabled me to read the crowd and to be able to create an atmosphere on the dance floor. 
The reason I became a DJ was because I told my father that the resident DJ was playing the same music in the same order every weekend, so even if I was not a DJ yet I was concerned about the crowd and the club. I could watch some of my heroes playing and learn from them, when I wasn't even of the legal age to go to the club yet because my father owned one. I am very thankful for that time, it prepared me for what I am living today.
Could you describe a breakthrough moment when things changed for you creatively?
I don't think there was a breakthrough moment that changed my creativity. This was a gradual and long process of learning and making mistakes. I always invested a lot of time, and perseverance in my music. I invested the money that I got from the gigs in equipment to make my music sound better, so my career was always a priority in my life. I research a lot because the more skilled you are, the better your creativity can be expressed. I also meditate a lot, which is the number one piece of advice I give to anyone. The way I see it, if you put love into what you do, it is impossible not to get better, more skilled and more creative. You just have to keep going and that it was I did.
What was your vision for 'Spectral', your contribution to the Afterlife 'Realm of Consciousness Pt.IV' compilation?
"Spectral" came after a very relaxed session in the studio without any pressure of deadlines, or expectations of releasing on a certain label. I was just playing around. When the track was almost finished, I had the feeling it was missing something. I was experimenting with Microbute and running it through some modules from Eurorack. When i ran it through Ultrafold the arpeggio melody came up and I had a thought it could be something that would fit with Afterlife, but it was just a thought and I continued with the track. A year after I finished the track, it's really nice it found its way to the label. I almost released "Spectral" on another imprint, but somehow it ended up on Afterlife. It was meant to happen.
You've teased a track called "Forever Ravers" on Instagram. Tell us about it.
It is a collaborative track with Kittin. It is a dream come true to work with her. I was working on the track and it reminded me a bit of the old school days with the electro bass line and the idea to invite her to do the vocals came to me. I could not have imagined her producing a better vocal!
It will be released on Kompakt at the end of August!
The artist who inspired you to become a musician?
DJ Marky, a drum and bass DJ from Brazil. When I was 14 years old and saw him play I was in shock. All I wanted was to be like him! The atmosphere he created was unbelievable; he is the best DJ I have ever seen.
Go-to places for new music?
I research a lot of music online, such as Discogs, Beatport, Spotify, Decks Records or Youtube. When I have some time or when I am visiting a city, that has famous record shops I try to go, such as Technique in Tokyo, Hard Wax in Berlin. And of course, I recommend going to listen to your favorite DJ playing, which is always so inspiring.
Dream B2B partner?
I have to say two - Laurent Garnier and DJ Marky.
Piece of gear you always need on the road?
My laptop.
City with the most underrated dance scene?
Beirut has a really good crowd and some of the best clubs I have played in my life.
Favorite BPM?
 131.
All-time favorite festival?
Awakenings Festival.
Best piece of advice for new producers?
Be yourself don't try to copy others and what is hyped at the moment. It's one thing is to be inspired because you love the music, but quite another to copy that style because it is popular at the moment. That kind of work does not last. It is important you create and play what you really love even if it is not what is most wanted at the moment. Invest in your craft - both time and money. I remember when I was making 100 euros or less per gig - and I was not playing that much - and I used to spend almost everything on vinyl. Even if you are not having the results you wanted, keep investing in yourself and your art. Send your demos even if nobody is listening. Don't give up, your time will come!
Dead or alive, who would be your dream collaborator?
I will pick somebody working in dance music and say Caribou. His music has a big effect on me, it brings me joy. He is a very creative engineer, it would be a blast!
A unique travel experience you've had?
Tokyo. I always wanted to go and my music got me there. Everything in Tokyo is so different from what I am used to, so it makes it unique. The food is fantastic and the people are lovely and caring. I stayed for one week the first time and explored a lot with my boyfriend.
What's one track that fans always lose their mind to?
"Hidden Beauties," I think I will never stop playing this track. The moment the vocal ("time") comes in the crowd goes crazy. Every time. I love it! 
What song would you want played at your funeral?
"33 GOD" from Bon Iver. Actually, you can just put a playlist with everything from Bon Iver and it is gonna be beautiful. I need to make my family aware of this by the way.
What's the perfect sunset track?
"Sun" from Caribou.
What song do you listen to cheer yourself up?
At the moment Sufjan Stevens' "Mystery Of Love." I have my music moments where I have one track that I use to put me in a better mood to do things that I don't find very enjoyable and at the moment this is the one. So this is the track for me right now, until I find one that hits me in the same way.
What upcoming tracks, releases or other projects are you currently working on?
I have my EP together with Kittin coming in August on Kompakt. I also have an EP coming on Drumcode, but I don't know when. I have another track coming on a Plus 8 compilation. Also, I am doing some remixes but I still can't talk much about them.
What acts are you most excited at AIM and why?
John Digweed, Danny Tenaglia and Rodrigues Jr. I am a big fan of them, John and Danny are heroes in our scene and it's always a pleasure to see and play together with them. Plus I had still never seen Danny playing. I love Rodriguez Jr. since he was part of The Youngsters; I remember them playing in a festival in Brazil when I was 17 years old and I was in the front jumping up and down to their music. And his music nowadays is as good and beautiful as it has always been, so it was a pleasure to watch him live.
What's your favorite part of AIM outside the music on-stage?
The people for sure. I love the crowd in Montreal from the bottom of my heart, and I tell them that every time I play here, since the first time. They are so passionate, they dance the whole time, and the energy exchange is so intense here. I can't wait to play for you once again Montreal, and this time for three hours!
FOLLOW ANNA
Facebook: facebook.com/djannabr/
Twitter: twitter.com/djannamiranda
Instagram: instagram.com/djannaofficial/
Soundcloud: soundcloud.com/dj_anna