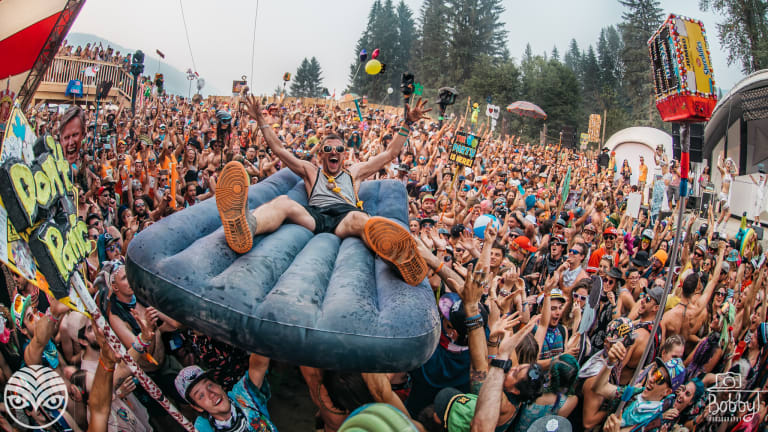 Unraveling the Mysteries of Shambhala Music Festival
The Founder of Shambhala Music Festival unpacks the secrets of his exceptional Canadian wonderland.
In an industry where new venue announcements, shifting dates, and flopping lineups have become the norm, one festival stands apart as a homegrown staple of the woke milieu. While other events reduce, tighten up and dance around their struggle to survive, Shambhala Music Festival reaps the benefits of a well-built legacy as it heads into its 22nd anniversary celebration at the same venue in which it was founded. 
In addition to curating unique identities at six autonomously managed music stages, the event regularly pushes the envelope year after year at Salmo River Ranch. The best part is art, infrastructure and other investments are left intact for use in the following year. As other events are allocating half their resources into "tear down" each year, Shambhala builds itself ever-taller. 
Stages remain through the middle months. In addition to saving crews time and energy, the practice diverts a stream of build materials that would typically go to landfills. Now with approximately 15,000 humans expected to descend on "the farm" for the 2019 edition of Shambhala, Canada's gem of a perennial music festival is taking efforts even further to shake up the industry and keep its fans guessing. 
To learn what Shambhala's leaders have up their sleeves, as well as what's in store for the 2019 event, EDM.com caught up with the Founder of Shambhala Music Festival, Jim Bundschuh - who is better known as "Jimmy". He talked to us about a variety of topics including how leadership is born at an event where volunteers are the lifeblood of the production. We even unpacked the historic approach to drug testing and education onsite at the festival. 
Read on to see what Jimmy had to say.
Mystery #1: How does Shambhala assemble such a vast music selection?
One of the secrets to Shambhala's unique show is it has six autonomously managed music stages all with their own blend of style and genres, but that approach doesn't come without its own struggles. "Sometimes trying to coordinate six highly artistic stage directors you get some challenges, but the end product is amazing," Jimmy explained. "I think when you compare it with other lineups it really shows because most other festivals don't get the diversity that we do." 
Without an overarching mastermind wrangling all that creativity, the music stages are free to produce an unfiltered performance that pays little mind to what the other stages are doing. "They have their own budget," Jimmy said. "They recruit their own crews and they have artistic freedom over their lighting design and stage design. Each stage has unique ideas and talents that they bring, too, which I think really makes the festival special." 
Beyond making the event special for those who like to explore new sounds, it actually programs diversity into the DNA of the festival. That means even for someone who prefers to post up at the same stage for the entirety of the show, a few moments will still be seeded with new music.
Mystery #2: How key is "The Farm" to understanding Shambhala?
One of the reasons Shambhala is so successful has to do with the efficiency that becomes possible when you own your own venue. At first, the remote location was a weakness according to Jimmy because they aren't located near any major cities. Vancouver is a seven-hour drive, Calgary is a seven-hour drive and Spokane, Washington is about 2.5 hours from the site over the US-Canada Border. "Location is our biggest strength," Jimmy said. "The festival has been in the same spot since it started and every year we get to add to it rather than redo everything. There are old forests and a river that runs by the stages and right through the campgrounds. We're in a nice beautiful valley. In the beginning, it was hard to build it but now it's a big advantage."
Another impact the venue has on the culture of the event can be observed in the quality of guests that come out to the event. They way Jimmy sees it, "People have to try really hard to come to Shambhala. It's a camping festival and most people camp onsite because they can't get hotels in the region. I wouldn't say it's as hardcore as Burning Man but it's that similar thing where it creates dedicated followers because it's difficult. It's not super easy and it's not for the faint at heart." 
With multiple sell-outs in its twenty-two years and peaking attendance numbers at such a remote location, few can point to a better test of success among like festivals.
Mystery #3: What's the secret to longevity in the festival business? 
In the Salmo area, there aren't many music festivals - certainly none like Shambhala. So where does all the talent and skill come from to create such splendor? For Jimmy and the rest of the fam on the farm, leadership starts at the volunteer level and as people shine they work their way up the ranks in the event. They also climb the rungs of life. "A lot of people who have been with us since the very first year are still a part of Shambhala," Jimmy smiled proudly. "We definitely have a lot of veterans that have been around a long time. We also have people who have come out to dig trenches for power cables or whatever, then all of a sudden they're lighting designers. Some people turn the skills and inspiration they learn out here into careers."
In leveling up, these party-loving people find purpose which extends from the festival into their other endeavors. Even into the businesses they create.
Mystery #4: What local impacts do the festivals make? 
When PK first got involved with Shambhala their global takeover was still in its infancy. "They had first started building their own cabinets and now they're international," Jimmy recalled. "Today, alongside their manufacturing in Calgary they have outlets in the states and a lot of major artists have toured with their sound systems." 
Seeing PK blossom from humble beginnings to become the powerhouse that they are today is only one of many success stories in the legacy of Shambhala.  
"We started in '98 so this was a pretty fringe small part of the entertainment world back then," said Jimmy. "They all thought it was a niche or that it would go away, but now it's filling stadiums and DJs are headlining more traditional festivals. We've also seen the career of the artist change over time and it's been interesting to watch it all evolve." 
Coupled with gifts to schools and hospitals - and a recent $125,000 donation to a local school theater for lighting, audio and other equipment -the festival's ripple effect continues to enrich the local community.
Mystery #5: How does Onsite Drug Testing work?
The often misunderstood arena of drug testing at festivals has also been a catalyst for progress and a fascinating subject of study. If the absence of alcohol sales wasn't a clue that Shambhala's leaders are not the sort to settle for a cookie-cutter production, then the pill spectrometer kept onsite probably will be. Put simply, most tests can only identify that other ingredients exist in a pill, but a pill spectrometer can index and look up what ingredients are in the drug to offer a clearer look at what is ingested if the pill is consumed. 
"We've been doing this for a few years with the spectrometer and we've been able to give really accurate results," Said Jimmy. "Last year we had an unintended consequence where a lot of drugs were testing really pure. The theory is that because there are these tests the people who are bringing this stuff to festivals know they are going to be held accountable so they're not putting all this other crap in there. Also, when people can educate themselves on their choices it's got to be better than people unintentionally taking something with an extremely negative side effect, causing harm to their body, or worse." 
Security checks for illicit drugs - but people can get narcotics into prisons, so a string of shirts that say "SECURITY" won't be 100% effective. In America, the RAVE act makes testing in this fashion illegal, but in working with Health Canada and other official bodies the provincial government and Shambhala pioneered the legal framework for pill tests. It's not a perfect system, but it progresses where other festivals and policy makers have balked at the chance. 
"Maybe someone doesn't want to test their drugs, but they can walk by and see that a certain colored pill with a specific logo on it tested bad," said Jimmy. "Once they know something wasn't what they thought it was they can then make the decision to not take it, discard it, not buy anymore or tell their friends." Decisions are always better when they're informed.
To learn more about this blissed-out Canadian Wonderland stay tuned. EDM.com will report from the event so even those who can't attend don't have to miss a beat. 
FOLLOW SHAMBHALA MUSIC FESTIVAL:
Website: shambhalamusicfestival.com/
Facebook: facebook.com/shambhalamusicfestival/
Instagram: instagram.com/shambhala_mf/
Twitter: twitter.com/shambhala_mf