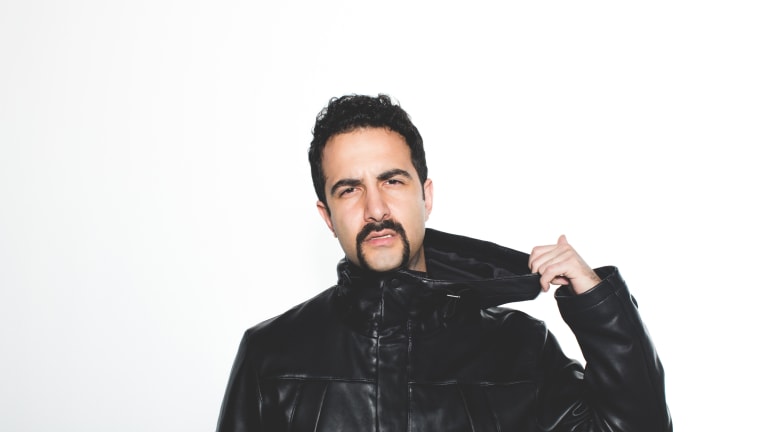 Valentino Khan talks New Track "Gold" with Sean Paul, Music Videos & More!
The LA producer isn't looking to slow down anytime soon!
There are many Dance Music artists that are known for being able to jump between styles, and never get stuck doing the same thing for a long time. When it comes to true versatility though, Valentino Khan is one of the first producers and DJ's that come to my mind.

The LA-based producer got his headstart in the electronic music scene in 2012 by releasing music on Diplo's Mad Decent label, and his career has been only going up since he signed with Skrillex's OWSLA in 2014. Apart from releasing a number of high profile remixes, as well as collaborations with Flosstradamus, Wiwek and Skrillex among others; his hit-track "Deep Down Low" was crowned by 1001tracklists as most played track in 2015 and has gained well over 20 million views on Youtube.
His latest effort is titled "Gold" and features a collaborator that many didn't see coming; none other than the OG Sean Paul. The two artists essentially come together to craft a radio-ready moombahton hit; it is bright, super catchy, and Sean Paul's vocals really tie everything together. It's also accompanied by a fresh music video, that totally embodies the track's musical and lyrical vibe; playful and full of gold.
We recently had the pleasure of getting in touch with Valentino Khan and having him elaborate on "Gold" and his experience with Sean Paul, his weird music videos and being featured in Major Lazer's documentary Give Me Future among other things.
EDM.com: "Gold" bears little resemblance to your previous releases. What your thought process behind creating it?
Valentino Khan: When I went into the studio to create "Gold", I knew I was going in for a session with Sean Paul and I had been wanting to revisit my roots. When I started out I had been producing a lot of moombahton and I thought what better way to try and go back to that than do it with a legendary artist like Sean Paul. I've always tried to be really versatile in my releases where one song doesn't necessarily sound like the next, and it just fell in line with what I've been doing all along in my career.
And how did the collaboration with Sean Paul happen?
We got set up with a session together and off the bat I could tell he's a true artist. I made the beat about an hour before he came to the studio and then he came and spit everything off the top of the dome and I was really impressed with the fact that he knew the direction he wanted to go vocally right away. He absolutely nailed it.
"Gold" is also featured in Major Lazer's documentary Give Me Future, showcasing the story behind Major Lazer's historical 2016 concert in Cuba; a revolutionary idea that led to a performance in front of half a million people. How does it feel to have your music play in such a landmark documentary?
It's really cool being involved with such an important project. It's been really inspiring to me, and it really speaks to the fact that music can really bring people together and be a uniting force. That might sound cliche at times, but it's really true especially in the case of Major Lazer going to Cuba and being the first American group to go there after so many years. It's an amazing thing to be a part of.
Your official music videos (especially Deep Down Low and Pump) have a really weird and unique aesthetic. Do you think the visual companion to a track is equally important as the actual music, and what were you trying to convey with these videos?
Having a really strong visual representation of a song is really important to me. I grew up being inspired by the videos of Busta Rhymes and Missy Elliot and I also want to be someone who really pushes boundaries with music videos. Every video I've done is a different vibe and almost has a different message, and I always want to put out something that's really memorable to the viewer and the listener and has certain things you associate the song with visually. That's important to me and I hope sets me apart from what other people are doing.
Apart from collaborating with people like Skrillex, Anna Lunoe, Flosstradamus and GTA, you have earned production credits for T.I. and B.o.B., as well as Major Lazer's hit "Bubble Butt". What do you think are the most important qualities of a successful music producer?
I think the most important thing when going into a song is asking yourself what the track really needs, and what the purpose and direction of the track is. I think the mark of a really impressive producer is the ability to make something that everyone really enjoys but at the same time pushes music forward and pushes boundaries and delivers something you may not have heard before and you may not have even known you were going to enjoy. I think people who have been able to do that over history are the ones who end up leaving their mark.
What would your advice be if you could go back in time and talk to your younger self when he started his career?
I think the most important thing I would have said to myself would be to just jump in without hesitation. And then I also had to learn to be patient with myself once I eventually did jump in and started doing this for a living. I was just never satisfied or content with where I was at but learned to have patience with my process and growth as a musician. But I think the first step is to actually jump in and not hesitate and fully commit to doing what you love.
Tell us one thing you love and one thing you hate about the Electronic Music scene.
I don't think I hate anything about the electronic music scene. I think for the most part everyone is really cool and supportive of each other and if you look at things on a grander scale, the people coming from electronic music are the ones that are pushing boundaries in terms of what you hear on the radio these days. People are taking trends that were setting in our scene and taking it into pop culture. That isn't a bad thing, but it means onus is on us to set trends. If I HAD to pick something that I hated, I would have to wish for the ability to teleport instead of being on planes all the time…because I take a lot of those.
What do you think is the biggest milestone you've hit in your career so far, and what's next on your bucket list, i.e. how does the future look like for Valentino Khan?
In terms of milestones, I think the fact that I've been able to grow a fan base everywhere in the world and travel to so many incredible places doing what I love is really huge for me. I don't think many people are able to say they get to do that for a living. In terms of the future, I just want to keep making forward-thinking music and continue to grow as an artist and to continue to have a really authentic connection with my fans. Overall, I don't really place a ceiling on myself and I look at the sky being the limit.
Follow Valentino Khan:
Facebook: facebook.com/ValentinoKhan
Instagram: instagram.com/valentinokhan
Twitter: twitter.com/valentinokhan
Soundcloud: soundcloud.com/valentinokhan