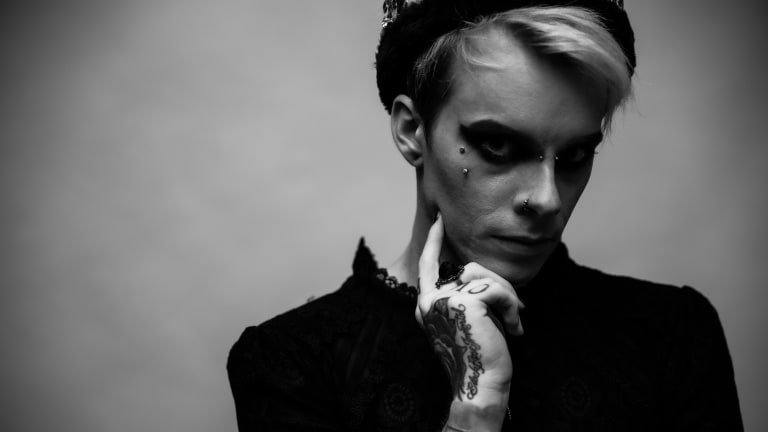 Varien: Trent Reznor Dark Lord of This Generation in Electronic Music
Varien continues to defy the odds of social norms, social media number games, commodification, and capitalism.
Being critical of one's music, sonic vision, and brand is one thing. How the artist and fans perceive it is another. Varien, whose real name is Nick Kaelar, has quickly come to realize the importance of not caring about what others think of his music. Numerous releases on the prolific Monstercat, credits on Triple AAA movies such as 300: Rise of an Empire, The Purge: Anarchy, The Walking Dead, Furious 7, and more mean the belittling and mindless comments from social media trolls don't affect him.
These social media trolls plague the modern music industry, causing creatives like Varien to completely reevaluate themselves and their art. Artists, models, and creatives are placing themselves on high standards because of what they see on social media. Musicians are always critical of their own work, so to hear some random person on Twitter say they don't like it may or may not be hard for some artists to digest.
"How did we devolve so much that people on Twitter dictate how happy we are?" inquires Kaelar. "I know cyberbullying is one thing, but there are some artists I know that live for the shit, bathe in the shit, and overall take it way too seriously."
However, we've evolved so much that we're so heavily invested into our mobile devices, computers, social media, and conversation that we hold ourselves to such high standards online and in person.
"From the psychological impact of not meeting record deal expectations, to the always-on cycles of validation and criticism on social media, to working several freelance creative jobs just to make ends meet, to merely being unable to separate oneself from one's work, potential triggers for anxiety, depression and other mental health issues only stack up over time," wrote Billboard.
Varien's long list of credits and classically trained ears place him on the same playing field as Nine Inch Nails frontman Trent Reznor. It's hard to place someone on the same wavelength as Reznor, but Kaelar's Varien moniker has achieved immense success and garnered an unprecedented vision for music, something Reznor accomplished just as flawlessly. Varien is now coming around and finding himself as musician and artist. The dust is finally beginning to be stirred up.
"In November, December, January, and February I was going to shows… the same shows," states Kaelar. "I couldn't tell one DJ, tune, or producer from the next. It was all the same. This isn't me. I must return to something that is true." The Tampa, Florida-based electronic music dark lord is finally coming to terms with himself, music, and sonic vision.
Kaeler remembers answering his kindergarten teacher's "What do you want to be when you grow up?" question with, "I want to write music for video games."
"I remember being influenced by stuff that was meant for people who were 10 or 20 years older than me when I was in kindergarten. I knew that I wanted to make [Final Fantasy] music." Kaelar recalls being into "adult" music like Rage Against the Machine, Sonic Youth, Korn and Skinny Puppy as a kid as well.
A career and passion so focused isn't always at the forefront of one's mind so early on. Kaeler's journey hasn't been an easy or quick one, but it's one many creatives take: self-discovery.
This journey for Kaelar has taken him through the rings of anxiety, depression, and self-doubt, which led to a hiatus in 2017 to recollect what was lost. His imminent return in 2018 sent shockwaves through the electronic music as he released songs like "Blood Hunter," "Claws," and more.
"When Death Asked a Question was released, that was my peak depression/anxiety and ideation of not-so-nice things," says Kaelar. "Humans weren't what I thought they were. I was sucked into the fame and fortune game and then had a Garden of Eden moment where the wool was truly pulled from eyes. At some point it was placed over my eyes because I wasn't always so into fame and fortune. Now we have social media numbers."
"Don't start from a roundtable of a bunch of guys who sort of get your vision," Kaelar says on discovering yourself as a musician. "Ultimately, they've got investors, and their investors have investors. EDM is a huge investment jerk off right now and money is flowing, but only to those who are boutique and shut off to the world. It's very late stage capitalism and anti-art."
Kaelar hit the nail on the head: EDM's issue right now is that it's overly saturated with investors and number games. And guess who pays for it: the artists.
The artists are the ones jumping on planes, touring the world, performing for one to three or more hours a night, getting very little sleep, and having to drink alcohol in order to fall asleep. Artists and their managers, labels, publicists or whoever are using them as a tally on a chalkboard and not treating them how they should be treated: like humans.
But being who you are isn't easy, and it's not the artists' fault. Being different is often frowned upon, while being 'normal,' in whatever interpretation you deem fits, is dishonest. There are more double-standards than there are planets in our solar system, so authenticity is not as authentic as it used to be.
"The scary thing is that authenticity is being commodified as well," adds Kaelar. "When something is commodified, that's something that can be consumed and worn like a shirt; worn like leather. When really it's just another shackle."
Varien recently released "Hush the Storms Away," a collaboration with STRIX. He will continue to release dark, heavy music, but it'll be more true to his form. He'll continue being open and honest with himself as he writes music. "A Pale White Horse" is another stake in the ground towards this newfound movement within himself, his music, and Varien's future.
Furthermore, Varien's upcoming releases, work, and journey can not merely be described in this interview. You'll simply have to trust him and allow him to be the light down the dark dimension.
Follow Varien:
SoundCloud: soundcloud.com/variendarkboi
Facebook: facebook.com/varienofficial
Twitter: twitter.com/variendarkboi
Instagram: instagram.com/variendarkboi