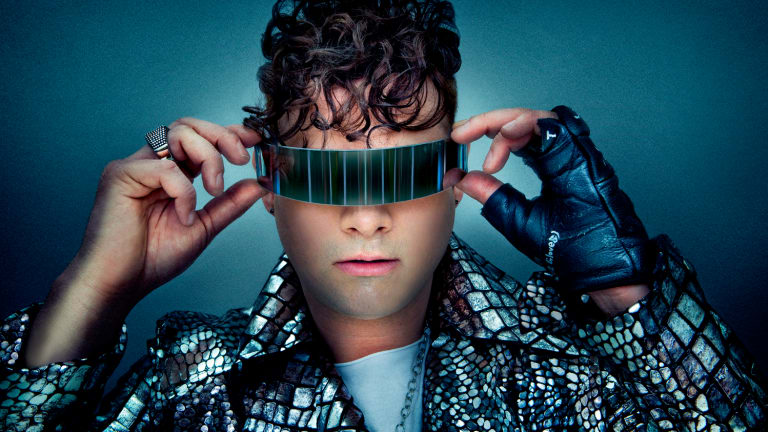 Velvet Code's Exclusive Interview With EDM.com
Velvet Code speaks with EDM.com about his sophomore album "Dreamer" (AMG | SONY Music Entertainment) and shares the stories behind the music.
Velvet Code (real name Marlon Wurmitzer) is a Canadian electropop DJ, artist, and producer based out of Toronto. As a music producer and songwriter, Wurmitzer's influences include acts such as Freddie Mercury, Robyn, Madonna and Muse. 
Wurmitzer's music is often described as a modern take on 1980s pop, with a heavy infusion of electro-pop and EDM, most notably in sub-genres such as trance and house. Dreamer (AMG/SONY Music Entertainment) is his sophomore studio album, and it was recorded in Toronto, Canada with additional production taking place in both New York and Los Angeles. 
On Dreamer, Wurmitzer collaborated with songwriter Wendy Starland (best known for discovering and developing Lady Gaga), with additional production contributions by Gavin Bradley, Joe LaPorta (of Sterling Sound NYC), Rob Bryton, Robi Banerji and Scott Kelly (of Westlake Studios).
Velvet Code - Dreamer LP [Tracklist / Playlist] :
EDM.com interview with Velvet Code:
Where are you from?
I was raised in a small town called Burketon, about 30 minutes northeast of Oshawa, Ontario, Canada. I spent most of my time at school playing music, in drama class, or in the gym playing volleyball. It was such a small community, but I learned the value of friendship and family during that time. I've also spent time in Vancouver and lived in New York City and London. Although I live in Toronto now, some of my most grounded moments are still in the countryside with my mom.
How do you best describe your sound and what's the significance of your stage name?
Most have called my music electro-pop, although I believe it to be a crossover of a few genres: electronic, trance, electro, house and pop. In my opinion - and this isn't what most believe - pop music should crossover into multiple genres, especially when you're playing to electronic music fans. In terms of my name, "Velvet" is tied to my love of fashion and being whomever I feel like being in the moment, while "Code" is the tech nerd part of me that is obsessed with sound, synthesizers and controllers. When I'm at a DJ or music equipment shop, I'm like a kid in a candy store - I just want all the new gadgets!
You've been outspoken in the LGBT community and in support of gay rights, which are really human rights. Can you talk to this facet of your life a bit more?
Well, I am an LGBT artist, so I intimately know the struggles that we've been through in this community, the struggle for self-acceptance, love, respect and understanding. We have come a long way, but we have a lot of work to do, all around the world. I'm fortunate to have the ability to speak to a larger audience about human rights, and I feel it is my duty to do so. My favorite actor, Billy Porter, said recently, "It's of no consequence or significance what another person thinks of me or what I do." I will continue to speak up and fight for equality and freedom, no matter what anyone thinks or says about me.
Your second full-length studio album, Dreamer, is out now. The first two singles were a hit and they keep gaining more streams and plays every day. Tell us about the inspiration behind the album?
The album is a combination of personal journeys that I've been on and experiences we are witnessing in the world around us. For example, the third single, "A Fire Inside," is about the struggles of people south of the U.S. border searching for a better life in America. The struggle is real. Another future single, "Controlled Imagination" is to bring awareness about government and media powers trying to manipulate and control our thoughts. Each song has its own message and story, and I hope that everyone can relate to them in their own way.
How are you able to channel deeply personal feelings of grief and loss into such celebratory, uplifting music? What was your writing/recording process like in the studio?
There are a few different ways, but I typically like to go in with an idea or experience and start building a track from scratch. Sometimes I start with a beat, sometimes with a synch or piano melody. Sometimes, I have lyrics and vocal melody going around in my head and I lead with that. It's always a little different, which makes the whole writing process exciting.
Did you originally plan to release Dreamer the album, and then just become inspired by the loss of your father? Was there absolutely no album in the works and the death of your father completely birthed the album? Was it somewhere in between?
Actually, the album was already in process when my father passed away. He heard the first two singles before they were released, with "Mary Offered Ladybugs and Love Yous" being his favorite. He described it, like he did with any song he's heard, in visual terms. He pictured a dreamlike sequence, with rainbow colors shooting across the sky, and flowers floating everywhere. He once compared me to Leonard Cohen and said I was always adapting my sound and my look. That was one of the last memories I have of him and I cherish that memory.
Talk about your live performances. What's your stage setup like? What are you doing onstage? Are you DJing? Are you playing any instruments, and which ones? Are you singing?
It really depends on the environment and the situation. If I'm doing a full live set of my own music, I'm a DJ and musician who plays and sings live. I typically have my Traktor S8 controller, Maschine Jam, a few keyboards, and dancers, while singing live. I mash up my own tracks and create a new environment and experience that you can't get from just listening to the album. I'm doing something different and unique, and I'm excited to get out there and perform my set in the fall/winter for my fans around the world.
As a live performer, do you ever play other people's music (including your own remixes of other people's music), or do you solely play original Velvet Code songs?
I do both. With a full DJ set, I will only throw in a few of my own tracks throughout a set that would include progressive house, trance and electro. I will throw in vocals with my own tracks when the mood is set and to add color, but I enjoy the process of mixing, creating mashups and building an experience for the club scene.
You have a heavy-hitting team behind you. Care to talk about your team a little bit? Obviously, you're the head of your team, but we're interested in successful artists and the teams with which they surround themselves. This dynamic can be very revealing and interesting.
Well, it all started with Wendy Starland. I've got an amazing writing partner in Wendy - who discovered Lady Gaga! We create magic every time we're in the studio together. Then there's Mark Berry, the head of AMG/Sony and he is the backbone of my team, along with Paul Schindler from Greenberg Taurig. And, of course, Emily Tan spreads the word about me and I'm very grateful to have her on my team and inner circle. And there's my mom. She makes sure I remain true to myself and that I don't forget the struggle I went through to get here. She's my biggest fan.
Talk about the first single from the album, "Break The Silence." What's the story behind that song?
It's supposed to come across as making fun of myself while shedding light on mental health issues. I went through some anxiety and depression issues when I took a break from writing a few years ago, and when I came back into the music scene, it was like no one really cared or remembered who I was. It was tough to write, but I always find solace through dance music, and by combining uplifting music with melancholy lyrics and melody, it becomes easier.
Tell us about the second single from the album, "Mary Offered Ladybugs And Love Yous." What an intriguing title and an even more addictive song! Tell us the backstory.
Well, I've always wanted to talk about fallen heroes including those who've fought for LGBT and human rights, and how the struggle continues. And when things get too tough and we find it difficult to cope, we should take our problems to the dance floor. I hope that people are inspired and that it reminds people that they are valued, that they are loved.
What's next for you?
I'm really excited to announce the video for "Mary Offered Ladybugs And Love Yous" is coming out by the end of July, and it's going to be epic! I'll be officially releasing the remixes in August as well. Finally, I'm talking very intimately with my team about a tour in the winter. If you follow me on Facebook (velvetcode.com/velvetcodeofficial) and get my notifications, you'll get live updates. Other than that, I hope I can keep spreading love and awareness of important issues.
Stream or download the Dreamer LP today.
FOLLOW VELVET CODE:
Website: velvetcode.com
Facebook: facebook.com/velvetcodeofficial
Twitter: twitter.com/velvetcodemusic
Instagram: instagram.com/velvetcodeofficial