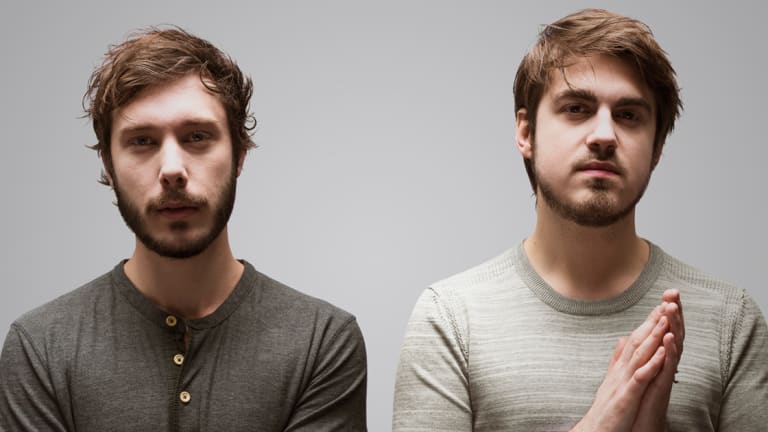 Vicetone Know How to Turn up the Heat When It Comes to Making Hits [Interview]
Get an inside look into how Vicetone made "Walk Thru Fire," and how they first got into making music.
After releasing "Walk Thru Fire" in August, Ruben den Boer and Victor Pool of Vicetone have been on fire themselves. Not only have they racked up millions of streams for their latest track, they've actually been on a roll all year when you keep in mind their 2018 singles and remix of The Knocks' "Ride Or Die." Now, they've also just released another new single and musical tribute to Avicii, "South Beach," that is sure to do just as well - perhaps even better. 
EDM.com has been lucky enough to talk with the duo about their latest music, the process behind these awesome songs, and how they got into making music in the first place. 
EDM.com: You're currently on a North American tour supporting your latest release, "Walk Thru Fire," which got over 1 million streams on Spotify in less than two weeks! Were you guys shocked by the massive support you've had for the single so far? How have people reacted to the song while you're on tour?
Vicetone: We are very excited to see the positive response! "Walk Thru Fire" was a blast to make, and to see it doing so well makes us feel all warm and fuzzy inside. The reaction on tour has been amazing as well, with lots of people requesting it before we go on!
EDM.com: How did the song come about and what inspired you guys to pick a fire theme?
Vicetone: In the pre-chorus of the song the phrase "Walk Thru Fire" is prevalent a few times, but it didn't return in the chorus of the original acapella we got sent. In the original acapella it had a different tagline, so we wanted to improve on it. Hearing the phrase, "Walk Thru Fire," sparked our imaginations (pun not intended) because it's a very visual saying, and a powerful message as well. We added that line to the end of the chorus and it felt like it completed the song for us. We were able to finish the whole song around that theme.
EDM.com: Fire is definitely a pretty powerful visual and you can totally picture someone walking through some massive flames. Hypothetically speaking, if you had to literally walk through fire for someone or something, what or who would it be and why?
Vicetone: Probably our families. We both were lucky and blessed to have safe childhoods with loving parents, and they helped us become the people we are today. We'd definitely walk through fire for them!
EDM.com: Circling back to the song, what kind of sound were you going for and what or who were your inspirations?
Vicetone: We didn't have any outside inspiration. We honestly wanted to make something similar to our song "Nevada," which has become a fan favorite this year. But we also wanted it to sound different and unique as a standalone song, which we feel like we accomplished.
EDM.com: Talking about growing up, you guys met when you were fifteen. How'd you meet and what were your first impressions of each other? 
I remember our first class together very well. It was an economics class when we were 15 and in high school. We met through a group of guys we hung out with and we got along right away by our shared love for dance music and video games. It was only years later we decided that we wanted to make our own music after listening to dance music for years and years. During the first years of our friendship, most of our time was spent sharing dance music and playing video games. We would go to one of our homes after school, hop on the computer, and start making mixes with the new songs we collected. Then, we'd put those mixes on our iPods and listen to them over and over again in school, sending them to a few friends as well. 
EDM.com: What made you guys decide you wanted to make music full time, and did you always want to produce electronic dance music?
Vicetone: It was an easy decision since we've always been huge fans of the genre. And as I said, we used to make mixes (or mix tapes) all the time. It was a natural choice for us to start making music because we wanted to improve on records we heard on the radio and in the clubs. We felt we could do a better job remixing it our way, to our taste, and that's what got us started making music.
EDM.com: Your music is mostly progressive house. Why that subgenre? If in the future you were to switch subgenres, which one would you be interested in making and why?
Vicetone: We probably won't switch styles anytime soon, but at the same time we're never going to tie ourselves to one subgenre for the rest of our music career. We've proven that over the last few years with tracks such as "Landslide" and "Anywhere I Go." Armin van Buuren once said something that still rings very true today: "Never be a prisoner of your own style." That hits the nail on the head for us. Our music is about melody, emotion, and energy. That's what is most important to us - not the sub-genre name, the rules that come with that, or what the BPM range needs to be. We are very lucky to have fans who appreciate all our music and are not just tied to a single BPM.
That said, we love the melodic, energetic side of house music (dubbed progressive house) and we will always have a soft spot for it. We still play all of our older songs in every set we do. In our opinion, the energy is unmatched in other genres and also, our love for this subgenre really took off when Avicii took off in 2009. Before people even put a face to the name we were following his music like crazy, and he has inspired us a tremendous amount.
We have a lot of music in a similar vein from our older style coming out in the next couple of months. We are really excited to see what our fans will think of the new songs we have coming up. Stay tuned!
EDM.com: Before you were producing tracks with vocals you did a lot of remixes of hit artists like Adele, Maroon 5, Zedd and Calvin Harris. What's one song you've always wanted to remix and why?
Vicetone: Well, we desperately wanted to remix all of those songs and we did! We only remix songs we feel we can make into something special, and we've often rejected a remix request because we didn't like the original vocal or track enough to work on it. If we feel passionate about a vocal or track idea, it's easier for us to make a remix that we're both happy with.
EDM.com: What's different in your process of producing music when its a remix versus your own track?
Vicetone: It's honestly very different. With a remix, we often already have an idea going before we even start whereas with original tracks, we can start from absolutely zero and just work our way up in a studio session and see what pops out. Sometimes nothing good comes of it, sometimes it's just mediocre, sometimes it's fire. But with remixes, we usually will have a good idea of what we want to do with the track before we accept it. You have a little less freedom because you are already working with an element of the original song (in our case that's almost always a vocal acapella), but this can actually be positive, since it makes it easier to make decisions on the track.
EDM.com: Going as far back as your first release on Monstercat, "Harmony," what's one track out of all of your tracks that you had the most fun making and why?
Vicetone: All of them were fun to make, but one of the more interesting ones was "United We Dance." We made that track for the Ultra 2014 aftermovie and we worked closely with Charly, who is known as FinalKid, the maker of all the Ultra aftermovies each year. We loved that process because it involved us making music based on video footage - and working together with a video director was a very rewarding experience.
EDM.com: So what's next for Vicetone, any new releases or an EP coming out soon?
Vicetone: There's a big project coming very soon that we can't mention yet, but we will announce very soon. Stay tuned, a lot of new music is coming!
Follow Vicetone:
Website: vicetone.com
Facebook: facebook.com/VicetoneOfficial
Twitter: twitter.com/vicetone
Instagram: @vicetone
Soundcloud: soundcloud.com/vicetone
YouTube: youtube.com/user/vicetoneofficial