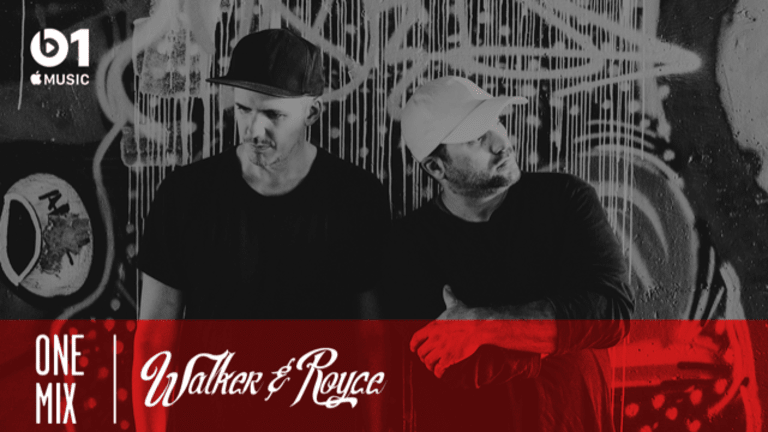 Dirtybird's Walker & Royce on Beats 1 One Mix [INTERVIEW]
The duo poked fun at people complaining about festival lineups on Twitter, shared their favorite throwback tracks, revealed their go-to places for new music, and more.
This week, NYC's fast-rising house music duo Walker & Royce make their debut on Beats 1's weekly radio show, One Mix. Cue tongue in cheek vocals, jackin' bass lines, and tunes from artists like Justin Martin, Justin Jay, Noizu, and ZDS. Plus, a premiere of Walker & Royce's remix of "San Frandisco" by Dom Dolla.
Tune in here, exclusively on Apple Music.
Air Date: Friday 29th March 2019 - 21:00 LA / 00:00 NY / 04:00 UK
Sam Walker and Gavin Royce met years before kicking off a DJ-duo career. The longtime friends used to throw parties in Williamsburg with the Brooklyn Tuning crew before charting their own individual paths in the early 2000s.
Royce took the disco route, then swayed by its budding popularity, embraced electro. Walker went from minimal techno to progressive house to deep house.
The pair reconnected during Royce's DJ residency at Ella Wednesdays with Nicky Digital. Walker attended often, and the two would talk tunes, uncovering similar affinities. Royce, coming under pressure to release remixes but lacking production chops, soon asked Walker, who had studio experience, to hop on a remix with him. Their chemistry was instant.
But it wasn't until Damian Lazarus took a liking to their remix of SAARID's "Future Lately" that Walker & Royce garnered real attention. The Crosstown Rebels label head signed the newcomers for their deep, thumping You're Not Welcome EP in 2012.
That same year, deep house torchbearer Solomun played their track "Connected" in his sets all summer long at Pacha in Ibiza. The Brooklyn-based duo was yet to find a flock though. But, a few years later, their remix of 12 Stories' "Bright Lights" had Dirtybird Records knocking on their door.
They signed Walker & Royce's cheeky, club-ready tune "I.T.B," and head honcho Claude VonStroke played it out during his "History of Dirtybird" set at Dirtybird BBQ in Detroit only a couple of months later. Moving forward, Walker & Royce was quickly booked for Dirtybird Campout events, and popularity grew ever-more as they released Boy, their debut EP on the label.
From Holy Ship! to EDC Las Vegas to Coachella, Walker & Royce has since played a slew of major festivals, performed at top clubs around the world, and continually pushed their sound along the way.
The evolution of the Walker & Royce sound came full force in 2017 when they released their debut album, Self Help, on Dirtybird. Of course, it's full of deep, groove-inducing tunes, and Walker & Royce's signature, quirky humor. They told Earmilk, "it's [the album] poking fun at self help as a marketing scheme. It refers to us pushing on through when there's no clear path forward. It's about how music can be a form of therapy. It's about how when we don't hear what we want to play in the musical marketplace, we write it ourselves."
But, more interestingly, with the album the duo focused more on vocals and songwriting, making for a more meaningful release than just a bunch of club-focused tracks stitched together and sent out to the world.
If you care to know more about the duo, you'll be happy to know they had plenty to share with us ahead of their upcoming One Mix. Musical insights like their dream collaborators, favorite throwback tracks, desert island dance records, and more.

EDM.com: First show experience?
Walker: Fatboy Slim at Hammerstein Ballroom in New York.
EDM.com: First time you brought your mom to one of your shows?
Walker: First grade violin concert where I zoned out and was rubbing the bow on my nose the whole time.
Royce: My mom has never been to a Walker & Royce show but she watched us on YouTube once and wondered why we couldn't let one song end and another begin.
EDM.com: The artist who inspired you to become a musician?
Walker: Lars Ulrich of Metallica, I started off trying to play the drums.
Royce: Prince made me realize how much I love music. Sam Walker made me realize it was possible to make it.
EDM.com: Go-to places for new music?
Walker: Probably still SoundCloud, but it's gotten harder
Royce: These days it's the internet and our friends. I miss going to record shops regularly.
EDM.com: Guilty pleasure record?
Walker: "Broken Wings" by Mr. Mister.
Royce: I'm not guilty about my pleasures.
EDM.com: Desert-island dance record?
Walker: "Around the World" by Daft Punk.
Royce: "So Lonely" by The Police.
EDM.com: Dream B2B partner?
Walker: Dravin Droyce.
Royce: We are already a B2B and our dreams are coming true.
EDM.com: Favorite BPM?
Walker: It's slowly getting faster. 126.
Royce: I don't have a favorite. I love all my BPMs.
EDM.com: Piece of gear you always need on the road?
Walker: Noise canceling headphones.
Royce: I don't go anywhere without shoes.
EDM.com: All-time favorite festival?
Walker: Dirtybird Campout! No question.
Royce: Dirtybird Campout.
EDM.com: Biggest misconception about dance music?
Walker: They're probably all true.
Royce: That it's suppose to be serious.
EDM.com: How often do you get out and have fun, and where do you go?
Walker: If I can tear myself away from the studio long enough I head back into NYC to visit friends.
Royce: As much as I can. I go out to my living room a lot.
EDM.com: City with the most underrated dance scene?
Walker: Santa Fe in New Mexico with Meow Wolf is amazing!
Royce: Not sure if it's underrated but Denver is always bananas.
EDM.com: Industry prediction for the next year?
Royce: People will continue to complain about festival lineups on Twitter.
EDM.com: Best piece of advice for new producers?
Walker: The right inspiration is often better than the right technique.
Royce: Don't be easily discouraged. If you believe what you are doing is right then it probably is. People in higher positions don't always know what they are talking about.
EDM.com: Dead or alive, who would be your dream collaborator?
Walker: Thank you for the question Robocop. I would work with Bernard Hermann.
Royce: We don't work with dead people.
EDM.com: What is one of the unique experiences you've had backstage?
Royce: What happens backstage stays backstage.
EDM.com: A unique travel experience you've had?
Walker: You know it's not good when the pilot comes out of the cockpit with a flashlight and shines it out the window to look at the wings "everything's perfectly fine."
Royce: Whenever I travel somewhere new I like to try the local cuisine. Once in Lithuania, I had cold beet soup. It went how you would expect.
EDM.com: What's your favourite throwback track?
Walker: "The Bomb" by The Bucketheads.
Royce: "Erotic City" by Prince.
EDM.com: What's one track that fans always lose their mind to?
Walker: Our collab with Chris Lake, "Dance With Me."
Royce: Recently it's our unreleased remix of Dom Dolla's "San Frandisco."
EDM.com: What was the first album you ever bought?
Walker: Appetite for Destruction by Guns N' Roses.
Royce: Michael Jackson's Thriller. Saying that doesn't really feel as cool as it used to.
EDM.com: Name one remix that you think is better than the original?
Walker: So many out there. How about Tiefschwarz' remix of "The Red Dress" by Phonique.
Royce: I couldn't do that to the original artist.
EDM.com: What song would you want (god forbid) played at your funeral?
Walker: "Don't You Forget About Me" by Simple Minds.
Royce: "This Must Be The Place" by Talking Heads.
EDM.com: What's the perfect sunset track?
Walker: This is personal and not something we would play. But, the first track on Sasha's famous GU Ibiza comp is "Deep Progress" by Raff & Freddy, especially along with the ambient intro on that mix, it's so sunset to me.
Royce: "Everybody Loves The Sunshine" by Roy Ayers.
EDM.com: What song do you listen to cheer yourself up?
Royce: "Alright" by Janet Jackson.
Follow Walker & Royce
Facebook: facebook.com/walkerroyce
Instagram: @walkerandroyce
Twitter: @WalkerAndRoyce
SoundCloud: soundcloud.com/walker-and-royce