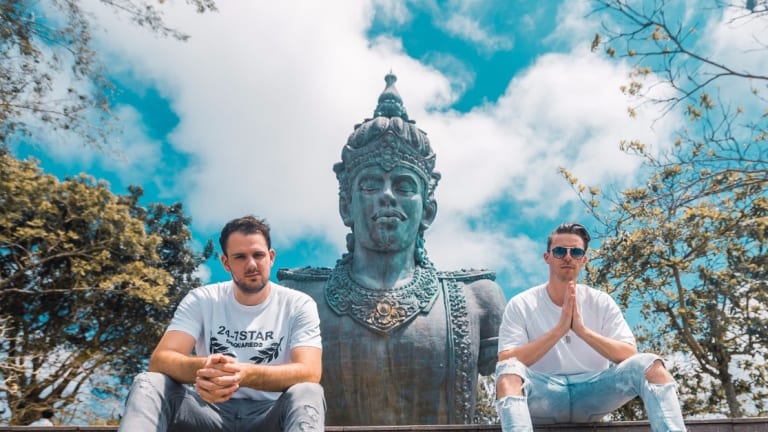 W&W Bring Back A Classic Sound - Hands Up is cool again!
High tempos, euphoric melodies, and heavy basslines bring back classic energy to 2018.
W&W have been front and center in the world's EDM scene since 2012, and active for over a decade since the two members of the group, Willem van Hanegem and Ward van der Harst, crossed paths for the first time. They discovered their mutual interests in music production, and quickly the two began to realize that they had an incredible workflow. Music started to flow out of their studio, and after years of production and experimentation, W&W formed their label, Mainstage Music, which has seen releases from artists like Armin van Buuren, Andrew Rayel, Dash Berlin, 3LAU, and Markus Schulz among others. 
W&W are known for being diverse producers, with their music always reflecting the times. Their sound has always moved around the spectrum. The duo began producing Trance music, and over time, their focus shifted towards producing Big Room House. Their contributions to the world of Big Room House set them aside from other producers and ensured that W&W would be a household name at massive EDM events for years to come. Anybody who has visited their fair share of festivals over the course of a few years has seen musical styles change and evolve. Music is truly a snapshot of a moment in time, and W&W are exceptionally skilled at taking said snapshot.
Come 2018, musical styles are changing once again. W&W have not only adapted to this change but also set the course of a new direction for dance music to go in once again. Their newest releases, "Long Way Down" with Darren Styles and "God is a Girl" with Groove Coverage, signal a change in direction in dance music from slower rhythmic beats to faster and more euphoric and melodic tracks. The style, once called Hands Up, was popular in the 2000's, and it's anthemic/melodic style significantly influenced elements of modern day hard music (Hardstyle/Hardcore).
We talked to W&W about their new tracks, how they ended up on this new path, and what we can expect from this EDM supergroup in the future.

EDM.com: Hi guys! Thank you for talking to us. First off, how's everything going in the world of W&W?
W&W: Thanks for having us :) All is well, we just came back from an amazing tour in China and Japan, and now preparing for the festival season!
EDM.com: Could you please tell us your story, and how you came about to start producing music?
W&W: We both just fell in love with music and especially electronic music from a young age and were curious about how it was made. You basically just needed a computer and a software program to get into it, so that's how it all started.
EDM.com: So, you have a new record out with Darren Styles. Could you tell us about it?
Check out "Long Way Down" here.
W&W: We were actually listening to one of Darren's records last summer and we got really inspired by it. So we decided to message him and see if he was up for doing something together. Then he sent back the vocal he just got from Giin and we loved it so much that we started working on it immediately! We went back and forward online with Darren exchanging ideas and the project and managed to get a playable version ready before Tomorrowland last year. For us it's a bit of a different sounding record with a very high BPM, but the reactions on it are really overwhelming!
EDM.com: We've noticed that you guys have been significantly changing your style recently, with tracks like "Long Way Down" at 160 BPM and "God is a Girl" at 145 BPM. Your new style is reminiscent of Hardstyle, and a revamped modern version of classic Hands Up. Could you tell us about how you chose to go in this direction? What inspired you to change your direction?
W&W: We are always looking for new challenges in the studio and new sounds to improve our DJ sets. Listening to the same kind of style for an hour and a half is just not working anymore and it's actually also no fun to stick to one style in general. We like to take the people on a journey in our sets and surprise them. The music we release is a reflection of what you hear in our sets so it will never be limited to one genre only. Now we got into the old Euro/Hands Up style again, it's just amazing to see how much people love it, and tracks like "God Is A Girl" and "Long Way Down"' really are highlights in our current set.
What inspired us to make these kinds of tracks are of course the old ones (like God Is A Girl), but also just the feeling you get from the crowd. You have to feel what they are cracking next and I think we did.
Flume, Kaytranada, The Chemical Brothers, More to Play Goldenvoice's New San Francisco Festival, Portola
The two-day festival will also feature sets from James Blake, Arca, Peggy Gou, M.I.A, Four Tet, PinkPantheress, DJ Shadow, and more.
This doesn't automatically mean our next release will all be in this sound as well though, we have a few new tracks we are testing now, but they are quite different from the Hands Up ones.
EDM.com: What genre do you consider your new tracks to be in?
W&W: Hands Up 2018 maybe? Haha! We Really don't know, we also don't really care. There is no need to label it, we just hope people enjoy it!
EDM.com: How has the crowd reacted to the new style so far?
W&W: Euphoric!
EDM.com: Do you have more tracks in this style coming up?
W&W: We have a few ideas, buts also for other kinds of tracks. We'll see what's next!
EDM.com: The video for Long Way Down is very detailed and interesting! Could you tell us about the video, and why you chose to go with an anime-themed approach?
W&W: We love anime and the entire Japanese look and feel and somehow we felt it would be a perfect fit for this track because it's so fast. It worked out well!
EDM.com: How would you describe the progression of your music, from the day that you started to produce to now?
W&W: It's a constant learning process, and with the ongoing development of technology that will never stop. We started when we were very young and had absolutely nobody to learn music production from, let alone tutorials online. That wasn't around at all. So we really had to learn from scratch, but looking back on that it definitely helped us develop our own style and ways of making music.
EDM.com: Where do you see yourselves in the future?
W&W: With a fast moving industry which we are in its good to look ahead, but also not too far. So we try to enjoy every day and are extremely grateful for all the support we are getting around the globe. We do it for the people and the energy we get back from them is what inspires us again and again. As long as we can do what we love most, there is nothing else to wish for.
EDM.com: Thank you for talking to us, we appreciate your time and wish you a busy and successful festival season!
W&W: Thanks guys! Hope to see you on one of the festivals this summer!