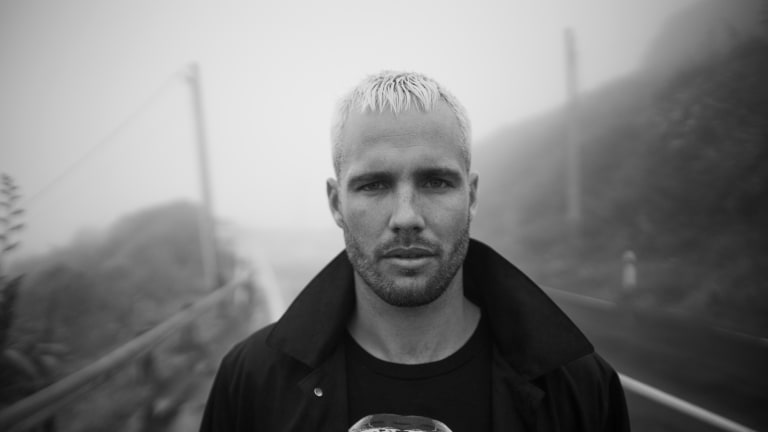 What So Not: "A Lot of Music From the Last 10 Years is Going to Get Lost"
The Australian electronic music producer reflects on his new sound, classic albums, the fallacy of social media, and more.
What So Not (real name Chris Emerson) has come a long way from his days sitting behind a desk living the 9 to 5 life. Back home in Australia, many years ago, Emerson was an accountant by day and DJ by night. He would play up to four nights a week at a club in Kings Cross with Hayden James and Cassian where Alison Wonderland was the door girl at the time.
On a whim, he gave up the desk for the decks and pursued music full time. What So Not began as a joint effort with Flume, but Emerson eventually went at it solo due to creative differences.
The eight-track Divide & Conquer EP, released on OWSLA in 2016, set the tone for the What So Not project. From the bold, leading "Divide & Conquer" to the slow, stirring "Buried," the EP served as a testament to Emerson's versatility in the studio. Striking sound design, catchy songwriting and varied soundscapes were among its hallmarks.
Not All The Beautiful Things, Emerson's debut album, stepped it up. The LP kept the same What So Not elements fans had come to love, like signature synths and smooth melodies, but packaged in a larger narrative. A clear theme held the tracks together. One flowed to the next in a way that made sense, and more importantly, felt good. The songwriting highlighted an artist in their stride. Of course, features from popular names like Skrillex, San Holo, and Toto packed a punch too.
It's been a year since Emerson released the LP, and he has been busy touring and working on new music. 
Recently, Emerson wrapped up the Surf tour. It's exactly what it sounds like: Emerson and his crew rode around the East Coast in a Winnebago, hitting the beach during the day and the clubs at night. Interestingly, they played in cities mostly left out of typical electronic music circuit like Myrtle Beach in South Carolina and Montauk in New York.
Again, mostly. Because right after performing in Asbury Park, Emerson took the decks at New York City's iconic Webster Hall. To be fair, since it's tensely awaited reopening, the historic electronic music hotspot hasn't seen a ton of electronic music acts. Under new corporate ownership, many wonder if it'll ever be the same. But that's a story for another day.
We're glad Emerson stopped by in New York as we got to catch his performance. Smooth and energetic, Emerson's set flowed from high to low and back again. It included classic What So Not tunes like "Gemini" and his remix of RÜFÜS DU SOL's "Innerbloom" and bass-heavy tracks like the Diablo-assisted "OOGAHDAM!" and What So Not's joint remix with Quix of Awolnation's "Run." Emerson played the crowd well, playfully mixing melodic, vocal-driven songs with high energy bass tracks without coming off as haphazard.
Before his performance, we caught up with Emerson to talk about where the What So Not project is heading next, how he deals with the hectic life of a touring musician, why he quit his job as an accountant to pursue music full time, the fallacy of social media, and more.
EDM.com: For our readers who may not be familiar with you, how would you describe the What So Not sound in a sentence?
What So Not: That's tricky; I try not to make it anything in particular, follow any sort of formula, or even use the same sounds more than once.
You go back and forth between bass heavy tracks and melodic songs. Do you prefer one style over the other?
Depends on how I'm feeling. Sometimes I'll just want to sit there, play some chords, sing, and make a song. Sometimes I just want to make something that's crazy with the live show and lighting in mind, thinking of how it's going to affect people in a big warehouse kind of space.
Do you have any new music in the works?
I spent most of this year just exploring new sounds, spending a lot of time not necessarily touring through countries but just traveling through countries. I went couch-surfing for a month through Europe and worked with so many friends, new and old. I worked with people I've never heard of or met before, and I just started kind of living with people and seeing what's happening in these different worlds. 
I became so excited about new rhythms and ideas that I could see were popping off. Going to niche, little clubs and events, hearing what people were doing that aren't on the main stages, that aren't on the big festivals, that are just sort of on the ground level. It was really exciting, it really made me so excited for music again. 
And I think through all of that, I found this new sound. I have a lot of records. Maybe something like 60 or 80 new records? But there's almost a full album there that's all the same feeling, the same sound, still with a lot of diversity within it. Very similar to the feelings I had about the Not All The Beautiful Things record so you never know where that might take us in the next year or so.
We were laughing the other week that we're running out of months that we can put out music this year because we have a lot of stuff finished up. I have a song with Flux Pavilion that's about to come out.
We've heard there are some A$AP Ferg collaborations floating around. Will they ever see the light of day?
There's a bunch of songs we've done over the last few years. There's one I saw that was on Timbaland's Instagram. It was a song we made a while ago, and at the start of the clip he was playing it for Timbaland. It's cool to see it circulating, I'm excited to see if that one comes out.
For your debut album, you mentioned you spent a lot of time listening to old records, classic albums. What were you listening to? What do you think makes an album "classic?"
I was listening to old The Chemical Brothers records, The Prodigy, Moby, The Fugees, Fleetwood Mac, some Led Zeppelin records. 
I guess what makes it timeless is if you could play it at any point of your life, and it still has a profound impact and is enjoyable. It's not just a genre picking up speed that suits a specific time and you look back cringing, haha. You want to listen to it in 10 years, 20 years and still go, "Wow, this was so amazing," and hopefully, "This was so ahead of where everything was." Sometimes a timeless record can even be somewhat misunderstood and peak well after its original release.
Do you think any modern electronic music albums, maybe something released in the past 10 years, have the chance of standing the test of time?
It's a really interesting question, actually, because I think a lot of music from the last 10 years is going to get lost. I know there's a whole generation of incredible music that I grew up on when I first got into dance music that only existed on these blogs that all got taken down for pirating. There wasn't a hub that everything was streamed and stored on. They literally were hard uploaded to the blog sites and pretty much all got taken down. Three years of that era are lost forever unless you happen to have them on an old computer and kept the data. 
Apart from that, now, because of the way music developed and the success of the bedroom producer kind of formula, there's so much more music and so much less quality control, but also so much innovation and interesting things popping through. 
But then, it's harder to find some of those interesting things because there's just so much. A lot of companies and people have realized that if they just keep putting stuff out, whether it's bad, good, average, whatever, they can keep their career mobilizing and stay at a level of success.
That makes me really wonder, are there great albums that people won't be aware of in time? Another part of this question is that for a period there, everybody got into the loudness war and we're going to listen back and think of how horrible that actually is. There are going to be so many records that were put out that sound like trash because that was just the style of the time. Maybe that's a bit of a modern punk thing though and we'll think of it as kind of a cool, weird phase everyone went through. Who knows?
Without waking up to the beach like on your Surf tour, how do you typically cope with the hectic schedules and stresses of touring life?
I mean touring is inherently stressful but you can just choose to not be stressed by it. Most people are stressed by the fact that there's no stability and no comforts. You don't just wake up in the same place every day and you don't just get to watch your favorite TV show or whatever at the end of each day. You're not there with your girlfriend or your family or whatever it may be. You are usually by yourself for a lot of the time, while you have a few crew members that are going, sound checking and setting up stages up and making sure everything is sorted for the show. It's not as glamorous as some might think but there are lots of little things you can do.
I make sure that I exercise most days. I make sure that I take opportunities if I'm in an exciting place. It doesn't have to be surfing or nature. It could be a local museum, or market or music event. It could be anything. Just go on experiencing the places that you are in or nearby. It's just simple stuff like that. If you do that, there is no stress. You just have to make choices.
Recently, you went around doing random house parties in Sydney. What made you want to do that?
This one's complex; it's all political. We have issues with lockout laws there. Essentially, it was coming back to the city that gave me a lot, and just trying to throw some crazy ass house parties for everyone that doesn't get nightlife anymore.
Do you prefer playing live over DJing?
I really like both. I like the fact that there are two! DJing can get pretty tiring if you've been doing it for a very long time and you're not excited about stuff you've been finding. But then, when you do a live show, you get to represent everything in a certain way, really build in something super interesting, in-depth, and creative.
I love cutting back to DJing. Right now I'm so passionate about hunting for cool records and playing something from some kid who has 2,000 followers on SoundCloud.
Having both gives you freedom. There was a period where I'd do a DJ set and people were really expecting to hear certain songs. I have a live show where people can come and hear that, and my DJ set is more free form and fun.
In July, you tweeted: "when these social platforms dissolve into commercialized wastelands, make sure you've actually built a life you enjoy to fall back into." What made you want to drive that point to your followers?
I just think of how much energy people put into social media. Someone might be huge on just one, like Instagram, and not have much anywhere else. Then, Instagram might change the way its algorithms work. 
I saw all these influencers in big publications complaining about how they built their whole business around it and now everything's collapsed because brands no longer have a reference of how many "status points," how many "likes" their post with their item received, and it loses value for them. It just really got me thinking about the collapse of MySpace, how popular Snapchat was for artists, but now seems to just be teens in group chats. Everyone puts in so much energy to build that up and they can just bomb into nothing. 
Things like SoundCloud really suffered for a moment there. It's gone on strong because of the whole rap community but it was traditionally a more DJ mix, future-bass, dance music, indie sort of thing.
So yeah, don't spend so much time on these things and not actually have a real life of your own because you never know when it just might suddenly be gone and everything you've built is worth nothing.
This interview has been lightly edited and condensed for clarity.
FOLLOW WHAT SO NOT:
Facebook: facebook.com/whatsonot
Instagram: instagram.com/whatsonot/
Twitter: twitter.com/whatsonot
Soundcloud: soundcloud.com/whatsonot