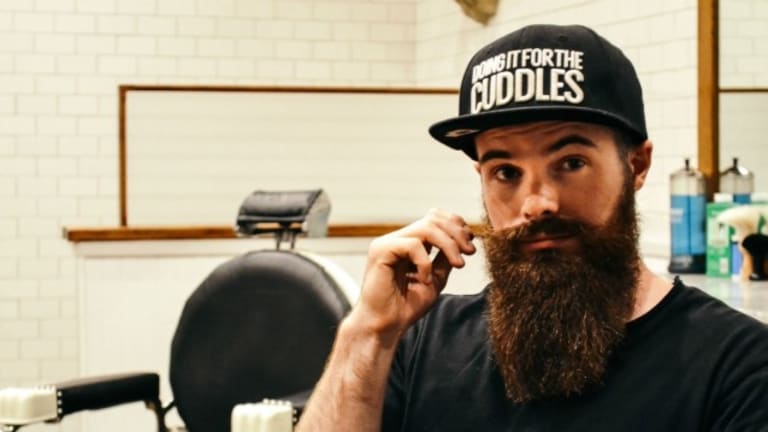 Will Clarke's 'Give Me Your Love' EP is More Than Just Cuddles [INTERVIEW]
We caught up with Will Clarke to ask the important questions: like what makes for a pro cuddler?
Will Clarke isn't one to follow a formula for hits.

The Bristol-based DJ has demonstrated time and time again that his tracks cannot be easily put into a box relating to one or two genres. Over the years, Will Clarke has received plenty of support from dance music royalty, but it wasn't until Will began a relationship with Claude VonStroke's Dirtybird label that Clarke's presence really began to be felt in the States. Tracks like "Booty Percolatin'" and "Can You Funk?" cemented Clarke as a dance floor staple. Whether you're listening to his productions track by track, or hearing them mixed on a dance floor, it's nearly impossible to keep your head from bobbing or your toes from tapping.
Will Clarke's latest EP Give Me Your Love on Sola is another prime example of his versatility as a producer. Featuring manipulated vocals that hook the listener from the get go, "Ain't No Ho" is a cheeky track that evolves from hypnotizing beats, to tinkering cymbals, to squelching acid bass lines. Whereas the title track "Give Me Your Life" is a dance groover with a wonky arpeggio and toe-tapping high hats. With both the playlist friendly version, as we as the extended original mixes, Give Me Your Love EP navigates strength to strength of Clarke's production chops.
We spoke with Will Clarke to discuss the EP's distinct vocals, his relationship with Dirtybird, and of course, the secret to giving great cuddles.
You recently released 'Give Me Your Love EP featuring the title track and "Ain't No Ho.". I'm getting mixed messages from the track titles - are you trying to make a statement about your personal life?
Hahaha Go fuck ya selves. 😉 Nah, honestly the lyrics of the record say 'You Aint No Techno Ho' - it's something that just came off my tongue when I was recording vocals and it seem to fit so I stuck with it. (No ho's were harmed, groped or even seen in the making).
Give Me Your Love utilizes a lot of different elements of tech-house making it much more than a "boots and cats" record. When you're in the studio what's your approach to making music?
To be honest, I like to keep things as simple as possible, so I tend to really focus on the relationship between all the elements that are in the record. The current tech house sound that is going on is not really my thing, so if I'm writing a record that's going to be categorized in the tech house genre then I make that extra effort to try to differentiate it from some of the other music that is being released. Almost 99% of the time, the vocals that you are hearing are mine and on this e, both of the tracks are me on vocals. Trust me, I don't have a great voice, so a lot of time goes into processing my vocals haha.
Has your background always been in electronic music, or were you inspired early on by other genres?
I've always been into electronic music but I guess the people I look up to are the likes of the Chemical Brothers, Faithless, Massive Attack and Moby.
Of course, your career began in Bristol which has definitely built a name for itself. Now that you've moved to the States, have you found new things to inspire you creatively?
Well, I haven't actually moved from England, but I tend to spend a lot of time in Detroit and it seems to be a really nice balance. The whole influence thing I don't actually know what influences me I really enjoy my studio at my home in England - I feel inspired in that a lot of the time, but what inspires me the most is just having good ideas to work with. So that could be a vocal idea or a bass line idea that I have in my head.
Over the years, you've worked with a lot of different crews but working with Dirtybird has really helped you to build an American fanbase. How did your relationship with Dirtybird begin?
I was a big fan of the label and of Claude von Stroke, so I was focused on getting music signed to Dirtybird and myself, and a member of my old management had a contact there so we just kept sending music between us. Claude listened and got back to us about wanting a record, but I had used the same sample as a record they had just signed (another reason to not use samples) so I then had to send them another record and that got signed. From then we just kind of had good chemistry and our friendships with the crew grew, they are honestly the best crew/family to work with.
That said, it's important for an artist to have control over their brand and music. These days, what are you most focused on outside of producing music?
I honestly think there is nothing more important than music, however I'm always ready to do stuff on social media. I know some people that really don't like it, but I actually enjoy it, handy since it's become so important to have that direct link with your audience and community. I spend a lot of time in airports so it's fun doing posts and replying to everyone that comments etc.
You recently wrapped up The Cuddle Club tour in the US - do you notice any distinct differences between your crowds in the States and back home in England?
Yes, there are differences mainly in how clubs are run in the states to England/Europe mainly earlier parties in the US due to the UK licensing laws (age related). With regard to the actual crowds, I would say that up til now I have been lucky to be more well known in America, but I've been spending more time on the road in England/ Europe so hoping to level the playing field.
I understand that you maintain a sober lifestyle, which is a rarity in the DJ world. Early in your career did you ever have struggles connecting with members of your audience who were not sober?
Not at all, I'm a pretty sociable and outgoing kinda dude normally, so I never found it to be something I needed to relate to anyone. I really believe that if I write and play good music, everyone will be happy right?
In your professional opinion, what makes for an expert vs amateur cuddler?
It's all in the squeeze...