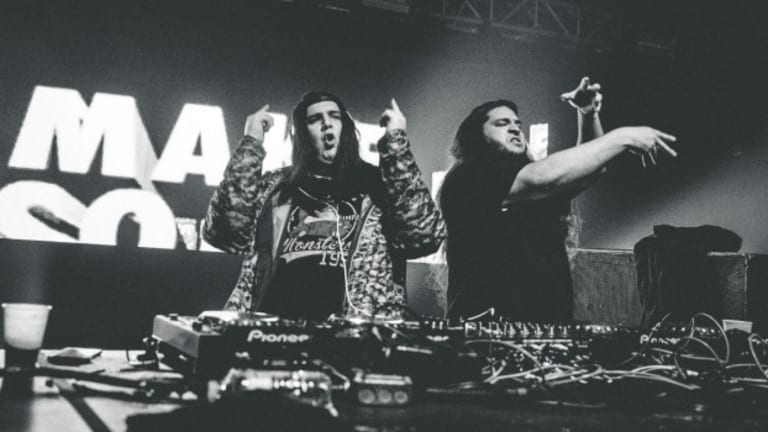 Go Inside the Minds of the Wildest Brothers in Bass with YOOKiE [INTERVIEW]
Go inside the minds of one of EDM's hottest duos!
YOOKiE has had one of the biggest years of their careers, and they show no signs of slowing down! With some major festival apperances and a library of dancefloor rippers under their belts, the are ready to take over EDM. Learn what makes the YOOKiE brothers Anthony and Chris Alfaro tick with this up, close, and personal interview!
What's the story behind the name YOOKiE?
Anthony: We were in Hawaii and went to this strip club, there was this really cool dancer named YOOKiE. We clicked really well, we were trying to figure out names for the group, and we just settled with that!

If you could collaborate with one non-electronic artist (living or dead) who would it be?
Anthony: Jimi Hendrix, that would be kinda cool.
Chris: Yeah, I was literally going to say Jimi Hendrix too.

If you had to describe yourself as a character from TV/movies/books who do you think you're most similar to?
Chris: The T-Rex from Jurassic Park.
Anthony: This is a hard one, honestly, but…The Green Power Ranger.
What's your spirit animal?
Chris: A hedgehog.
Anthony: My Brother.
As siblings, you must each have pet peeves about each other. What's one peeve that you have for one another?
Anthony: Chris is a loud breather.
Chris: Anthony's breath always smells like a 3 week old booger.
How did you realize that electronic music was a career that you wanted to pursue?
Anthony: When people started fuckin' with us pretty hard, we were just like damn, lets just do this, and here we are. But also, Chris had a dream one day when he was 14, that he was staring over a sea of people, all just so hype to see us and we were just on stage. And this was before we even knew what EDM was. He would always tell us about this recurring dream he always had. We were always just like, "what the hell does this mean?" and then lately all the pieces have started coming together and we realized what that dream was. It was a vision into the future, and its just so crazy that he actually dreamed of what we are doing now when he was 14 years old.
Chris: It was crazy.

Anthony: Yeah, it was crazy.
Which one of you is the better singer?
Anthony: We're both pretty lit in the vocal realm of artistic expression. You're just gonna have to come to our live show that we're doing in 2019. YOOKiE Live. We do have a vocal duel at the end of the show, it's pretty dope.
Mayweather or McGregor?
Anthony: I wanted MacGregor to win, but I put my money on Mayweather and I won.
Chris: Same, I had faith in Conor.
What's the weirdest/strangest thing that's happened to you on tour?
Chris: In Greensboro, ironically enough, our green room was raided by detectives with a dog. We were with the ATLiens. It was an inconvenience for sure. Thankfully, none of us were doing anything illegal, so it was a waste of their time, and ours.
If you were stuck on a desert island and only could take one album with you, what would it be?
Anthony: 10,000 days by Tool.
Chris: The Mixtape my Uncle Matt made us in like 2004, when "Tipsy" by J-Kwon was hot.

Anthony: Oh shiiiiit…..I literally still have that. That's a 13 year old mixtape.

Chris: We had some Linkin Park stuff, Slipknot, chop suey, Sum 41, it was all some rock from the early 2000s, late 90s and the last one was Tipsy by J-Kwon.
Who was the biggest inspiration in your life?
Anthony: Def our Mom.
Chris: Yeah our Mom is mad inspirational.

Anthony: As for people not in our immediate family, I'd say Skrillex.

Chris: Skrillex is mad inspirational. Yeah he's the #1 man in my life.
Is there any up-and-coming producers you're excited to hear more of?
Anthony: Yeah… definitely…wait let me think.
Chris: Alright someone who is constantly putting out flame and we're always hype when he sends us music, and he's always putting out fire is the homie Kompany.

Anthony: Yeah him Wooli, Sullivan King, Phase One, hope we're not missing anyone.

Chris: Yeah there's a lot of people that we fuck with that are super dope. Also, SKRUDE, KATT, all super dope stuff.
What is your favorite original track to play live?
Anthony: Right now, it's BTSM x YOOKiE – "Lions" or "Intruder Alert", or "After All".
Chris: Oh After All is a good one.
What's next for YOOKiE? Anything big you can let us in on?
Anthony: We are currently writing a book on how to…exist.
Chris: But yeah, after our novel comes out, we're hitting the road on a bunch of headline tour dates both in the US and Australia and dates with guys like BTSM, Riot Ten, LOUDPVCK, Dr. Ozi, Skellism, and a few other BIG support slots we can't wait to announce.

Anthony: Also, we have a new release coming out every 2-3 weeks this Fall on a bunch of labels. Firepower, Deadbeats, Kannibalen, and more… so we're stoked about those.

As you can see, YOOKiE fans have a lot to look forward to this fall! They have some massive releases incoming up soon, including their collaboration with Kompany called "GENOCiDE" releasing as a free download on the 8th of September. These three are known to cook up some fire, and this song will be no exception. Prepare for this one to smash your speakers next week! Until that fateful day comes around you'll have to settle for this sneak peak!
Thanks to YOOKiE for doing this interview! Much Love!
Follow YOOKiE: