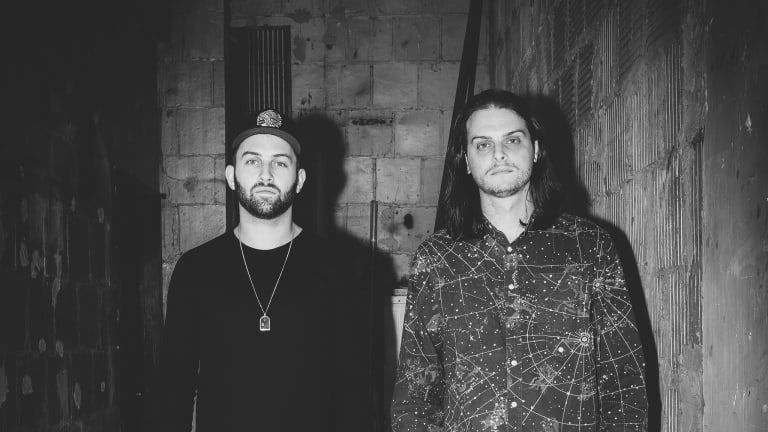 Zeds Dead talk Deadbeats Tour, Red Rocks and their 30 Favorite Tracks [INTERVIEW]
We caught the duo in an exclusive interview and had them take over our Spotify for an hour worth of vibes!
Zeds Dead have long been praised by fans and industry professionals alike as a duo that can do it all. In 2009, Hooks and DC got together to form the electronic project after both had been experimenting in Hip-Hop production for many years. Fast forward to 2017 and Zeds Dead are one of the most influential names in the electronic music space, attracting dedicated fans from every corner of the spectrum as a result of their incomparable diversity and ability to continuously progress by creating whatever comes into their heads.
A little over a month ago, Zeds Dead returned to the iconic Red Rocks for their 4th annual Deadrocks show. Ghastly, Rezz, Camo & Krooked took the stage with up-and-comers Nebbra, GG Magree, and Pham offering fans a smorgasbord of musical delights. All of this leading up to the finale with Zeds Dead lighting up the infamous Red Rocks in Morrison, Colorado creating a perfectly curated night that displayed the diversity that the Zeds Dead brand and their label Deadbeats are all about.
The followup to the Deadbeats experience at Deadrocks is the upcoming Deadbeats Tour. Officially starting September 3rd, Zeds Dead will be rocking the US with plenty of dates left to be announced as well as a massive roster of featured guests performing with them. Ranging from all kinds of electronic music to Hip-Hop, Deadbeats tour is bringing acts such as newcomer to the Trap/Hip-Hop movement Playboi Carti and Wu-Tang member Ghostface Killah – for a kick of extra flavor. Fans will also be able to catch electronic acts Unlike Pluto, K?d and Eprom who are taking the stage for more well-deserved recognition.
Just as they embarked on tour, we got the chance to talk to Zeds Dead about it, their label Deadbeats and their musical process among other things. The guys also just took over EDM.com Spotify for a 30-track playlist featuring some of their favorite tracks at the moment, ranging from artists like Herobust and Bassnectar, to Mr. Carmack and Kid Froopy. Be sure to check it out!
EDM.com: When listening to your recent collaboration with Illenium, one realizes you bring a ton of diversity to the table, and are not confined by genres. Is that a conscious decision, or do you just find it difficult to stick to a certain style?
Zeds Dead: Having a unique style is difficult to achieve, especially these days where it's easier than ever to copy other peoples beats. I always hope that our style is recognizable and comes through in whatever genre we experiment with. Since we started we never limited ourselves to any specific genre, but always tried to achieve a sound if that makes sense.
Many musicians have a delicate relationship with inspiration, some find it by 'Happy Accidents' during the writing process, and some discover it via imagination in a random location. Does your inspiration come and go, or are you able to force it?
There's no formula for getting inspired. It's always different but coffee always helps.
So far, your label Deadbeats is directed more towards underground, promising artists (Pham & Sober Rob, Nebbra, Champagne Drip, GG Magree, & more). What qualities do you look for in an up-and-coming musician during the A&R process?
It's mainly just if we like the songs or not. Sometimes when we're really into an artist we'll ask if they'd like to do something, other times it's looking through demos people send.

You recently announced your massive Deadbeats tour, with a flyer that looks like a festival lineup with a TON of special guests. How is this tour different from anything else that you have done on the road and what do you hope to accomplish from it?
We'd love it if these parties became like mini festivals.
A little over a month ago, you returned to Red Rocks for the 4th Annual Deadrocks, with an impressive roster of guest performers such as Ghastly, Camo & Krooked, Rezz, & more. What about the venue and the experience as a whole do you think keeps the fans coming from all over the world? How does that response make you feel?
It's just such a beautiful venue, one of the best in the world. We love doing Deadrocks there every year, it means a lot to us. It's really crazy to us to be selling out that venue when you see the other artists that have played there, the Beatles played there!

Have you ever thought of transitioning to a full-on live show, like so many electronic artists have done? Do you think live shows always come naturally as an artistic progression or does it totally depend on the artist and their vision?
We have some ideas for that we've been throwing around. We'll have to see how it progresses.


Many people consider Zeds Dead and other top acts as role models in the electronic music space. How have you managed to stay innovative in your sound and style over the years and what can the next wave of up-and-coming producers learn from that?
I guess just that we like to experiment a lot. Staying in the same genre or sound for long has never been interesting to us.

What are your general goals for the future concerning your Deadbeats label and the general Zeds Dead brand? Can you elaborate a bit on how you envision the project to be in 5 years?
I'd like for it to be a name that people associate with quality. So I'd love to build it up over the next few years so people trust that if it's music, a festival, art show, whatever, it's going to be good.
Follow Zeds Dead:
Facebook: https://www.facebook.com/zedsdead
Instagram: https://www.instagram.com/zedsdead
Soundcloud: https://soundcloud.com/zedsdead 
Twitter: https://twitter.com/zedsdead