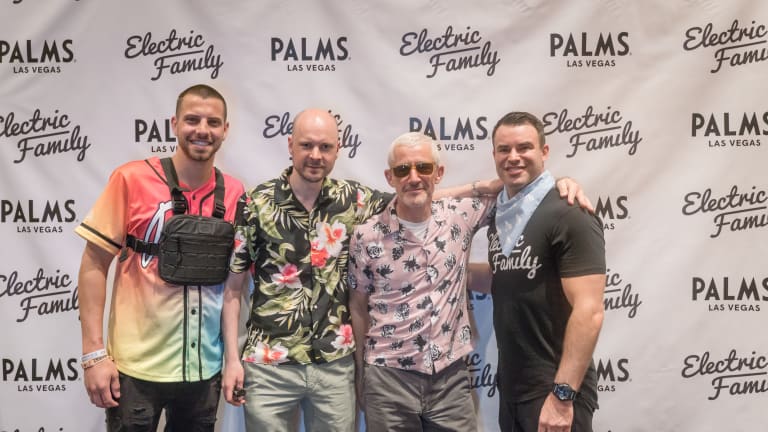 Electric Family Launches New Sunglass Line, Kicks into High Gear for Festival Season
Following a wildly successful pop-up shop and artist meet and greets at Palms Las Vegas for EDC Week, Electric Family drops multiple new product lines and ramps up for the 2019 festival season.
This year for Electric Daisy Carnival, industry-leading streetwear brand and artist merchandise company Electric Family hosted a highly-anticipated Las Vegas Pop-Up Experience where fans had the opportunity to purchase a wide variety of limited-edition artist merchandise, participate in massive giveaways, and - most exciting of all - meet with a lineup of the freshest and most relevant names in dance music. 
Top-tier artists such as Adventure Club, Above & Beyond, Virtual Riot, SVDDEN DEATH, Kayzo, Yultron, and Funtcase showed up to promote their collaborations with Electric Family, and to meet with the legions of overjoyed and clamoring fans who eagerly attended the event. One loyal fan arrived at 4:00 AM in order to be first in line, and hundreds of others waited upwards of five hours to meet with their favorite performers and cop some of the rare and limited edition merchandise before it ran out.
Electric Family also announced the launch of their first line of sunglasses, just in time for the blazing sunshine and outdoor adventures that come with the height of festival season. Snag a pair for yourself and protect your eyes while indulging in your favorite musical experiences.
Finally, if you're preparing for any festival travels yourself, be sure to check out Electric Family's brand new Chest Packs, Hydration Packs, and Shoulder Bags - all perfectly designed with your festival needs in mind. 
For the full 2019 Festival Collection, visit the Electric Family store today.
FOLLOW ELECTRIC FAMILY:
Facebook: facebook.com/ElectricFam
Twitter: twitter.com/ElectricFamily
Instagram: instagram.com/electricfamily
SoundCloud: soundcloud.com/electricfamily