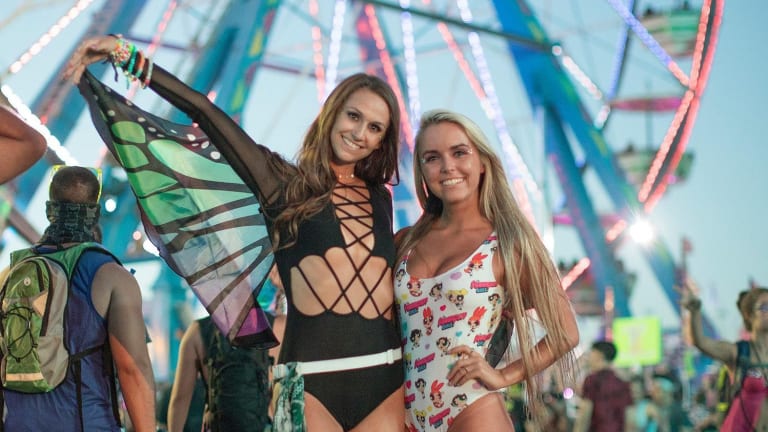 Fashion Salute: 6 Trends We Can't Overlook
Festival season may be over but the fashion trends are definitely not! Dressing the part for a festival or concert is a reflection of the art it embodies. We appreciate these concert looks as much as we appreciate the music. More importantly, fashion should make you feel as free as you do immersed at your favorite show right?. With that being said, we may look back on this and laugh or we may look back at this and cringe. Either way, these fest fits are game changers and are keeping fashion creativity alive!
Lets take a moment and recognize these fun fits worn by musically woke individuals from all over the net!
Marshmello's & Marshmella's
The worldwide DJ has become a fashion trend -becoming the look everyone is craving! Throw on a helmet and you are a comical goddess! But one thing.. that helmet looks hot in there so maybe jut rock it for the pictures and call it a day! 
Glitter… as clothes
Glitter is a necessity to any fest fit -becoming the cherry on top to every outfit. Now girls have taken that accessory a step further… applying it all over their bodies to create a top.This trend (if done correctly) is fabulous and an eye catcher!
Chains, chains & more chains
Chain gang is very strong this year and we aren't mad about it. Chain bras and chain skirts are the hottest trend to enter the festival year. The is a fresh twist to any basic bra or skirt!
Sheers + Pasties = <3
Name a more iconic duo.. I'll wait. This combination has become more prominent at every festival.. it would be disrespectful if you haven't rocked it at this point. It has evolved into a tasteful festival fashion that is totally okay to rock. Skin is in!
Fans
Why not stay cool from your hotness with a trendy fan to compliment your outfit? You will look fashionable as much as you'll stay cool so its a win win right? I'm a fan!
The Year of the Underboob
We have cleavage, we have sideboob, and now behold... we have underboob! The girls have been peeping under many outfits this year.. but we love it! It is a refreshing twist for showing off the pair and we condone it! 
Fellas, feeling left out?
Don't worry we'll be back with another edition of fashion salute to highlight some XY chromosome fashion realness. 😘