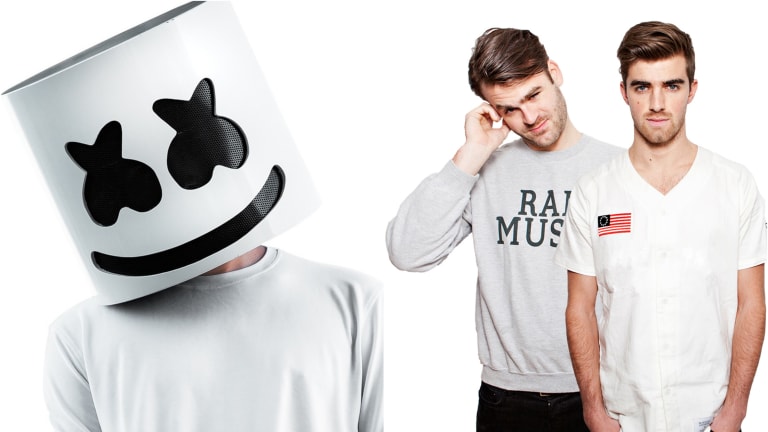 Marshmello and The Chainsmokers Land On Forbes' 2020 "Highest Paid Celebrities" List
Dance music is well represented on Forbes' 2020 list of the highest paid celebrities.
Forbes has revealed its annual list of the highest paid celebrities and a couple representatives from the dance music community have made the cut.
The Chainsmokers took the 21st spot on the list just barely behind the Jonas Brothers, as the "Closer" producers earned themselves a windfall of $68 million. It turns out having the fourth most streamed song on Spotify of the last decade and a stake in JAJA Tequila has continued to pay healthy dividends for the duo. Impressively, the two placed ahead of fellow streaming giant Ed Sheeran, who broke U2's record for the highest grossing tour ever last year.
Marshmello has found himself in similarly favorable straits, netting the 35th spot on the list. The masked hit-making machine pulled in $56 million, just barely eking out Houston Rockets guard Russell Westbrook. Last year, Marshmello landed an extremely lucrative deal for a residency at Las Vegas' KAOS Nightclub to the tune of $60 million. While KAOS unfortunately had to shutter its doors and could not fulfill the entire contract, Marshmello still took home millions for his services.
Notably absent from the list this year was Calvin Harris, who previously appeared on last year's list in the ninety-fifth spot. Despite missing the cut this time around, Calvin Harris continues to be among the wealthiest people in the UK, according to British outlet The Sunday Times.
According to Forbes, the entire list of celebrities earned a combined $6.1 billion before taxes.