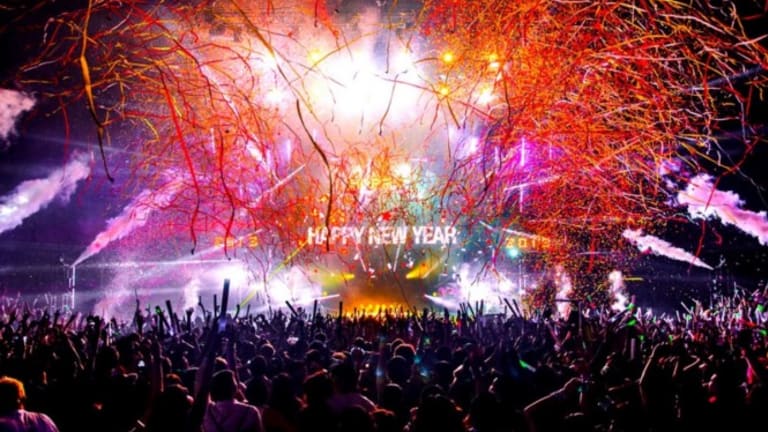 12 Fresh Party Fashion Trends to try out this New Year's Eve
Ring in 2018 with one of these fashion forward trends.
One of the biggest party nights of the year is fast approaching. Wherever you show up to throw down, you'll want to be dressed for the occasion. Here are twelve sparks of fashion inspo to light up your night and your wardrobe this weekend.
Festive eyebrows
You've probably seen this one fly by on your FB feed. Bejeweled brows are nothing new at raves, but Taylor R's eye candy is next level. She shared the look on her Instagram and it's been all over the internet since. Since most of us are at home with the fam in pj's for Christmas, NYE is the perfect night to sport this look!
Baggy everything
While most women iron on their NYE outfits, something tells me Billie Eilish will be rocking the same oversized, hazmat looking gear she always does, and looking stellar. Billie baggified style proves you don't have to be almost naked to be hot. Don't be a sheeple people, be you.
Chain veil
Maybe leave the whip at home, but chain masks are mysterious and hella sexy.
Sequin Kimono
Kimonos were everywhere this summer, and they're showing up all over the runway too. If there was ever a time to sport a full sequin robe and be 100 percent IN style, this weekend is it. If you can find a mandarin collar style choker to match, you win for most fashion forward rave wear.
Faux
Fake fur may not be the new new, but it sure as hell isn't taboo. And at this time of year it's the most practical piece of clothing you could don instead of running through the streets getting hypothermia.
Plaid
We may not see it much right now, but plaid is low key making a comeback in the fashion world. The best thing about this timeless patterns is that it always plays up. Add a piece of plaid to any outfit, or go all in with a plaid jumpsuit, the spirit of Clueless will never fail.
Jumpsuits
The cold weather version of the romper, jumpsuits are a versatile, unisex option between a catsuit and a onsie. Not skin tight, but not sleepwear, this functional, easy-to-dance-in item can put a fun kink in your night whatever you get into.
Feely fabrics
Tis the evening for EXTRA everything, including extravagant textiles you may not feel comfortable in at other times of year. We're talking velvet, satin, silk, cashmere, etc. Bottom line, treat yoself, and the sexy stranger who brushes against you on the dance floor.
Fashion parkas
Think Fresh Prince only fresher, if that's even possible. While 90s style windbreakers have been a popular thrifty fashion for a minute, classic parkas, anoraks and otherwise hooded, baggy jackets are an old school utility turned new school trend.
Trousers
Stand out from the crowd this New Year's Eve - wear pants. Don't underestimate the power of a good pair of trous to make your butt look amazing. Whether you chose bell bottoms (also creeping their way back into style), floral print, or tacky-chic animal patterns (or clash all of them on purpose), fitted leg wear that's not leggings adds some edgy elegance to your costume.
The suit in all its glory (and pieces)
The jacket, the vest, the pencil skirt or slacks, whichever part of the suit strikes your fancy, this is a great year to boss it up at the club.
Haute agua?
Ok, there may not be many fashion forward ways to carry your water around a festival, but that doesn't mean you shouldn't try! Here are a few rave ready water containers that might just save the night and add some flare to your ensemble.
Every fashion statement listed here is 100 percent unisex. Even though dudes on the internet aren't sporting these styles as much as women doesn't mean a guy shouldn't rock any of these styles irl! There's still a couple days to snag some post-Christmas deals and put together a killer NYE getup. Whatever you wear, or don't wear, have a safe and awesome night out!