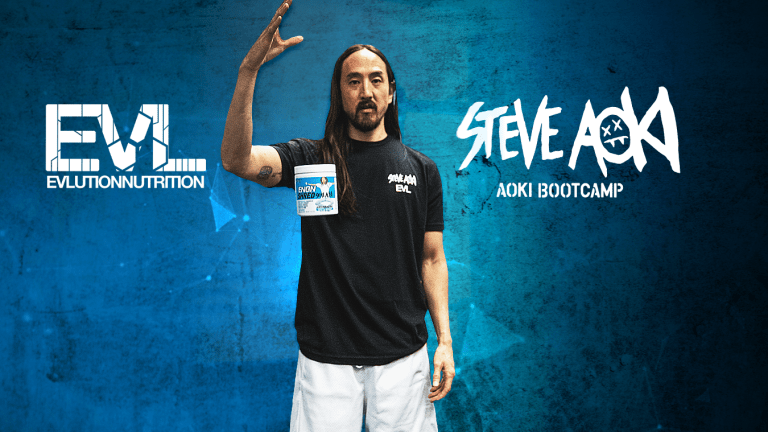 EVL Partners with Steve Aoki on a Neon Blueberry ENGN Shred Pre-Workout
Steve Aoki and EVL partner up for a pre-workout that is the perfect fit for his signature Aoki Bootcamp
Just two short years after EVL Nutrition released the original ENGN Shred energy supplement, the super-charged, fat-burning, endurance-boosting pre-workout formula made their most exciting announcement to date: a Neon Blueberry flavor collaboration with legendary DJ, producer, and entrepreneur Steve Aoki.
Bright, bold, and packing a massive kick, the Neon Blueberry ENGN Shred is the ideal fit for the ambitious and fast-paced lifestyle of Steve Aoki, who is already firmly established in the fitness space for his eponymous Aoki Bootcamp. 
This isn't just a one-and-done endorsement deal, either. Not only is the ENGN Shred collaboration a perfect pairing for Aoki's signature high-intensity workout plan, but it was also named to coincide with the release of his critically acclaimed 2018 Neon Future 3 album.
In the words of EVL Nutrition's Tayler Faoro:
"What else is cool is that [Steve] was already taking our product. We wanted to do more with him, so we worked with him and came up with a flavor! He wanted to do Neon Blueberry to go alongside his album, Neon Future 3!"
With a longstanding reputation for unique collaborations outside of the endemic dance music audience, Aoki's association with EVL is a perfect example of his ability to cross boundaries and forge lasting, mutually beneficial brand partnerships. ENGN Shred is uniquely designed for the bootcamp-style workouts that Aoki has popularized, and the supplement itself has just the right amount of cachet and cool factor to keep pace with the wild and rowdy Dim Mak label boss and cake-throwing party music mastermind.
You can purchase EVL and Steve Aoki's Neon Blueberry ENGN Shred from Bodybuilding.com for $34.99. For a limited time, the retailer is also running a deal where you can get a second tub of ENGN Shred for 50% off.
If you're an Aoki Bootcamp trainee and are looking to bring your workout game to a whole new level, be sure to give the Neon Blueberry ENGN Shred a try!
FOLLOW EVL:
Website: evlnutrition.com
Facebook: facebook.com/Evlsports
Twitter: twitter.com/EVLsports
Instagram: instagram.com/evlsports
FOLLOW STEVE AOKI:
Facebook: facebook.com/steveaoki
Twitter: twitter.com/steveaoki
Instagram: instagram.com/steveaoki
SoundCloud: soundcloud.com/steveaoki