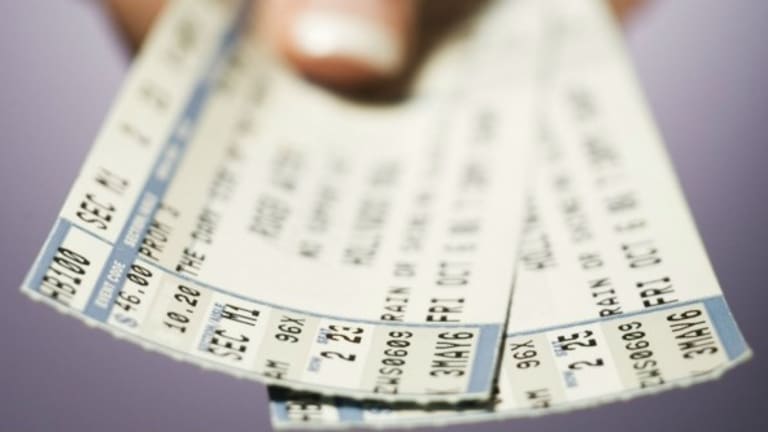 How to Swoop the Cheapest Show Tickets (and go to a lot more shows)
Follow these tips to stop being left in the dance dust and get on your show game
We all have that one friend who knows every show coming to town for the next six months, and somehow makes it to almost all of them.
Meanwhile, you're like "Oh, is that this weekend? How much are tickets? Oh, $1,300,793? Dang, I can't make it."
Or,
"It's sold out already? Guess I'll just stay home watching Facebook live and eat FOMO for dinner."
Sure, there are always more shows and another festival. But wouldn't it be nice to be ahead of the game? You save money, so you can spend the extra cash on (of course) more shows, you're able to get the time off work without a hassle, and there's the added benefit of being that one friend letting all your other friends know what's up. Total cool pass.
But really, it's practical.
Here's how I learned to stop being left in the dance dust and get on my show game.
Get on lists
Artist Lists
Artists should be the number one promoters of their own shows, so the first thing to do is go to all your favorite artist's websites and subscribe to their mailing list. If you use Gmail, their emails will often end up in your Promotions tab, which can be good because they won't clutter up your inbox but you still get them all in one place. Just remember to check it!
When shows and tour announcements are made, you'll be the first to know. You'll also have access to artist presales, which is definitely the best way to get the cheapest tickets. Artists often offer presale tickets at $10-40 (sometimes more) less than general onsale prices. These don't happen for every show, but usually the big ones. Be on the lookout for presale dates shortly after show announcements are released.
Venue and Promotor Lists
Venues are constantly booking new shows, so get on those lists too. In most cases, they're filling their rosters months in advance so you'll be able to see who's coming to town and get those handy reminders that X tickets go on sale next Thursday at 10am. Venues and ticketing companies offer presales too, so even if there's not an artist presale, there's usually some kind of advance purchase option to capitalize on. And don't forget about the promotors in your town. If you see any other entity promoting a show, it probably means they're promotors and they have lists too. Get on them.
Festival Lists
As for festivals, they usually have price tiers tied to ticket supply or time. For example, Decadence, the New Years Eve festival in Denver, sells first tier tickets at a certain price until a certain date, and then the price goes up. The longer you wait, the more you pay. Others do the same thing, but instead of time, once a certain number of tickets are sold the price goes up. Again, you wait you pay. If you're on the list you can stay woke to those price increases.
A lot of festivals have loyalty programs for returning fam. Most famous is Electric Forest's Four in the Forest, but they offer discounted sales for any returning fam who registered their previous wristband. Details for these incentives are always sent out on the festival's mailing list and often no where else, so these are a must if you want to keep adding to your wristband collection.
Lastly, music magazines like EDM.com often partner with festivals to drop lineups or onsale announcements, so those are good lists to subscribe to as well.
Follow the right people
A lot of the information mentioned above is also sent out via social media channels. Different platforms are used for different things though, so keep your eyes peeled. While almost all show announcements show up on Facebook, presale info (or secret shows) might be dropped on an artist's Snapchat story or Twitter. Venues and promoters often run contests on Instagram or Facebook for free tickets, so make sure to follow as many people/companies related to the music you like to catch the deals.
Keep a list of your own
Most of us forget everything we don't have in front of our faces. Even a simple Show List in your Notes app can help you remember what's coming up when. Especially for ticket sales, setting a reminder in your calendar app can be a logistical lifesaver.
Join ticket exchanges
Someone in your town has probably already created a ticket exchange of some kind for music in your city. These are usually public (sometimes private) groups on Facebook, so a few simple searches should work to find some - or just ask your music friends.
Check for list spots
Groups and ticket exchanges are a great place to meet other people in the music scene in your town, even if just virtually. Many of them know of or work for promoters who often have list spots to smaller shows. It never hurts to put the ask out there, just be respectful that these guys work really hard to get paying fans to their shows, so don't make it a habit and don't ask to get into the sold out show that no one else can get tickets to either. That said, sometimes promoters offer list spots or discounted tickets to shows they're trying to fill to build hype and get bodies in the room. Don't be shy, but be respectful.
Skirt the Service Fees
Convenience fees are so inconvenient. Listen for partner companies selling fee-free tickets (i.e. dispensaries, brands (Grassroots), sometimes radio stations. Purchasing directly from the box office or artists (often opening artists are selling tickets at-cost to get people to their show) is another option.
Do Promo
Street teamwork is easy, quick and fun. You help promote the venue or promoter's shows and get a free ticket to do the work. Usually, they want someone who's committed and consistent, not just trying to get a one-off ticket every now and then. It's worth it if you go to a lot of shows and can save you significant wads of cash.
In case of emergencies, when you still slept on that one ticket you 100 percent need rn:
Show up at the venue
More often than not, there's gonna be a person or two who shows up with an extra ticket trying to sell it. Life happens, and even at festivals, there's always someone who had to bail. Be there first and bank on the "unforeseeable circumstances."
Make friends
As always, the surefire way to be in the loop is to make friends who already are. Talk to people at shows, engage in online groups, stop by venues, run promo a few times, join contests. It all adds up and before you know it, your days on the show short bus are over.