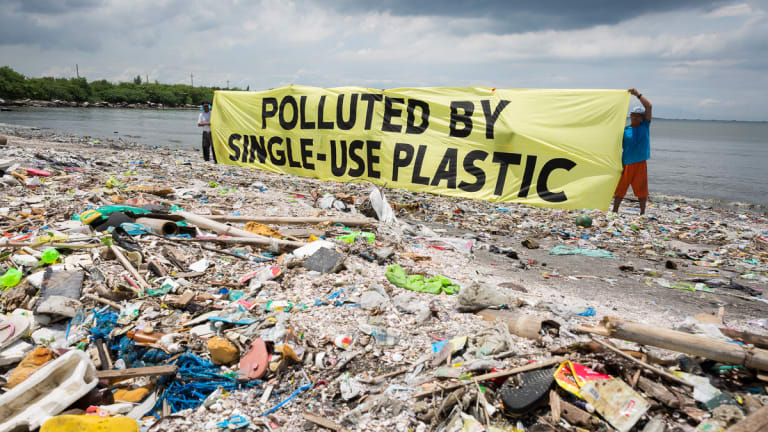 With Roots in EDM, WAVVE and RecycleGO Innovate to Counter Plastic Pollution [Giveaway]
After a highly successful career in artist management, WAVVE Co-Founder George Karalexis is seeking positive change through creativity and innovation.
In 2019 alone, there have been many significant efforts on the part of the international dance music community to combat their global impact on the environment. The fact that festivals and events, particularly destination events, have an outsized negative impact on their local community has long been known, but not until recently have we seen such a plethora of major initiatives designed to mitigate and offset this damage.
From the Electronic Music Alliance's Trash 2 Treasure Challenge to Envision Festival's sustainability-focused mission encompassing waste management, sustainable practices, permaculture, and eco-building, it's plain to see that the world of EDM has embraced a wide variety of efforts to reduce their carbon footprint and enjoy live music culture in a healthy and sustainable way.
"The first time I really thought about plastic waste was being on the Dance or Die bus tour with Robbie Rivera and Bassjackers in 2012," said WAVVE Co-Founder George Karalexis. "We were leaving the venue in El Paso after the show. There were thousands of plastic cups and bottles on the floor; I watched them put them in the trash with everything else."
In line with their mission, California-based company WAVVE and RecycleGO have collaborated on an inspiring new product designed to aid in reducing the global plastic waste crisis through sustainable design and innovative new technology.
"This collaboration with RecycleGO embodies our shared values of creativity, technological innovation, and most importantly, the environment," said WAVVE Co-Founder Tony Luciani. "Our heritage is deeply rooted in the everyday lifestyle and those who want to inspire change."
Making excellent use of plastic waste at an enormous scale, WAVVE strives to create environmentally sustainable products without compromising on quality or aesthetic. Not only are their products made entirely from recycled plastic bottles, but the entire operations structure and supply chain are also designed to minimize environmental impact and promote a cleaner, greener future.
In addition to their environmentally friendly product line, WAVVE and RecycleGO have focused on providing a unique element of education and trust to their consumers. RecycleGO's technology will allow WAVVE to reliably source and track all of its materials. By prioritizing full transparency, consumers are able to validate where the materials in the WAVVE x RecycleGO Pacific Tote were sourced, as well as to measure the exact environmental impact they've made with their Pacific Tote purchase. 
This level of transparency and understanding is largely unprecedented in the space, and it gives consumers an unparalleled level of control and accountability. As Karalexis notes:
"Using blockchain is exciting because you can actually track and verify the source of the plastic. We want to partner with music festivals, venues and artists to create onsite collection for the plastic and then be able to repurpose it into merchandise from that show or tour. Imagine being able to buy merch from Skrillex that was made from waste at EDC, or Circoloco merch from DC10 in Ibiza."
Not only is the Pacific Tote an awesome, eco-friendly product, but it's also a perfect fit for vinyl records, and an excellent way to bring essential supplies to your next festival in the most sustainable and earth-friendly way possible.
As part of our partnership with WAVVE, they have generously offered to gift three lucky fans with a Pacific Tote of their own. If taking care of the planet while enjoying your favorite records and partying at your next festival appeals to you, we highly encourage you to check out the Pacific Tote, and enter the competition below to win one of your very own.
In the worlds of Stan Chen of WAVVE partner RecycleGo:
"It's my goal to get this resource, in the form of reliable and trackable information, into the hands of consumers, manufacturers, suppliers and material transporters. Our partnership with WAVVE is an opportunity for the public to use our technology to ensure that they are making sustainable choices and reducing their environmental impact."
Enter below for the chance to win your very own Pacific Tote today.
FOLLOW WAVVE:
Website: wavvewear.com
Instagram: instagram.com/wavvewear
FOLLOW RECYCLEGO:
Website: recyclego.com
FOLLOW GEORGE KARALEXIS:
Website: georgekaralexis.com
Instagram: instagram.com/gkaralexis
LinkedIn: linkedin.com/in/georgekaralexis