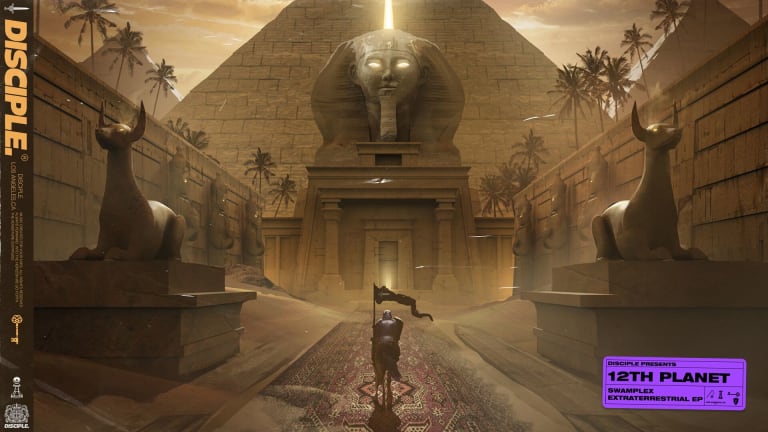 12th Planet's "Let It Bang" Gets Monstrous Draeden Fix
Nearly a year since the original's release, "Let It Bang" gets a cinematic remix from Montreal-based producer Draeden.
Keeping in the theme of otherworldly beings, Draeden joins 12th Planet on his sequel EP, Swamplex ExtraTerrestrial, for a monstrous remix of "Let It Bang."
Coming up on almost a year since the release of 12th Planet's successful 2018 EP, Swamplex Terrestrial, the five-track offering was due for a follow-up. Enter the Swamplex ExtraTerrestrial EP. The intergalactic six-track effort features earth-shattering, sci-fi-infused bass music from dubstep behemoth 12th Planet and 4 other featured artists. One track that especially captures the interstellar energy throughout the EP is Draeden's remix of 12th Planet and MACTurnUp's collaboration, "Let It Bang."
Despite having played and composed music for over 15 years, Draeden released his debut EP, Conquest, just earlier this year in July. With a deep-rooted passion for rock and metal, the Canadian producer has always found himself immersed in the heavier side of music. It wasn't until 2011 when he discovered dance music and dubstep, and he was completely enthralled by what the scene has to offer. In the following years, Draeden decided to combine his love of video games, fictional worlds, and supercharged bass music.
With a distinct ability for sonification and otherworldly soundscapes, Draeden makes an apparent fit for 12 Planet's Swamplex ExtraTerrestrial EP. His remix of "Let It Bang" transforms the original dubstep banger into a sinister hybrid bass track. Draeden masterfully pairs together haunting cathedral-like vocals and cinematic builds with rolling bass to create a unique and immersive track. 
Swamplex ExtraTerrestrial also features tracks from Foreign Beggars' Vulgatron, Monxx, and Oolacile. Fans can expect to hear cuts from the EP on 12th Planet's Swamplex Tour. For all tour information, visit here. 
Stream or download 12th Planet's Swamplex ExtraTerrestrial EP, out now on Disciple Recs. 
FOLLOW 12TH PLANET:
Facebook: facebook.com/12thplanet
Twitter: twitter.com/12thplanet
Instagram: instagram.com/12thplanet
SoundCloud: soundcloud.com/12thplanet
FOLLOW DRAEDEN:
Facebook: facebook.com/DraedenOfficial
Twitter: twitter.com/draedenofficial
Instagram: instagram.com/draedenofficial
SoundCloud: soundcloud.com/draedenofficial