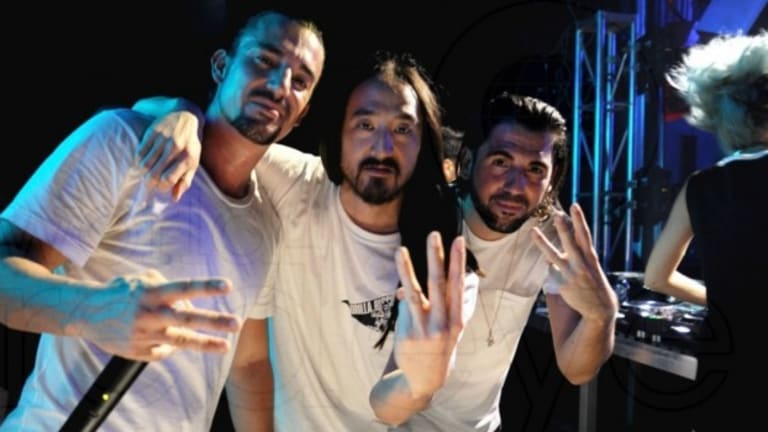 Dimitri Vegas, Like Mike And Steve Aoki Release New Collaboration as a Christmas Giveaway!
Dimitri Vegas, Like Mike and Steve Aoki release We Are Legend featuring vocals by Oscar nominated Abigail Breslin as a Christmas Giveaway for fans!
When some of dance music's biggest names come together for a collaborative project, the excitement levels and anticipations about what will come out of it are bound to be skyrocketing. And when those names are that of dance music titans Dimitri Vegas & Like Mike (DVLM) and Steve Aoki, there's no keeping calm!

Right from 2014 when the trio came together to form 3 Are Legend, fans were aware that this meant that nothing but the sky was the limit. The hit machine Belgian duo, DVLM and the unstoppable American producer and DJ, Steve Aoki coming together was definitely going to be a force to reckon with.
From a number of spectacular live performance together smashing the stages from Ultra Miami to Tomorrowland, and Creamfields to Ushuaia Ibiza, the venerable forces have made their presence felt in the scene and how. Not only as a trio, but both acts have been slaying the scene even on their respective individual fronts.
As a Christmas giveaway to all their fans, the trio have decided to give out their much awaited "We Are Legend" as a Free Download. However, the much anticipated release from three years ago was a version featured the vocals of Matthew Koma, but with this release, the vocals have been replaced.The track now features the vocals of Oscar nominated Abigail Breslin, and also happens to be her first venture into the world of Dance Music. While this isn't her first foray into the world of music in general, it is her first featured dance record. Breslin has starred in Little Miss Sunshine and also appeared in Hollywood movies such as Zombieland, Signs, Enders Game and August: Osage County.

Grab a copy of the track at www.weareleg3nd.com and make this festival ready banger yours!