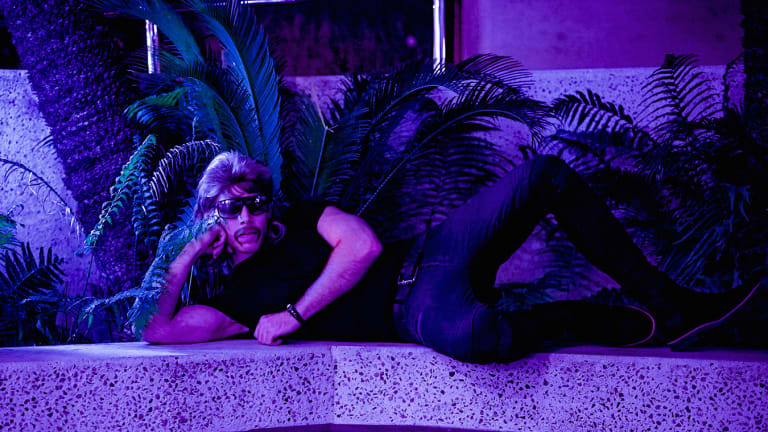 Rising Synthwave Hero Ace Marino Takes Over Muscle Beach
Ace Marino debuts brand new retro fitness anthem "Muscle Beach" with FiXT Neon
Inspired by an instantly recognizable combination of 1980s films, video games, and cartoons, as well as popular contemporary composers such as John Carpenter, Vangelis, and Tangerine Dream, the synthwave genre as we know it today formally emerged in the mid-2000s. Spearheaded by artists such as College (real name David Grellier), Kavinsky, and Justice, it's no wonder that the synthwave movement is considered to have largely emerged out of the French house scene.
Since 2015, synthwave has seen a dramatic increase in popularity, both in the recording industry as well as in other forms of pop culture and entertainment, a perfect example being the multiple synthwave tracks placed in the soundtrack of the 2011 film Drive starring Ryan Gosling. 
One of the newest acts to capitalize on the rising tide of synthwave is California-native, Ace Marino. A fitness icon, beach bro, and producer extraordinaire, Ace Marino epitomizes everything it means to be part of the synthwave culture. From the neon purple headband and lime green muscle shirt to the signature bright synth tones and smile-inducing guitar chords, Ace Marino is here to bring the world a heavy dose of fun in the sun with his newest release, "Muscle Beach," out now on FiXT Neon.
The latest single from Ace Marino's forthcoming full-length debut album, "Muscle Beach" showcases his diverse and uplifting sound, particularly when listened to alongside the previous album singles "The Flamingo Returns" and the mesmerizing record "Holding My Breath." Ace Marino has demonstrated that his penchant for crafting catchy and euphoric synthwave beats is second to none and that the journey is only just beginning!
Stream or Download Ace Marino's "Muscle Beach" today.
FOLLOW ACE MARINO:
Facebook: https://www.facebook.com/AceMarinoMusic
Twitter: https://twitter.com/AceMarino88
Instagram: https://www.instagram.com/acemarinomusic
SoundCloud: https://soundcloud.com/acemarino
FOLLOW FiXT NEON:
Facebook: https://www.facebook.com/fixtneon
Twitter: https://twitter.com/fixtneon
Instagram: https://www.instagram.com/fixtneon