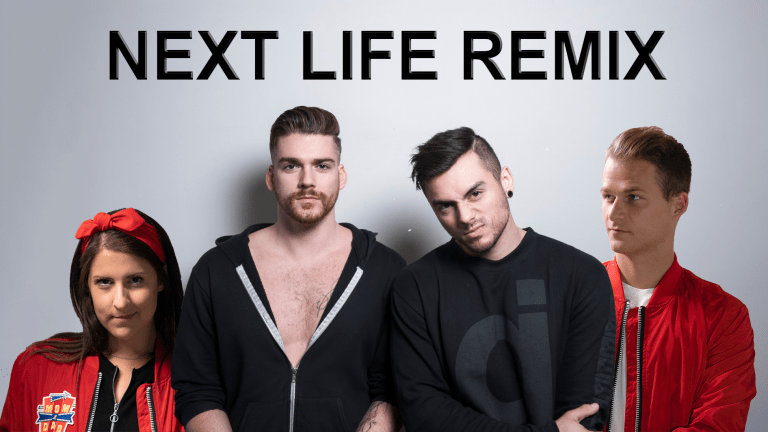 What Do You Get When Mom N Dad Remix Adventure Club, Crankdat & Krewella?
Adventure Club, Crankdat & Krewella's "Next Life" got a fiery midtempo remix from your favorite parental DJs.
Earlier this year, the legendary Canadian melodic bass duo Adventure Club revealed that they were teaming up with Krewella for the first time since 2012, and that Crankdat would be coming along for the party. Their highly anticipated collaboration, the hit single "Next Life" received massive international support from the ravenous fans of all five artists, and the song has already dominated festival stages around the world.  
In order to capitalize on the runaway success of the original, Ultra Records have enlisted several incredibly talented producers to put their own unique twist on "Next Life." Each artist or group approaches "Next Life" from an altogether different angle, and our favorite by far is Mom N Dad's heavy midtempo remix. 
Putting the perfect spin on the sultry vocals of Krewella's Yousaf sisters, Colorado producers Mom N Dad put their unmistakable midtempo twist on "Next Life," transforming it into a fearsome monster of a track. While the bass-heavy midtempo approach was first popularized in the world of EDM with the meteoric rise (and fall) of moombahton, Mom N Dad ramp up the heat to a whole new level. Aggressive, pseudo-industrial, metallic synths crank up the energy of the already explosive drops, and yet they somehow manage to maintain the lush plucks and rich melodic aesthetic that put Adventure Club on the map.
The world of midtempo bass has experienced tremendous growth throughout the last year and a half, particularly with the rise of artists like Rezz, 1788-L, Lick, Blanke, and 13. In the few short months since they released their debut remix for Dillon Francis and Alison Wonderland's "Lost My Mind," Mom N Dad have not only joined this esteemed list of talent, but they've also added their own catchy, commercially accessible twist to a genre that is otherwise very niche and focused almost entirely on engineering and sound design.
Stream or download Mom N Dad's Remix of "Next Life" today, and be sure check out the rest of the remix pack while you're at it.
FOLLOW MOM N DAD:
Website: momndadtunes.com
Faceboook: facebook.com/MomNDadTunes
Twitter: twitter.com/MomnDadtunes
Instagram: instagram.com/momndadtunes
SoundCloud: soundcloud.com/momndadtunes
FOLLOW ADVENTURE CLUB:
Facebook: https://www.facebook.com/AdventureClub
Twitter: https://twitter.com/adventureclub
Instagram: https://www.instagram.com/adventureclub
SoundCloud: https://soundcloud.com/adventureclub
FOLLOW CRANKDAT:
Facebook: https://www.facebook.com/crankdat
Twitter: https://twitter.com/crankdat
Instagram: https://www.instagram.com/crankdat
SoundCloud: https://soundcloud.com/crankdatmusic
FOLLOW KREWELLA:
Facebook: facebook.com/krewella
Twitter: twitter.com/Krewella
Instagram: https://www.instagram.com/krewella
SoundCloud: soundcloud.com/krewella