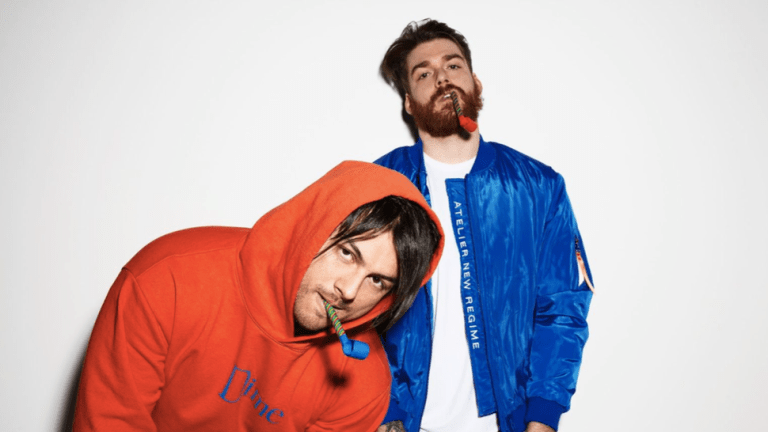 Adventure Club and Crankdat Release Feels-Heavy "Next Life" ft. Krewella [Premiere]
Adventure Club's latest collab has all the makings of an instant classic.
Earlier in the year, Adventure Club revealed that they had joined forces with Krewella for the first time since 2012 - and they also brought along Crankdat for good measure. "Next Life" is the highly anticipated result of the five artists' collaboration, and EDM.com is proud to premiere the single ahead of its official release on Ultra Music.
After all, "Next Life" bears the hallmarks of a hit. During the song's tranquil buildup, Jahan and Yasmine Yousaf's shimmering vocals are underscored by plucks that harken back to the style that put Adventure Club on the map. Shortly thereafter, a melodic dubstep drop with Crankdat's name all over it bolsters the arrangement with an undeniable measure of main stage appeal.
According to Leighton James of Adventure Club, he and Christian Srigley had already been working with Crankdat (real name Christian Smith) on "Next Life" before the decision to tap the Yousaf sisters came about. "We've been huge fans of Crankdat, it's really dope that we were finally able to link up and make this happen," he said. "There was something about the way the track was shaping up, that it just felt like the perfect time and track to have some of our oldest and dearest friends Krewella hop on and really complete the song." 
Adventure Club and Crankdat's "Next Life" featuring Krewella is out tomorrow, April 12th on Ultra Music. The former duo will also kick off their Death Or Glory tour that evening with a performance at TLA in Philadelphia, Pennsylvania. Find the full list of stops below.
4/12 - TLA - Philadelphia, PA
4/13 - Roxian Theatre - Mckees Rocks, PA
4/14 - Westcott Theater - Syracuse, NY
4/17 State Theatre - Portland, ME
4/18 - House of Blues - Boston, MA
4/19 - Echostage - Washington, DC
4/20 - Avant Gardner - New York, NY
4/23 - The District - Sioux Falls, SD
4/24 - Slowdown - Omaha, NE
4/25 - OKC Farmers Market - Oklahoma City, OK
4/26 - Uptown Theater - Kansas City, MO
4/27 - The Pageant - St Louis, MO
4/30 - The Bluestone - Columbus, OH
5/1 - House of Blues - Cleveland, OH
5/2 - Intersection - Grand Rapids, MI
5/4 - Skyway Theatre - Minneapolis, MN
5/18 - Global Dub Festival - Morrison, CO