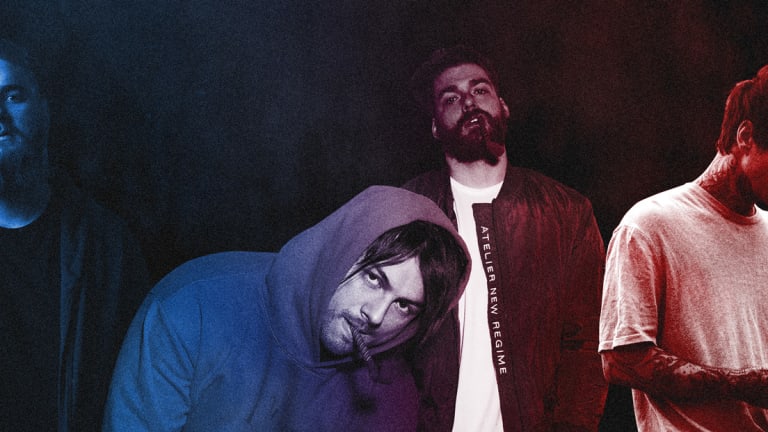 Adventure Club and Quix are Here to Show You What Comes After Death
Don't miss the Adventure Club & Quix premiere of the "Life Long After Death" music video.
A few weeks ago, Montreal melodic bass legends Adventure Club teamed up with New Zealand DJ/producer QUIX and the former lead singer of hardcore band Chiodos, badXchannel (real name Craig Owens) to release the massive, stadium-sized single "Life Long After Death." Today, Dim Mak has followed up the epic song release with an official music video, and it fully lives up to the supernatural expectations that follow the iconic Superheroes Anonymous duo.
In keeping with the duo's signature red/blue branding, the "Life Long After Death" video seamlessly incorporates their deliberate brand aesthetic in a way that is both natural and complementary to the theme of the story being told. On its surface, the video depicts an epic battle between two opposing forces. One, seemingly the force of good, is a beleaguered man struggling against mysterious forces of evil while wielding a glowing blue orb emanating waves for powerful, electrifying energy. On the opposing side, a pack of dark, hooded, devilish fiends with glowing red exes for eyes seek to rest the orb from the man and cast him into darkness.
The first drop, an explosion of heavy yet melodic dubstep, is juxtaposed with a scene of the main charging a pack of the masked fiends, wielding the orb like a weapon and casing enemies aside with charged bolts of vicious blue lightning. Despite the ferocity of his attack, however, the masked villains continue to press forward en masse. 
The second drop, a mammoth, stadium-synth driven festival smasher if we've ever heard one, is synced with the second battle scene. The man is nearly overwhelmed by the sheer number of enemies. He is finally caught unawares and nearly strangled by the leader of the sinister pack of demon-eyed cultists. Gasping for breath, unable to move, the man lashes out one final time.... and suddenly awakens to find himself lying in a hospital bed, completely unaware of how he got there.
The meaning behind the video is, as always, open to the interpretation of the viewer. It seems to us, however, that the man in the video may have been one of the first to glimpse the life that comes after death... and yet somehow he managed to return.
Watch the "Life Long After Death" music video.
FOLLOW QUIX:
Facebook: facebook.com/OfficialQUIX/
Twitter: twitter.com/QUIX
Instagram: instagram.com/quixofficial/
SoundCloud: soundcloud.com/quixofficial
FOLLOW ADVENTURE CLUB:
Facebook: facebook.com/AdventureClub/
Twitter: twitter.com/adventureclub
Instagram: instagram.com/adventureclub/
SoundCloud: soundcloud.com/adventureclub
FOLLOW BADXCHANNELS:
Facebook: facebook.com/craigeryowens
Twitter: twitter.com/craigowens
Instagram: instagram.com/badxchannels
SoundCloud: soundcloud.com/badxchannels
FOLLOW DIM MAK:
Facebook: facebook.com/dimmak
Twitter: twitter.com/dimmak
Instagram: instagram.com/dimmak
SoundCloud: soundcloud.com/dimmakrecords