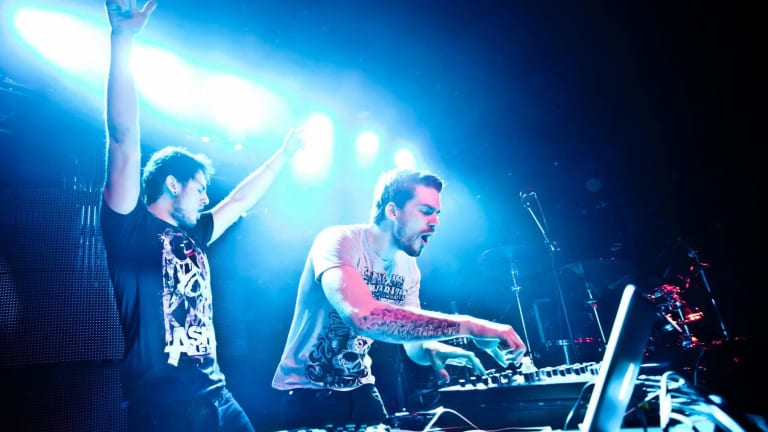 Adventure Club Debut Collab with Quix and Craig Owens of Chiodos at Hollywood Palladium
Yet another rock crossover is coming soon from Adventure Club.
Pop punk and rock crossovers appear to be a hot trend among EDM acts, and Adventure Club are certainly familiar. Two months ago they teamed up with Modern Machines to remix Taking Back Sunday's "MakeDamnSure." Now it looks like they've got something in the works with QUIX and former Chiodos frontman Craig Owens.
Adventure Club, a Canadian duo consisting of Christian Srigley and Leighton James, brought Owens onstage during their performance at the Hollywood Palladium in Los Angeles for a rendition of Chiodos' 2005 single "The Words 'Best Friend' Become Redefined." That wasn't all, though. Shortly thereafter, they tested out the upcoming collaboration on their eager audience.
Owens' Adventure Club and QUIX collaboration will not be his first foray into electronic music. He began producing under the alias badxchannels; his debut release arrived in the form of last November's "I Wanna Be Alone."
Neither Adventure Club, QUIX nor badxchannels have revealed a title or release date for their upcoming collaboration at the time of writing.
H/T: Your EDM 
FOLLOW ADVENTURE CLUB:
Facebook: facebook.com/AdventureClub/
Twitter: twitter.com/adventureclub
Instagram: instagram.com/adventureclub/
SoundCloud: soundcloud.com/adventureclub