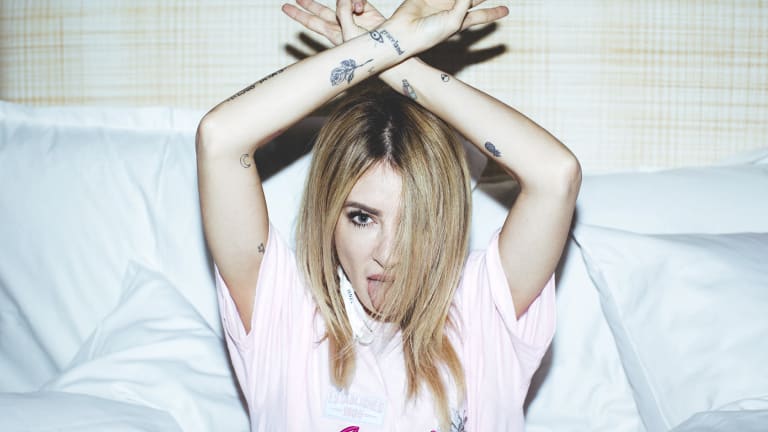 Alison Wonderland Drops New Track and Video For "High" Feat. Trippie Redd
Alison Wonderland is keeping the vibes "High" with new track featuring Trippie Redd
Aussie DJ and Producer Alison Wonderland has had a helluva year and has been on top of her game! Whether its new releases or her immaculate live sets at every other top festival around the world, she's been killing it like a badass! 
With the release of her sophomore album on Astralwerks, AWAKE just around the corner on April 6, the girl has been dropping new releases off the album periodically and reassuring all concerned parties about her talent and versatility. 
"High" featuring 18-year old Ohio rapper Trippie Redd comes as the fourth release from the album following "Church", "No" and "Happy Place."
Speaking about the collaboration, Wonderland said, 
"It was a real pleasure to work with Trippie. It is important to vibe with an artist before we collaborate. When he heard this song, it was very organic, and he jumped in the booth and we walked out feeling that we had something special. I felt like this song had a certain spirit and wanted people to feel like they were going on a journey with us....just like when watching the music video."
From the trippy vocals to the Flume'ish drop, this track stands out as having a unique vibe, different from anything we've heard from Wonderland in the past. The accompanying video shows the two artists sat against a backdrop of a flower bed with a glitchy trippy feel as they each smoke and roll a cigar respectively as they get "High."
Just like the song, the video seems clearly split into moods and parts setting it apart, but at the same time bringing it together. Directed by Alison Wonderland herself and with cinematography by Jeffrey Zoss, the mood-enhancing animation has been done by Jayme Lemperle and Evan Red Borja. 
With an open invite to catch a vibe with and get high with these two, really can we do anything but that?!
Wonderland takes off with her major AWAKE tour, kicking it off at Coachella in April and heading on to some of the biggest festival stages around the world like from Tomorrowland to Spring Awakening and Bonnaroo, she's sure on fire!
Alison Wonderland – U.S. Tour Dates
4/13 – Indio, CA @ Coachella Music & Arts Festival
4/20 – Indio, CA @ Coachella Music & Arts Festival
6/8 – Chicago, IL @ Spring Awakening Music Festival
6/10 – Manchester, TN @ Bonnaroo Music & Arts Festival
7/14 – Bronx, NY @ Greatest Day Ever Festival
8/3 – Denver, CO @ Ogden Theatre 
8/10 – Seattle, WA @ WaMu Theatre 
8/11 – Dallas, TX @ South Side Ballroom 
8/17 – Los Angeles, CA @ Shrine Expo Hall 
8/25 – San Francisco, CA @ Bill Graham Civic Auditorium 
8/31 – Washington, DC @ Echostage