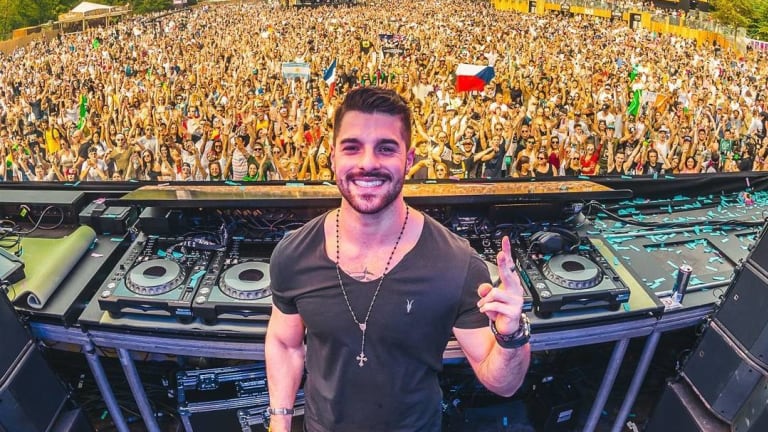 Alok and Yves V team up to drop "Innocent" Ft. Gavin James on Spinnin' Records [Premiere]
After premiering in Tomorrowland's 2018 Aftermovie, "Innocent" is finally out on Spinnin' Records.
In an unlikely collaboration, Brazilian bass head honcho Alok teamed up with Belgian producer Yves V and Irish singer/songwriter Gavin James for their latest release, "Innocent." 
While each of them have a very unique style of their own, their collaboration is unlike any of their previous work. Some of Alok's recent releases which have seen major success include "United" with Armin van Buuren and Vini Vici, and most recently, "Favela" Ft. Ina Wroldsen. 
On the other hand, as one of Tomorrowland's resident DJs, Yves V has taken his sound all around the globe this summer. He's played in Asia, South America and Europe. On vocal duties, Gavin James is an artist who has been receiving support from the likes of Ed Sheeran and Sam Smith; he's seen a meteoric rise over the past few years. 
It's been a while since the track officially premiered in Tomorrowland's 2018 Aftermovie, but "Innocent" is now out on Spinnin' Records. The radio-ready track brings out a very different style from what we have come to expect from Alok and Yves' usual productions. Allowing Gavin's stunning vocals to take the lead, they set mood with accompanying synths and laid-back percussion. While the vocals occupy the forefront in most of the track, the duo make sure that moving into the chorus, the electrifying synths match up to the powerful top line.
Effortlessly fusing house, bass and techno, Alok has successfully pioneered an authentic new subgenre in his rise to stardom.  On the other hand, Yves has strived to demonstrate his diversity as a performer and his versatility as a showman with his acute musicality. Their fusion these unique individual production styles together, paired with Gavin on vocal duties, has resulted in "Innocent."  
With its catchy and ear-wormy hook, the track is sure to have the crowds singing along by the time it's over. Listen to it above and tell us what you think on social media.
Follow Alok:
Facebook: https://www.facebook.com/livealok/
Twitter: https://twitter.com/alokoficial
Instagram: https://www.instagram.com/alok/
SoundCloud: https://soundcloud.com/livealok
Follow Yves V
Facebook: https://www.facebook.com/officialyvesv/
Twitter: https://twitter.com/yvesv
Instagram: https://www.instagram.com/yves_v/
SoundCloud: https://soundcloud.com/yves-v