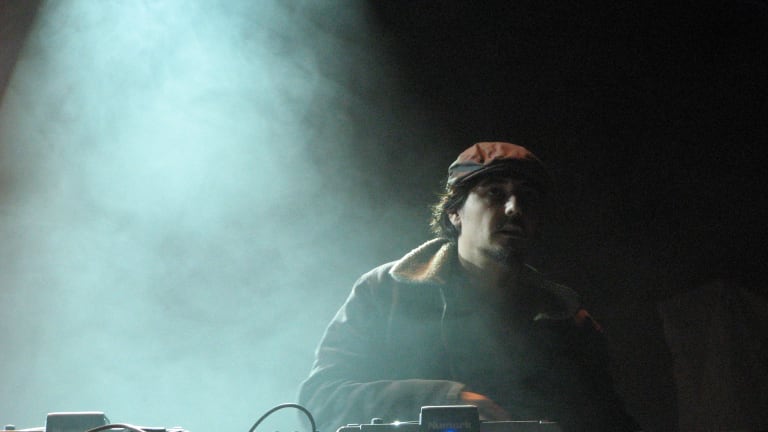 Amon Tobin Drops Debut Album via Only Child Tyrant Alias
The rock fusion record Time To Run is out now via Amon Tobin's Nomark Records.
Veteran musician Amon Tobin is one of the hardest-working producers in the game. Fresh off of releasing his acclaimed new album Fear in a Handful of Dust, he's back with a whole new project called Only Child Tyrant. This new alias' debut album Time To Run is out now via Tobin's Nomark Records imprint.
While a rock fusion project may seem far fetched to fans of Tobin, it isn't so outlandish when considering the influences and sounds that went into his Supermodified and Chaos Theory albums. Time To Run is as much a callback to that era as it is something completely new and inspired, with the signature attention to detail and intricate production one would come to expect from Tobin. 
"The album is rooted in catchy upbeat recordings which could arguably be described as the most accessible of the music touched on in early Amon Tobin records," says Tobin. "That is to say, prior to the more experimental electronic direction I've chosen to develop under my own name since."
Tracks like "Father's Son" featuring Figueroa (who will also have his own Nomark release soon) and "Monkey Box" almost feel like something that could come from The Bloody Beetroots, but still completely original in drawing from those styles. "Solid Grey Zebra" and title track are very much rooted in a drum and bass sound while bringing elements of rock to the forefront of the track. 
"Long Down" and "King Of Kong" take the rock infusion even further, drawing on elements of progressive rock and even surf rock. The intricacy of the percussion and sound design in these productions certainly illustrates that Tobin is behind Only Child Tyrant, but it keeps things fresh nonetheless. 
Time To Run is a refreshing clash of styles within electronic music, and everyone from fans of Tool to Trentemøller may find themselves with the record on repeat. It's an eye-opening piece of art, and an underground-esque response to mainstream EDM's current trend of bringing in rock and subgenres of rock into the fold. 
Only Child Tyrant's Time To Run is out now and can be found here. 
FOLLOW ONLY CHILD TYRANT:
Facebook: facebook.com/OnlyChildTyrant
Twitter: twitter.com/onlychildtyrant
SoundCloud: soundcloud.com/onlychildtyrant